Keys to the Kingdom
Happy Thursday Main Streeters! The Pumpkins are out at Magic Kingdom, and it is officially the most magical time of the year, this is of course, my very humble HalloQueen opinion. Because the park is decorated in its Fall Finest, I want to share with you another fantastic Enchanting Extra that is just extra magical during this time of year. I'm talking about the Keys to the Kingdom Tour. If you are a collector of all Disney experiences, surely this one is buried somewhere on your list, and if you're not a collector and you don't have a list – what are you even doing? I joke, I kid, but I'm serious that this tour should be on your radar.
Although it's not the longest tour, this epic 5-hour in-depth guide led experience takes you to some of the most lucrative secret places around Magic Kingdom. For those of you itching to have a Grown-Up Disney experience, this tour is perfect for you. It's an adult only exclusive, probably because the price tag per person rings in at $99, not including tax. However, if you are a passholder, there may be some passholder rates available.

This tour is chalk full of historical facts about the creation and growth of the iconic Magic Kingdom. According to the Disney website during your tour you can expect to:
Uncover the hidden secrets of classic attractions at Magic Kingdom park.
Access the famed underground "Utilidor" tunnels that allow people and supplies to travel beneath the park unseen.
Discover little-known facts, trivia and other exciting tidbits about the park.
Enjoy a delicious lunch—included with your tour.
Take home an exclusive keepsake!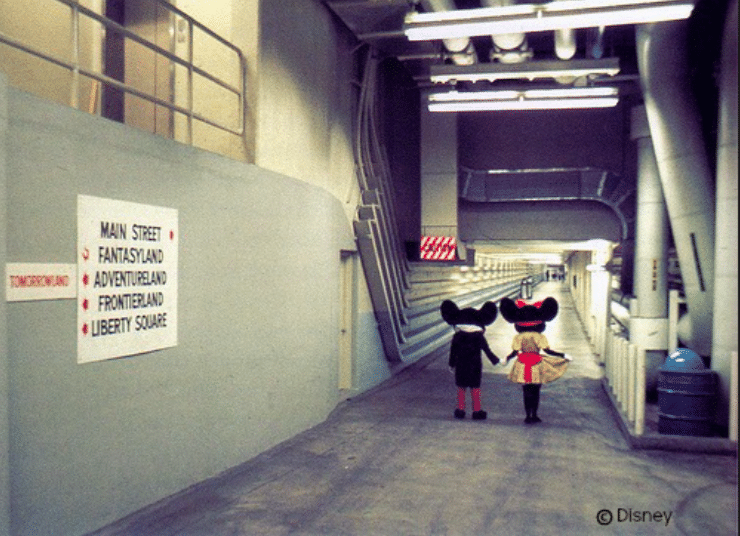 I think the most important experience during this tour is the backstage experience of The Haunted Mansion. Given the fun park atmosphere, I would think this portion is extra spooky and fascinating.
Before you go, Disney suggests that you know these things:
Disney's Keys to the Kingdom Tour is an outdoor walking tour, so check the weather forecast and dress appropriately.
For more information or to make a reservation, please call (407) WDW-TOUR. Guests under 18 years of age must have parent or guardian permission to call.
No cameras, video equipment or cellphones may be used throughout the duration of the tour. Photography is strictly prohibited.
Locations and attractions visited on your tour are subject to change without notice.
Guests must be 16 years of age or older and have a valid photo I.D.
Please check in at Town Square Theater 15 minutes prior to the start of your tour. You will forfeit the entire price of your tour if you no-show or cancel within 2 days of your reservation.
Same-day bookings are on a walk-up basis only, based upon availability.
Lunch is included.
Annual Passholders, Disney Chase Visa Cardmembers and Disney Vacation Club Members qualify for a 15% discount.
If you are unsure what the best attire is for this tour, I highly recommend checking out the clothing branch of TMSM called Lost Princess Apparel. There are some fantastic leggings for ladies with keys on them, that are similar to the Dooney and Bourke Purse Pattern from a few seasons ago. Not only are the leggings completely tour appropriate they are so very comfortable.
So tell us Main Streeters, who has taken this tour? Who has it on their Disney list? We would love to hear all about your experiences! Share with us!
Author:
Erika
Erika Roberts has been a Disney kid for as long as she can remember, but her love of visiting Disney Parks started after just one ride in a Doom Buggy. She couldn't run to guest relations fast enough to offer up her soul in return for an Annual Pass. Since then Disney has taken all of her money, but has given her the most cherished memories; from watching her Nona's face light up with happy tears as we strolled down Main Street on her first visit (she was 84 at the time), to her very own engagement on Halloween in front of the Haunted Mansion.
Erika is excited to be on the TMSM team and where Disney Parks are concerned, you won't catch her dead on It's a Small World. If she asks to ride that, this is a clear indication that she is in danger and you must send help. You will, however, catch her performing Random Acts of Disney (R.A.D's), park hopping with her amazing group of impressively talented and kind friends (usually in some themed attire), hanging out by The Haunted Mansion, and ugly crying during fireworks… then begging for a Mickey Premium Bar to eat her feelings…this is a judgment-free bio.
Otherwise, Erika works for the State of Florida and is actively involved in her community. Erika believes in empowering others and spreading kindness to people from all walks of life. Erika also makes custom designed Disney inspired ears, etched glass, gifts, and accessories. You can check out, like or follow her work on FB, which also links to my shop's Instagram: www.facebook.com/imagineering.emporium. She looks forward to getting to know everyone and sharing the magic of Disney!