Vegan at Disney? YES!
An important part of any visit to Walt Disney World, at least for me and my family, is FOOD! We love to try new things and places, but this can be a challenge for someone with a restricted diet, such as vegans. Never fear! Disney heard and now has options to accommodate.
Just this week, Walt Disney World added a vegan, plant-based skillet to the dinner menu at Whispering Canyon Cafe at Wilderness Lodge Resort.  As you may know, the skillets are all-you-can-enjoy and are typically loaded with meat. The vegan version features an array of vegan meats and costs $33. The skillet comes with maple-chipotle barbecue jackfruit, spicy sausage, mustard-glazed beefless tips, and a "trick'n chick'n" breast brushed with herb sauce. If that wasn't enough, it also includes roasted potatoes, carrots, sauteed green beans, and charred peppers. Not that hungry? They also have pan-fired red quinoa cakes that are served with pickled corn, oven-roasted peppers, and avocado spread.

Centertown Market at Disney's Caribbean Beach Resort is now offering hearty vegan options as well that include a plant-based Caribbean Taco Trio. The dish consists of three chipotle seitan tacos filled with pickled vegetable slaw, cilantro-lime tofu crema, a side of pico de gallo, and is served with plantain and yuca chips. They also offer a 'cheese steak' griddled seitan with seitan cheese, vegan mayonnaise, peppers, onions, and pickle relish as well as an Island 'eggless" Salad Sandwish that is a blend of tofu, broccoli, vegan mayo, dijon mustard, sweet potatoes, and apples. For breakfast, they also offer Just Eggs and Beyond Sausage.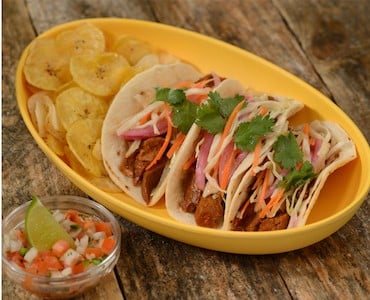 What is your favorite vegan dish at Disney?
Author:
Susanne
Susanne Kain was not born a Disney fan, but after marrying into a family that loves all things Disney, it didn't take long for them to transform her into a Disney lover too! Since then, she has been to Disney over 10 times and falls in love even more with each visit. A self-proclaimed foodie, she is always looking for the next best dish that Disney has to offer! When Susanne isn't dreaming of Disney, planning her next trip, or visiting a park, she enjoys spending time with her husband and son who also share her love of Disney.