Goodbye Rafiki's Planet Watch







Rafiki's Planet Watch, the popular attraction in Walt Disney World's Animal Kingdom, will soon end. Rumors have swirled for years about its closing, and although it was thought to be placed on a seasonal schedule, we are hearing that it's now finally being closed permanently.
On the Walt Disney World website, hours for Rafiki's Planet Watch go through September 29th, but hours beyond that aren't posted, with the site only saying 'No Performance Today.'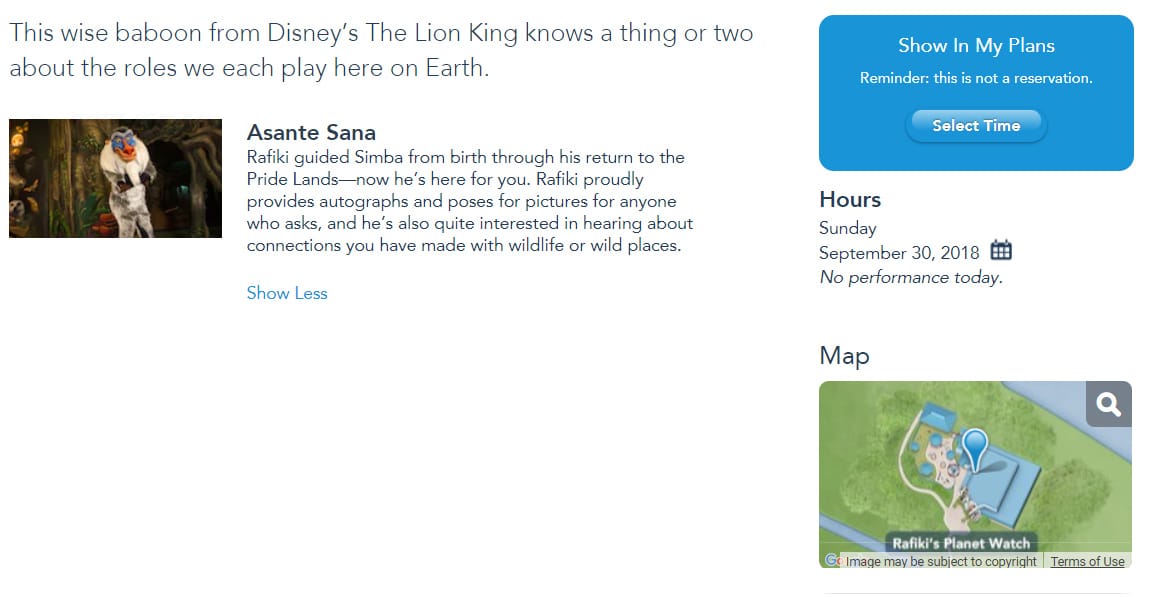 Rafiki's Planet Watch includes a ride on the Wildlife Express train, which takes you to the research and education center. Inside the center, there are viewing areas where exams and surgical procedures can be watched. In addition to the viewing areas, veterinary experts are available to educate you on the animals, their diets, and what it takes to care for them. There is also a plethora of information on the conservation efforts of organizations throughout the world.

The 'Affection Section' is where guests have the opportunity to interact with the animals, some domestic and some exotic. There is also a gift shop, "Out of the Wild', where guests can find snacks, environmentally friendly items, and conservation-themed clothing.
The area is also a meet-and-greet for Rafiki and Doc McStuffins. We are unsure at this time if Rafiki will be relocated somewhere within the park. Doc McStuffins can still be found at Hollywood Studios. There is no word on what, if anything, will be replacing Rafiki's Planet Watch.
What do you think about this attraction closing? Did you ever have the opportunity to visit? Share your thoughts in the comments.
Author:
Susanne
Susanne Kain was not born a Disney fan, but after marrying into a family that loves all things Disney, it didn't take long for them to transform her into a Disney lover too! Since then, she has been to Disney over 10 times and falls in love even more with each visit. A self-proclaimed foodie, she is always looking for the next best dish that Disney has to offer! When Susanne isn't dreaming of Disney, planning her next trip, or visiting a park, she enjoys spending time with her husband and son who also share her love of Disney.