Ten Things you want to Experience at Hollywood Studios – Star Wars Edition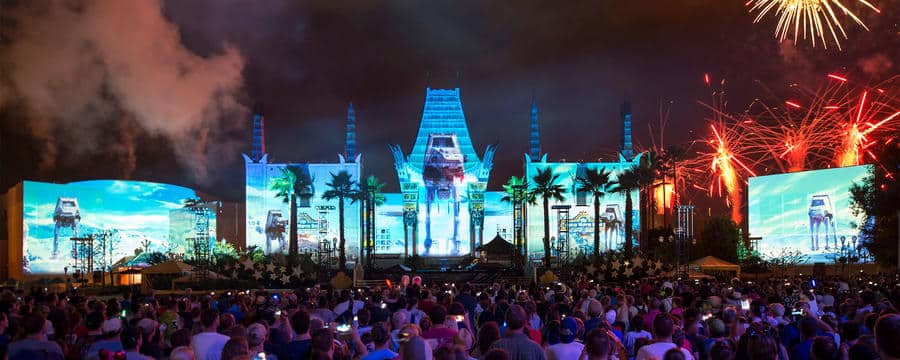 Hollywood Studios will always be MGM to me, but they might as well rename the entire park after a fictional galaxy in Star Wars. As it stands right now the major draw to the park during the face lift to add 14 acres of Star Wars inspired landscape is capitalizing on the hype and popularity of the Star Wars franchise which Disney acquired a few years ago. There is plenty Star Wars fun to experience and here are the ten things you don't want to miss.
Star Wars Launch Bay – Stories of Star Wars

This is the Star Wars enthusiast dream come true. The Star Wars Launch Bay features tons of props, costumes, models, concept artwork and you the opportunity to become immersed in all things Star Wars. Spanning over the history of the franchise you get to explore the Galaxy that has inspired generations to join the Dark Side or ally with the Rebellion. Tattooine Traders near Star Tours has great merch, but the real purveyors of Star Wars lure will flip out for the merch in the Launch Bay Cargo. Hold on to your wallet, you are at risk to lose all your cash buying one of everything or to the sneaky Jawas.
Go behind the scenes at the Launch Bay Theater
10 minutes of footage have been compiled for your viewing pleasure in the Launch Bay Theater. Never before seen interviews with Directors, producers, writers and stars of the films bring you a behind the scenes look at all the hard work and creativity it takes to create an iconic galaxy. Get a first hand look at the direction of the Star Wars Saga and what you can expect in the next few years as far as the expansion of the franchise.
Meet Chewbacca and Kylo Ren
Wookie and one crumbly Cookie [sorry Kylo Ren fans, the Dark Side in fact does not have cookies despite what they market], you can meet Chewbacca and Kylo Ren at the Star Wars Launch Bay. There are two separate lines for meet and greet opportunities located in the far back of the Launch Bay. Well worth the wait, Chewbacca lets out his signature Wookie call if you ask him nicely and Kylo tries to read your mind and intimidate you, but those who have the force can resist his abilities, just don't tell him any Dad jokes- that's a sensitive subject.
Trade with Jawas
This is always my favorite, the Jawas are the cutest, and you better come prepared with good stuff to trade. Also part of the Launch Bay is an area to meet with Jawas who are looking for treasure. I have had them sneak up on me and swipe my custom made ears, refusing to give them back until I trade for something of equal or better worth. This interaction is honestly hilarious and picture worthy. My favorite pictures since the Launch Bay came to fruition have been hanging out with those silly Jawas.
Catch Captain Phasma marching with First Order Stormtroopers
There isn't a more fantastic showing of the force and obedience of the First Order than catching Captain Phasma march her Stormtroopers up and down Hollywood Boulevard. This sighting can be scheduled in your plans, as it's considered a show. Check the times on your myDisneyExperience app or ask a Cast Member when you can witness the First Order parade.
Rub elbows with Stormtroopers on the loose
Occasionally you get the chance to bump into Stormtroopers doing rounds outside of the Launch Bay. If you look particularly sketchy, they will stop you and try to intimidate you. Often times, they choose to focus on the guests wearing Star Wars apparel. So dust off your Galactic Empire logo hat, or don your Rebel Alliance tees and find some fun around the Launch Bay.
Check out the Advance Weapon Research Troopers – a Galaxy Far Far Away
If you are into a little research and development action, check out the AWR Troopers which were first spotted in Rogue One. On Hollywood Boulevard your favorite Star Wars characters take over and recreate iconic scenes from the franchise. Keep your eyes peeled for BB8, Chewbacca, Kylo Ren, Darth Maul and more. This experience is also a show, so if you miss it once, stick around and you may be able to catch it from start to finish again once an hour.
Star Tours Revamped
Once Upon a Time in a Galaxy Far Far Away most people skipped Star Tours because it was old and outdated. Not anymore. Star Tours went under refurbishment a few years ago, and recently got a boost to the experience via brand new scenes added to your Star Tour journey. Every time you ride it's a different scenario, and it's actually quite impressive what they have accomplished with the new scenes. Young or Old, this is the Star Tours all the fans deserve.
A Galactic Spectacular
If you can survive all the awesome Star Wars experiences you crammed into your day at Hollywood Studios, be sure to take the time to stick around until the end of the night when A Galactic Spectacular Fireworks show lights up the night sky. When I first saw this amazing display of mixed media and pyrotechnics unfold, I dared to say it was better than Wishes. I still get goosebumps thinking about how awesome the whole experience is and how the sounds and sights literally envelop you while the fireworks dazzle from above. Now that Wishes is going away, this is without a doubt, hands down, my absolutely favorite Fireworks show at Disney (aside from Hallowishes – which I only get to witness in the fall, and so help me if that gets pulled from MNSSHP, I am going to literally chain myself to the Haunted Mansion until I am escorted off the property like a crazy woman).
Star Wars Galactic Nights – The next one is in MAY of this year!
Not included in your day at Hollywood Studios this is a special ticketed one night event thus far, Disney may do more, but let me tell you, it looks amazing. You can arrive dressed up, walk the red carpet and spend the whole night at the park having special and exclusive experiences. The ticket includes a second viewing of the fireworks show, which is slightly modified for the special event. Bring your good camera, because all the characters you don't get to see during regular park hours from the Star Wars Franchise are bound to make an appearance. I'm talking about the Characters we all looked forward to meeting when Star Wars Weekends was a thing. Count on Darth Vader, Ewoks, Bounty Hunters (there are more than just the Fett family who make an appearance), and many more. Backdrops will be set up all around the park which allow you to be a part of a realistic scene straight out of the movies. Although the ticket price is comparable to other special events ($129), I think you really get a lot more out of the experience with the information that has been released thus far. There is even a scavenger hunt throughout the night taking you on a journey through all the movies and culminating on an experience to reenact your favorite scene or capture a message of hope, a la Leia. Rumor has it the rides will also be modified for additional and exclusive Star Wars inspired fun. I would hurry and get your ticket before they sell out.
Check out Erika's shop on FB at https://www.facebook.com/imagineering.emporium/!