Haunted Mansion History, Part 3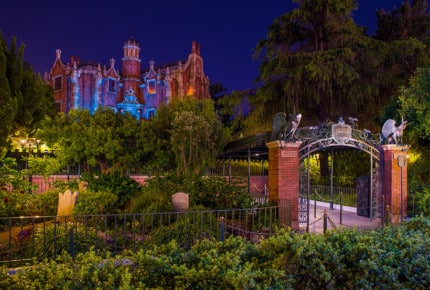 Oh, I see you have returned for more haunting history on Disney's beloved home for happy haunts. Our historical journey now takes us to the first Disney park built outside of the United States, grab your broomsticks, or your vacuum and let's fly on over to Tokyo Disneyland.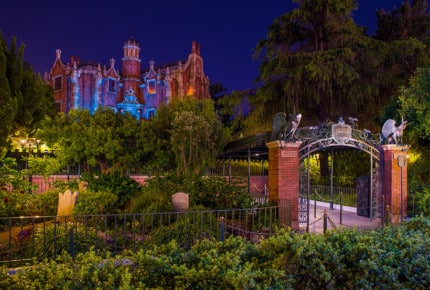 When Imagineers began working on this new park, they knew many of the attractions that were popular in America would also translate well in Japanese culture. Many of the classic rides from Magic Kingdom at Walt Disney World were planned to be doppelgangers including Pirates of the Caribbean and obviously the Haunted Mansion. Like every iteration of the attraction, Imagineers were faced with where to place the ride. Toyko Disneyland would have no New Orleans or Liberty Square, some of the lands as created at Magic Kingdom would be replicated in Tokyo, but the two where the mansion existed stateside would not. So Imagineers looked to Japanese culture to figure out where the attraction would ultimately end up.
In Japanese culture ghost stories are considered fantasy; more so a fable than an actual reality. So when the final decision was made on where to place the Haunted Mansion, Fantasyland became the new home for 999 new ghostly guests. If you were to actually travel to Tokyo Disneyland you may feel a sense of déjà vu. You see, dear TMSM reader, The Haunted Mansion at Walt Disney World and Tokyo Disneyland are twins. Everything is the same inside and out architecture wise, and the attraction's most popular elements now existed in triplicate. The only difference in Tokyo were two massive griffinlike creatures fashioned out of bronze and nested upon pillar columns added outside of the Mansion's front gate. Otherwise WDW and Tokyo Disneyland scare up the same thrilling experience… most of the time.
Why most of the time? Well, Tokyo Disneyland does get a seasonal change every year. Much like the Haunted Mansion at Disneyland in California, the Haunted Mansion in Tokyo gets a yearly visit from Jack Skellington and his friends during the holiday season. Haunted Mansion Holiday Nightmare as it is called debuts every year with special additions of Jack, Sally, Ooogie Boogie and the rest of the Nightmare Before Christmas crew, decking the halls with nightmarish fun.
Ghost Host Fun Fact: Tim Burton, creator of The Nightmare Before Christmas, was consulted on each and every design aspect for the Haunted Mansion seasonal transformations. Tim Burton brought with him all the other directors of the film to work closely with Imagineers recreating the holiday story 'Twas the Night Before Christmas using the iconic characters.
The movie is a huge sensation in Japan, which helped make it an easy decision to incorporate the seasonal transformation for guests to experience. Every room of the Haunted Mansion is turned into a Nightmare Before Christmas holiday spectacular. The stretching room portraits are replaced with stained glass windows of images both delightful and twisted. Jack Skellington dressed as "Sandy Claws" is invited by the spirits to help bring some holiday cheer to the mansion. Sally can be seen in the portrait gallery painted on canvas watching a Christmas tree burn, and she appears throughout the mansion at various other locations, the first 3D sighting is in the music room where Scary Teddy plays the piano. Even Zero makes an appearance in the endless hallway scene, and most impressively floating in the Grand Hall where every inch of the vast room from the long table up to the staircase and even the organ and massive chandelier is decorated in the most decadent of Burton-esque holiday party décor. Lock, Shock and Barrel can be seen behind Madame Leota in the séance circle, something unique to the Tokyo Disneyland version of the experience. The attic is transformed to be filled with boxes of surely disfigured toys and an orange and black snake gobbles up Sandy Claws' naughty list. If you look carefully you may even spot a small Oogie Boogie hiding among the boxes. The graveyard takes on a winter wonderland enchantment with Jack suited up in his red Sandy Claws attire. A full replica of the unmistakable Spiral Hill landmark from the movie can also be seen here, adorned with snow covered jack-o-lanterns glowing bright in the night. Skeleton reindeer prance and jingle in the graveyard, another frightful delight for Tokyo Disneyland guests. You'll depart the experience through the crypt just as you do in the other Haunted Mansion rides, but at the Tokyo Disneyland version, you are greeted by Lock, Shock, and Barrel who control your fate instead of Ooogie Boogie (as seen in California's Haunted Mansion Holiday).
So if you ever want to experience the magic and wonder of a Nightmare Before Christmas Haunted Mansion Holiday, for now your best bet is either a trip to the House of Mouse in California or stamping your passport for a voyage to Tokyo. Those of us who love the Magic Kingdom version continue to cast our hopes high for a mansion make-over, Tim Burton style.
Author:
Erika
Erika Roberts has been a Disney kid for as long as she can remember, but her love of visiting Disney Parks started after just one ride in a Doom Buggy. She couldn't run to guest relations fast enough to offer up her soul in return for an Annual Pass. Since then Disney has taken all of her money, but has given her the most cherished memories; from watching her Nona's face light up with happy tears as we strolled down Main Street on her first visit (she was 84 at the time), to her very own engagement on Halloween in front of the Haunted Mansion.
Erika is excited to be on the TMSM team and where Disney Parks are concerned, you won't catch her dead on It's a Small World. If she asks to ride that, this is a clear indication that she is in danger and you must send help. You will, however, catch her performing Random Acts of Disney (R.A.D's), park hopping with her amazing group of impressively talented and kind friends (usually in some themed attire), hanging out by The Haunted Mansion, and ugly crying during fireworks… then begging for a Mickey Premium Bar to eat her feelings…this is a judgment-free bio.
Otherwise, Erika works for the State of Florida and is actively involved in her community. Erika believes in empowering others and spreading kindness to people from all walks of life. Erika also makes custom designed Disney inspired ears, etched glass, gifts, and accessories. You can check out, like or follow her work on FB, which also links to my shop's Instagram: www.facebook.com/imagineering.emporium. She looks forward to getting to know everyone and sharing the magic of Disney!