"it's a small world" Quiz
We've been on it. We've had the song stuck in our head for days. So, how well do you think you know It's a Small World? Take this fun quiz provided by Disney Parks Blog and post your results in the comments!
1. What is the name of the waterway that carries you throughout "it's a small world"?
a. Seven Seas Waterway
b. Happiest Waterway
c. Small World Waterway
2. Who wrote the "It's a Small World" song?
a. Frank Churchill
b. Leigh Harline
c. Richard & Robert Sherman
3. About how many Audio-Animatronic dolls will you find at "it's a small world"?
a. About 200
b. About 250
c. About 300
4. How many languages do you hear the song "It's a Small World" in during your boat ride?
a. 5
b. 10
c. 20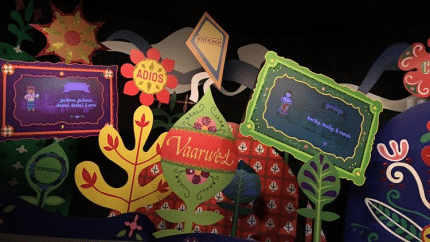 Answers:
1. A – Seven Seas Waterway
2. C – Richard & Robert Sherman
3. C – About 300
4. A – 5
How did you do?
Author:
Susanne
Susanne Kain was not born a Disney fan, but after marrying into a family that loves all things Disney, it didn't take long for them to transform her into a Disney lover too! Since then, she has been to Disney over 10 times and falls in love even more with each visit. A self-proclaimed foodie, she is always looking for the next best dish that Disney has to offer! When Susanne isn't dreaming of Disney, planning her next trip, or visiting a park, she enjoys spending time with her husband and son who also share her love of Disney.