Do as Dreamers Do – Lillian & Co.
Do as Dreamers Do – Lillian & Co.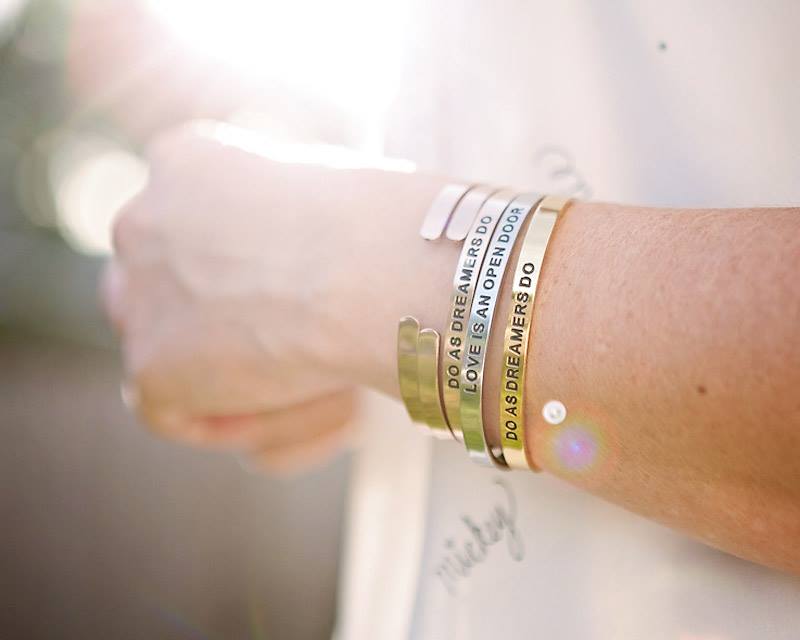 Hi Main Streeters! Welcome back to this series featuring amazing individuals who have a passion for Disney, and create some wonderful stuff for the Disney community. This month's Dreamer is Charity Craig, the owner of Lillian & Co. If you aren't familiar with Lillian & Co. it's a wonderful shop specializing in Disney inspired jewelry. Truly perfect accessories for the minimalist Disney fan that pack a super stylish punch incorporating whimsy designs and classic quotes from Disney favorites to inspire anyone.
Walt Disney was legendary, but without his wife Lillian, he was just a man with a dream. She inspired Walt and supported him long before he was successful. Charity named the business in honor of Lillian Disney, and incorporated designs reminiscent of simpler times when Walt and Lillian held hands in the park, or took a spin on the teacups.
I reached out to Charity because I am a big fan of her line. She was gracious enough to agree to an interview. Check it out:
Erika (E): When did you first become a Disney fan?
Charity (C): I grew up in southern California, so Disneyland was a big part of my childhood, and I've always love the animated movies, but it wasn't until I met Matt and his utter love for all things Disney that my love began to deepen. Matt proposed to me in front of Cinderella's castle at Walt Disney World during Wishes fireworks, and that's where we honeymooned. I guess with a husband who loves Disney, you can't but help love it, too.
E: Can you tell me a little bit about what you make?
C: Lillian & Co. is a jewelry company with minimalistic jewelry and accessories that bring inspiration and magic into your everyday lives. Our desire is to inspire people to keep dreaming, to continue to pursue the life they want, and to always remember they deserve the greatness they desire, without ever letting go of their childhood wonder.
E: Did you always know you wanted to make jewelry?
C: I did not always want to make jewelry. In fact, for most of my life I had no idea what I wanted to do, but as my life's journey twisted and turned, and as I learned to do more of what I loved, and continue to believe that I would find something I was passionate about, Lillian & Co. became a reality that I never knew I wanted.
E: What steps did you pursue to hone in on your craft?
C: The older I get, the more I realize everything thing we do, whether we love it or hate it, prepares us for our future. For many years, I worked in office administration. I hated it, but now I have the administrative skills to run a small business. For many years, I was a wedding photographer. I never was truly happy as a photographer, but now my photography skills allow me to take the product images I need. Matt owned a creative and marketing agency for several years, and so he's brought his web design and marketing expertise to the table. We say all the time how phenomenal our journey has prepared us for this. Nothing is a waste on life's journey.
E: Did you always want to create Disney inspired pieces? If so, what sparked that, if not, what sparked the change?
C: From the start, we were committed to pulling inspiration from the whimsy and magic of Disney, but we are definitely open to change and broadening our products, but we will always stay committed to our original purpose. We will always keep the magic.
E: What is your favorite Disney inspired subject to draw inspiration from?
C: By far, Walt himself. Even though we decided to honor his wife and greatest support, Lillian, with our name. We still pull so much inspiration from Walt and his creative genius.
E: What's your favorite type of piece to work on?
C: Right now our only piece is our bracelets, but we have several more things in the works for the future of our company, so I think my favorite piece to work on is the dreaming big.
E: What kinds of requests do you get?
C: We are constantly getting suggestions for new Disney quotes, and we love it! We love hearing what people connect with, what they would love to wear on their wrists. As a small growing company, we are limited as to how many new quotes we can release, but it's so helpful to know what to release next when people send us their requests.
E: Anything new, fans and readers should be looking forward to?
C: There's definitely some new things in the works, so stick around! For now, I'm going to keep the details under my hat, but it's for sure going to be amazing and magical. Until then, keep an eye out for more quotes each month.
E: If you could give anyone some advice to Do as Dreamers Do, what would it be?
C: There are several layers to my advice; One, dream big and ostentatious dreams. Then, take your larger than life dreams, and work every single day to believe you can achieve them. Practice believing until you believe it all the way — implicitly and unquestionable.
Two, forget the idea that you have nothing to contribute or that someone is already doing it and doing it better than you. Even Walt was rejected because he didn't have an original idea. I read a book that has inspired me to keep moving toward my dreams. It's called Steal Like an Artist by Austin Kleon. His entire book is based on that as creators we start with what others are doing, and we add pieces of ourselves, and the end result is unique and original. We're not the only company creating quote bracelets. We're just the only ones doing it like us. There's room for all of us on this creative playground.
Three, Matt always says the quote we've heard, "Do what you can, with what you've got, where you are." Waiting until the right time to get started, means you'll never get started. Matt's second favorite quote is "Fake it until you make it." Just do what you can do with what you've got, and as it turns out, you'll figure it out as you go.
I thanked Charity for giving me her time and honest answers to help this series continue to shine a light on talented Disney creators. While I was at it, I also gave her a suggestion for a bracelet I would love to see made in the near future, and she was nothing but wonderful discussing the idea. I encourage our readers to check out what's in Lillian & Co.'s shop, and follow their journey to bring beautiful minimalist Disney jewelry to a wonderfully diverse and fashionable community.
www.lillianandco.com