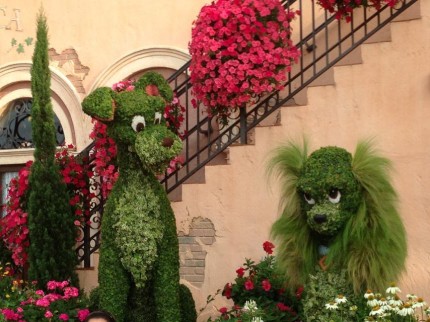 The Epcot International Flower & Garden Festival started this week!  It is truly one of the prettiest times to be at Epcot. Here are some fun facts about the festival!
The first festival took place in 1994
The original sponsor was Better Homes and Gardens
The 2016 festival starts on March 2nd and ends on May 30th
It takes over a year to plan (and grow the flowers) and more than 24,000 cast member hours
It takes over 400 horticulturists to install/plant and over 100 horticulturists to maintain throughout the festival
All plants and trees are tested in advance to make sure they can survive in Florida Soil
Plants native to the home country pavilion are used for authenticity
There are more than 30 million blooms
There are more than 500,000 trees, shrubs, and plants used. Of those, 250,000 are annuals used in more than 250 beds throughout the park
The character topiaries are made up of more than 25 different plants, grasses, and mosses and 200 one-pound boxes of hairpins are used to attached the plants and flowers to the mold
There are more than 200 floating mini-gardens
The plants include 48 varieties of bedding plants, 47 types of palms, and 60 different species of trees, and more than 100 types of flowers
There are over 10,000 butterflies that represent 10 different native species
What is your favorite part of the festival?