Allergy Friendly: Mr. Fredricksen's Floating House Fruit Treat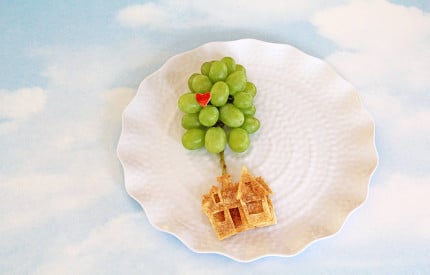 The extent to which Carl Fredricksen goes in fulfilling the promise he made Ellie to visit Paradise Falls is nothing short of a true testament to love. Likewise, this sweet-and-healthy home-made Valentine confection is proof that even the sky's not the limit when it comes to expressing affection.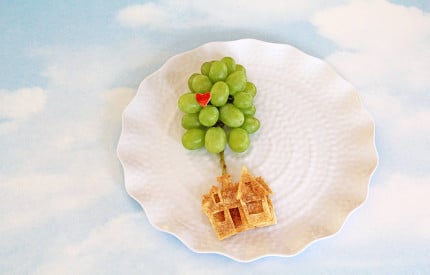 Prep Time 20 mins
Cook Time 0 min
Total Time 20 mins
What You'll Need
Corn tortilla
1/4 to 1/2 teaspoon canola oil
1 teaspoon raw sugar
1/4 teaspoon cinnamon
1/2 to 1 teaspoon honey (to stick the pieces together)
Small bunch of green grapes (still on the stem)
Small slice of an unpeeled red apple (optional)
Clean craft knife
Pastry brush
Small heart-shape fondant cutter
How To Make It
Print the template and use the pieces to cut matching shapes from the corn tortilla. For the best results, use a craft knife for slicing the tortilla. Don't forget to cut out the window and door openings, as well as the small dormer lines (shown on the template)
Toast the three tortilla cutouts in a small fry pan over medium-low heat just long enough to crisp them without making them curl too much. Remove the pieces from the pan and brush the tops very lightly with canola oil. Combine the sugar and cinnamon in a small bowl, and stir to mix them. Immediately sprinkle the mixture onto the tortilla pieces.
To assemble the pieces, set the house front atop the base, using a bit of honey to "glue" the two layers together. Then stick the window bay piece in place to the left of the door.
Wash and dry the grapes, being careful not to pull them off their stems. Place the bunch on a serving place with the stem pointing down, so that it resembles a bouquet of balloons.
Set the tortilla house below the bouquet, positioning it so that the chimney overlaps the end of the grape stem.

 

To turn the treat into a sweet valentine, use the heart-shape fondant cutter to cut a small heart from the red apple slice, and tuck the cutout into the balloon bouquet.
Nutritional Facts
Detailed nutritional information not available.
PLEASE READ: This recipe does not include ingredients that contain milk, eggs, fish, shellfish, tree nuts, peanuts, wheat, and soy. When grocery shopping, it's important to read food labels to ensure that the specific brands you are purchasing do not contain any of your allergic triggers or traces of them. Please check with your allergist to make sure you are not allergic to any of the ingredients in this recipe before incorporating them into your diet. People with food allergies are often allergic to more than one food. All registered trademarks and trademarks are the property of their respective owners.
Source: Disney Famil