Swan & Dolphin Resort Tower – Update







Earlier this year we reported an expected expansion at the Walt Disney World Swan and Dolphin Resort. Now we have more details about the planned third tower.
Currently, the resort has 2,270 guest rooms, numerous restaurants, a spa, and 331,000 of meeting space. The new tower, set to be built on the current tennis courts next to the Swan, will add 349 guest rooms on 14 stories and meeting space of more than 21,000 square feet. In addition, the tower will also have 151 guest suites that will include private executive meeting spaces, top-floor meeting space, a 90-foot pool, fitness center, and a restaurant and bar.

Construction is set to start this fall and completion is scheduled for 2020 according to the resort owners Tishman and MetLife Investment Management. Artist renderings (below) show a façade a bit different from the current resort style with more glass and a covered rooftop terrace.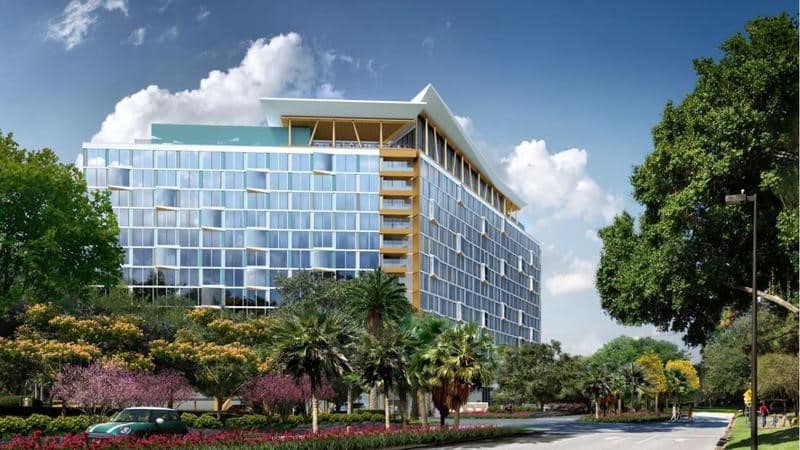 The resort, which opened in 1990, was built by The Tishman Group, the contractor who was hired to build Epcot who had hotels in the nearby Disney 'hotel zone'. It is rumored the Epcot deal gave them exclusive rights to operate convention hotels on property, which is how the Swan and Dolphin resort came to be.
Guests staying at the resort do get all of the Disney perks including complimentary transportation to the parks, Extra Magic Hours, and FastPass+ 60 days in advance, however other perks like the dining plan and charges to Magicbands are not available. They do offer character dining at Garden Grove nightly and for breakfast on Saturdays and Sundays. As an additional perk, they offer free on-site parking!
Are you excited about the new space? Share your thoughts in the comments!
Author:
Susanne
Susanne Kain was not born a Disney fan, but after marrying into a family that loves all things Disney, it didn't take long for them to transform her into a Disney lover too! Since then, she has been to Disney over 10 times and falls in love even more with each visit. A self-proclaimed foodie, she is always looking for the next best dish that Disney has to offer! When Susanne isn't dreaming of Disney, planning her next trip, or visiting a park, she enjoys spending time with her husband and son who also share her love of Disney.