Unlocking the Vault
Happy Thursday Main Streeters! This week, I'm back with another historical look at Walt's brilliant technicolor world. Typically, my movie analysis dives deep into some of the lessons Walt meant to impart on his audiences. As I have researched the early years of Walt Disney Studios, some of the movies released didn't exactly pull at the heartstrings and leave you with a sense of deeper significance, or valuable lessons. Perhaps this could be due to the country's post-war sentiments, and a need for wholesome entertainment to escape grim realities. Now, this week, we are stepping way into the vault to explore three movies that released in concurrent years, and all had one thing in common. They were musicals. Let's look at Make Mine Music (1946), Fun & Fancy Free (1947), and Melody Time (1948).
Make Mine Music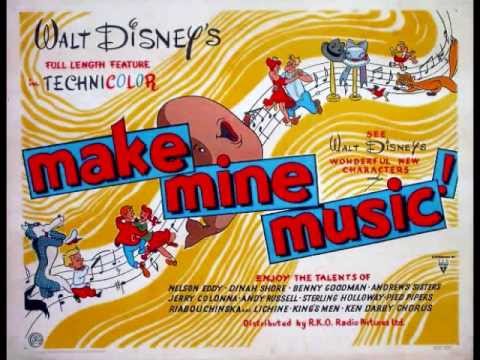 Walt had already dipped his toes in the musicals genre with the release of Saludos Amigos and The Three Caballeros, both movies part of the promotional campaign for the Good Neighbor Policy. With the war raging on and a depleted staff due to the Army draft, desperate times called for desperate measures. In order to keep the studio thriving, Walt made a choice to feature totally unrelated animated segments set to campy and often cheerful music.
The film ran for a good 75 minutes, and included 10 separate segments telling different stories. Curiously, the movie poster advertised the content as "Happy Comedy Musical", but the content of the segments raised a few eyebrows as the years went on. For example, one segment called "The Martin and the Coys" featured comedic gunplay that was later deemed inappropriate for children. Another segment called "All the Cats Join In" showed what is reported as "mild female nudity". Understandably when this movie was re-released, these segments were edited for content, or scrubbed from the release all together for US and UK audiences. The Japanese release was left uncensored.
Fun & Fancy Free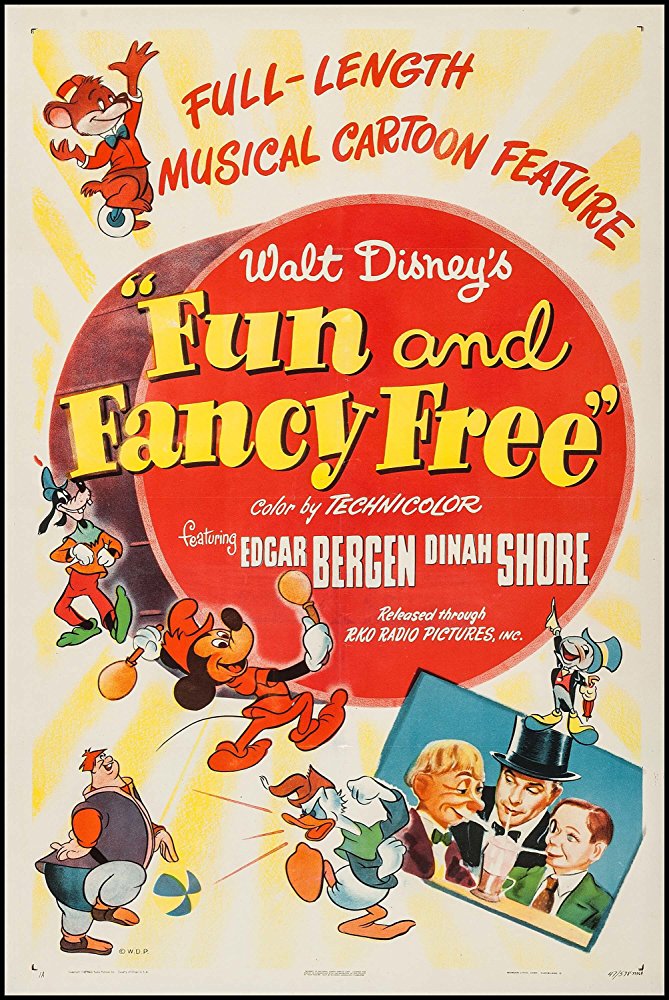 In this 1947 film, we see the return of Jiminy Cricket hosting one of the two stories in the full length musical cartoon feature. Jiminy hosts the story "Bongo", and the second story in the film is the Mickey led adventure and Walt's take on Jack and the Beanstalk. This is also the last film where Walt voices Mickey Mouse himself. Although the film is mostly animated, some live action shots were added in between stories, and the film ran for 73 minutes.
The revenue generated from this film and three other animated musicals helped fund future films such as Cinderella, Alice in Wonderland, and Peter Pan. The war really put the studio in a tail spin, and Walt was feeling the effects both in the lack of substantive animated content, and also from harsh movie critics. This movie was rated as mediocre at best.
While researching this film, I came across some interesting information on its existence as a package film. Originally, Bongo and Mickey and the Beanstalk were supposed to be released as stand alone films. Both were started in the early 40s, and the Beanstalk movie was originally titled The Legend of Happy Valley. It was started after Dumbo's release, and the production moved relatively quickly with 50 minutes of completed animation within 6 months. It was tabled due to World War II, and production on Bongo picked up. The story was originally pitched as a sequel to Dumbo, but was never greenlighted as such. After the bombing of Pearl Harbor, the US military took control of Walt's studio to produce war propaganda, and the project was shelved. Finances and the lack of sophisticated animation forced Walt to use these two stories as a package film.
Melody Time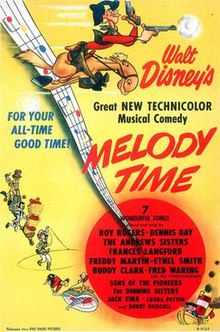 If you're looking for a film that appeals to the senses like Fantasia, this movie is it. Considered the "kid sister" film to Fantasia, Melody Time combined live action and animation into 75 entertaining minutes broken into 7 segments. Although don't be fooled, the artistry of this film lacks what Fantasia brought audiences years prior.
Walt took seven stories and reimagined them with bright and fantastic new characters all while setting the scene to a jovial score. There are some guest spots from beloved newcomers such as Jose Carioca in the samba segment also featuring Donald Duck.
This would be one of the true final package films the studio would put out where none of the stories had any bearing on one another to progress the movie. In later releases, the movie was edited to remove smoking and other portrayals of questionable behavior by animated characters.
Interesting enough, although the movie was underrated and received negative reviews, real Disney buffs will be able to point out some of Melody Time's memorable memorabilia hidden around Disney parks and resorts. Here are a few tidbits to bump up your Disney expertise; there are references to the Pecos Bill animation in Magic Kingdom, a mural of Jose Carioca is painted on the ceiling of World of Disney (pre-refurbishment), and a script for the movie is housed at the All-Star Movies resort. Little nods to the history of Walt Disney Studios.
Tell us Main Streeters, how many of you have seen these films? Are there any more hidden nods to them around the park? Share with us!
Author:
Erika
Erika Roberts has been a Disney kid for as long as she can remember, but her love of visiting Disney Parks started after just one ride in a Doom Buggy. She couldn't run to guest relations fast enough to offer up her soul in return for an Annual Pass. Since then Disney has taken all of her money, but has given her the most cherished memories; from watching her Nona's face light up with happy tears as we strolled down Main Street on her first visit (she was 84 at the time), to her very own engagement on Halloween in front of the Haunted Mansion.
Erika is excited to be on the TMSM team and where Disney Parks are concerned, you won't catch her dead on It's a Small World. If she asks to ride that, this is a clear indication that she is in danger and you must send help. You will, however, catch her performing Random Acts of Disney (R.A.D's), park hopping with her amazing group of impressively talented and kind friends (usually in some themed attire), hanging out by The Haunted Mansion, and ugly crying during fireworks… then begging for a Mickey Premium Bar to eat her feelings…this is a judgment-free bio.
Otherwise, Erika works for the State of Florida and is actively involved in her community. Erika believes in empowering others and spreading kindness to people from all walks of life. Erika also makes custom designed Disney inspired ears, etched glass, gifts, and accessories. You can check out, like or follow her work on FB, which also links to my shop's Instagram: www.facebook.com/imagineering.emporium. She looks forward to getting to know everyone and sharing the magic of Disney!