A December to Remember ~ Part 1 #disneyholidays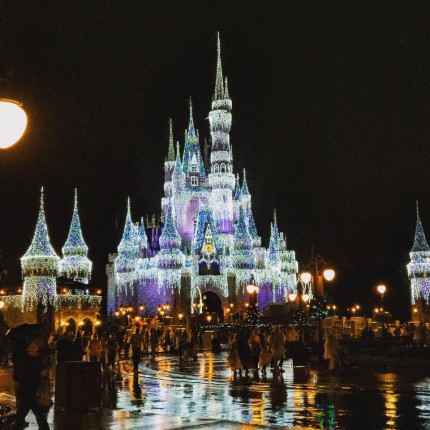 How did it become mid December already? It seems like the year just flew right by! It's what many call, the most wonderful time of the year. While my favorite season to visit Disney revolves around when the leaves are changing colors and lit pumpkins pierce the night sky, others love visiting when there is something very merry in the air. That's right, the Holiday Season at Walt Disney World.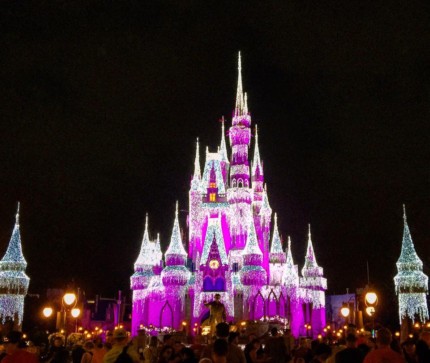 There is no shortage of activities at the parks during the Holidays. You've seen Mickey's Very Merry Christmas Party hailed as the main ticketed attraction, it's no wonder thousands of people flock to the House of Mouse in Central Florida to witness the parks and pretty much the entire Disney property magically transform into a Holiday Wonderland. Along with the holidays comes traditions, and one very special tradition that people partake in at Disney is posing for a Christmas card to send friends and family. So pull out your ugly sweaters and yuletide accessories my friends, the next series I'm bringing TMSM is all about the best places on Disney property to strike a pose for your Christmas cards! These locations are great options day or night. So you can choose what lighting works best, the natural daylight or the evening with all the Christmas lights twinkling.
From now till Christmas, I'll be covering a new park or property, and at the end of it all, you'll get a FREE photo scavenger hunt printable to take your Christmas Cheer to the next level. I'm talking 100 sugar cookies and 50 hot cocoa's kind of crazy fun! Play with your family, or play with friends! And without further ado, let's start with Magic Kingdom!
For the train enthusiasts: You will most definitely want to score a snap in front of the Walt Disney World Railroad at the entrance to the park. What is usually a Mickey portrait on the mound by the train has been transformed into a large red Mickey ornament made entirely of Christmas flowers. Extra amazing if any of the four original narrow-gauge trains built between 1916 and 1928 are at the station when you choose to take the picture.
Fun Fact: Did you know each of the steam powered trains has a name?
Walter E. Disney, named after Walt Disney
Lilly Belle, named after Walt's wife, Lillian
Roy O. Disney, named after Walt's brother
Roger E. Broggie, named after an original Imagineer who led the railroad project at Walt Disney World Resort
For the Townie: As soon as you step into Magic Kingdom passing under the Walt Disney World railroad you emerge onto Town Square and are greeted with a Christmas tree of epic proportions. This tall tinseled beauty with giant presents laid under its branches is decked out in gold garlands with gingerbread ornaments gingerly placed along the tree.
There are so many angles in town square for great Christmas photo ops aside from the tree. There are toy soldiers and candy cane posts among the meticulously pruned poinsettias flanking the center of the square in four different directions. If you stand just right, you can also get some of the castle in your shot. A truly magical scene for an unforgettable portrait. Which brings us to our next location….
There is also a really sweet spot next to City Hall where you can meet Santa that features a beautiful lit Mickey wreath, two Christmas trees, a garden of poinsettias and gigantic candy canes. Find the sign counting down to Christmas, and you've found another holiday backdrop. I would recommend this spot if you like your pictures to not feature anyone other than your loved ones. It avoid a lot of questions like "whose that guy in the tropical shorts and flip flops?" especially when you are all dressed in your Christmas best. Pro Tip: You can even check out the area when Santa is not around.
For the Main Streeter: If you are looking for the classic Disney Christmas vibe, you will want a great picture with your loved ones directly on Main Street. Nothing is more spectacular than the view leading down to the castle. Main Street is decked out with Christmas wreaths and pine garlands on every light post and building as you make your way down towards the Partners statue. This is a great spot to round up your group. If you have the Photopass option for your visit, use it to your advantage and get some great shots with a professional camera. I would also recommend asking for pictures with your own camera too; just in case.
Fun Fact: Because Walt Disney World is in Florida, you may notice that the "ornaments" on the wreaths of the main street light posts aren't really ornaments at all. They are citrus fruits.
For Walt's Biggest Fan: The Partners statue is a beautiful location to pose for a picture. You get a great view of the iconic castle in the background, and a little photobomb from Walt and the Big Cheese himself, Mr. Mickey Mouse.
For the Royal Family: Nothing screams Royalty like a castle. Magic Kingdom delivers and decorates it all for you. Although the front of the castle isn't overly festooned for the Holidays, the back of the castle near the entrance to Cinderella's Royal Table has some Christmas cheer in the form of pine garlands. The real Christmas spirit for the front of the castle happens in the evening when the sun goes does, the castle is literally frosted with twinkling lights. If you love Frozen, this is a good time to snap some family pics as Elsa lights the castle with the help of Anna, Olaf, and the rest of the Frozen family.
Now, what if you want some Disney Christmas Cheer without the typical Disney photo opportunities. I can help you with that. Here are some locations off the beaten path that make for excellent Christmas card worthy photos.
For the ringer of sleigh bells: Right outside of the Ye Olde Christmas Shoppe in Liberty Square there happens to be a sleigh. This sleigh is available year round, so even if you don't get to take a Christmas time picture at the parks, you can bring your Christmas gear and camp out by the Sleigh for some pre-holiday pics. Super convenient, right?!
For the wild bunch: The Jungle Cruise is converted into the Jingle Cruise during the holidays and it's an amazing spot for Christmas pics that often goes overlooked. Tucked into the queue line area, you can find some pretty festive décor that would serve as an appropriate backdrop for the a wild bunch of Disney lovers.
For those in need of some haunted holidays: Visit the Haunted Mansion. Yes, the Haunted Mansion. The mansion itself is not decked out in Christmas cheer, sadly Walt Disney World doesn't have the Haunted Mansion Holiday treatment like Disneyland, but if you look really closely, the Mansion's front door has a Christmas wreath on it. This is also something that's hanging year round at the Mansion. So like the sleigh, this is another fun Christmas Card option.
Author:
Erika
Erika Roberts has been a Disney kid for as long as she can remember, but her love of visiting Disney Parks started after just one ride in a Doom Buggy. She couldn't run to guest relations fast enough to offer up her soul in return for an Annual Pass. Since then Disney has taken all of her money, but has given her the most cherished memories; from watching her Nona's face light up with happy tears as we strolled down Main Street on her first visit (she was 84 at the time), to her very own engagement on Halloween in front of the Haunted Mansion.
Erika is excited to be on the TMSM team and where Disney Parks are concerned, you won't catch her dead on It's a Small World. If she asks to ride that, this is a clear indication that she is in danger and you must send help. You will, however, catch her performing Random Acts of Disney (R.A.D's), park hopping with her amazing group of impressively talented and kind friends (usually in some themed attire), hanging out by The Haunted Mansion, and ugly crying during fireworks… then begging for a Mickey Premium Bar to eat her feelings…this is a judgment-free bio.
Otherwise, Erika works for the State of Florida and is actively involved in her community. Erika believes in empowering others and spreading kindness to people from all walks of life. Erika also makes custom designed Disney inspired ears, etched glass, gifts, and accessories. You can check out, like or follow her work on FB, which also links to my shop's Instagram: www.facebook.com/imagineering.emporium. She looks forward to getting to know everyone and sharing the magic of Disney!