Mickey's Not So Scary Halloween Party – The Countdown Commences – PART TWO
Hello again Main Streeters! Last week, I introduced some tips to help make the most of planning your trip to Mickey's Not So Scary Halloween Party (MNSSHP). This week, I will cover some of the basic rules to attend the party and helpful hints to make the most of your experience. Time to wrap up this two part series like a mummy.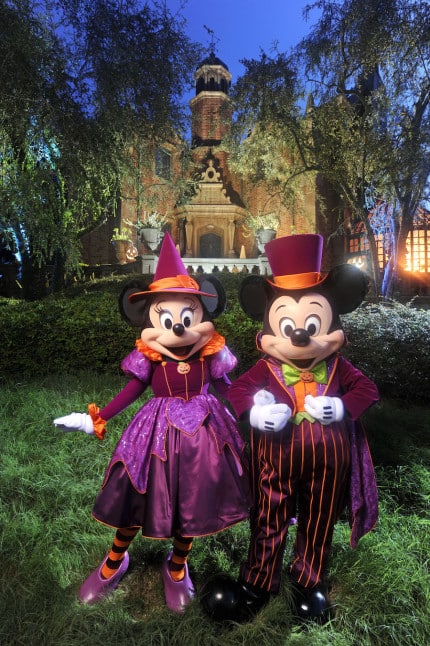 To recap if you are following along from last week, you already know that there are 32 parties this year, none that fall on a Saturday. So your only weekend option is a Sunday party, or a Friday if you count Friday as the start of your weekend. You also know that this year a party falls on Friday the 13th, so if you visit the Magic Kingdom or attend MNSSHP you can most likely bank on Friday the 13th limited release merchandise popping up in the park. You also know that with a MNSSHP ticket, you can enter the park as early as 4 pm where you can take advantage of using fastpasses to ride your favorite attractions before the park closes to the public at 7 pm and all non-ticket holders must leave the Magic Kingdom. Finally, I also advised guests attending to bring their own candy collection bags if they wanted to score a large haul of savory sweets, and clued you in on special bags provided to guests with allergies and food sensitivities – that bag color is teal. Plus, you got a heads up about other treats that are specifically crafted for MNSSHP events.
Now that you are all caught up, let's talk about costumes for the first tip. Disney has some general guidelines on their website about costumes for children and adults. Before visiting MNSSHP, make sure you have checked those all out, and be aware that Disney reserves the right to modify these rules without notice. If you have children under 14 attending the party, the rules encompass one bullet point: Costumes and some masks may be worn, as long as the mask does not cover the entire face and eyes are visible. If you are 14 and older, the list is a little longer, but not completely restrictive. You can essentially dress as your favorite Disney character as long as it is family friendly and you don't pose for photos or provide autographs to guests. If you are seen engaging in any of those activities you will be asked to leave the party. The key thing to remember is family friendly, group costume ideas are also always welcomed, just be creative and have fun with it.
Second helpful tip: if you enter the party early as recommended last week, you will get to witness Magic Kingdom literally transform into a ghoul's paradise. At 7 pm on the dot an announcement is made throughout the park that includes some spooky sound effects and lighting changes that totally shift the mood of the park. If you've never witnessed the transformation, the best place to go is Main Street when all the pumpkins begin to glow and the clopping of Ichabod Crane's horse can be heard in the distance. It gives me goosebumps every time.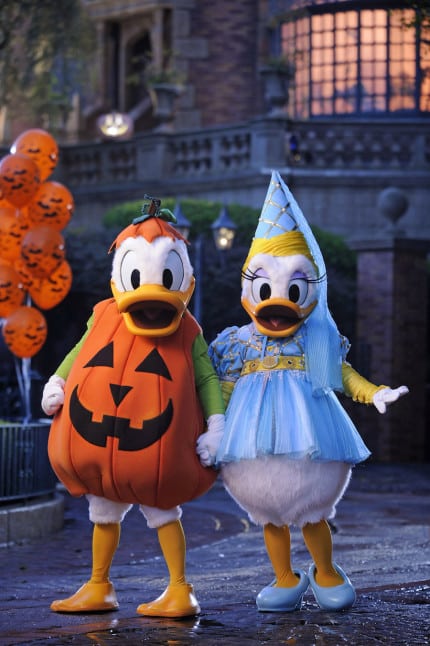 Another perk of coming to the park early is finding out where those exclusive and elusive character meet and greets are. At MNSSHP you can meet some of your favorite villains and characters you don't get to see if not for this special event. For the past three years Jack and Sally from the Nightmare before Christmas have been visiting the Kingdom. In past years the line to meet them has gone past 2 hours at some points. So if they are your top must see character, get to the park early, and get in line. They have been bounced around from Main Street to Liberty Square and the Storybook Circus in years past, and there has been no word on where Jack and Sally will turn up this year. Other characters you may run into include the Seven Dwarfs with Snow White, typically stationed in New Fantasyland by the Mine Train ride, Cruella, Lots o Huggin' Bear, the Queen of Hearts, Jafar and Terk. Again, where they will be stationed may be different than in years past. If you are going to the first party of MNSSHP you're unfortunately at a disadvantage but once the parties get under way you can always check back on The Main Street Mouse for an update on where to find these characters.
Here is an absolute pro tip for party goers; if you want to watch the Boo-To-You parade, wait for the 11:15 pm run. This parade happens twice during the party once at 8:30 pm and again at 11:15 pm, but the later run is less crowded as some of the younger kids who sugar crashed have already started heading out after the 10:15 showing of HalloWishes, another special, must not miss, to-do item to add on your MNSSHP list. HalloWishes only happens once a night, so plan to get the best viewing which is from the hub grass area. You may want to stake a place about 15 to 30 minutes before the first firework lights the sky. If you are extra smart, you can plan your viewing in conjunction with the Hocus Pocus Villains Spectacular stage show in front of the castle. This happens four times a night at MNSSHP, however times are subject to change. Last year some parties in October had the show starting at 7:45 pm instead of the 8:00 pm slot. If you watch HalloWishes then stick around for the 10:45 pm showing of the Hocus Pocus Villains Spectacular followed by the 11:15 run of Boo-To-You Parade.
So what do these tips teach you? When it comes to MNSSHP plan to stay until the park closes and the last pumpkin is lit. Ideally you want to plan your MNSSHP experience as follows:
4:00 PM – Enter the Magic Kingdom
4:30 PM- Acquire a MNSSHP party map and decide on the MUST DO meet and greets
5:00 PM – 6:45 PM – Ride your favorite attractions before the park closes to guests without a MNSSHP ticket OR start lining up for the must do meet and greets.
7:00 PM – If you don't wish to line up or your character is in the town square, take a moment to witness the park transform into MNSSHP from Main Street
7:15 PM – 10:00 PM – Keep trucking along with your character meet and greets, stop at the trick or treat candy stations on the way, catch a little comedy courtesy of Happy Haunts in front of the Haunted Mansion, maybe listen to the Cadaver Dans croon, ride some attractions if the wait times are low, grab a delicious snack or two, mosey around the park shopping, you get the idea.
10:00 PM – find a good spot for HalloWishes
10:15 PM – HalloWishes
10:45 PM – Hocus Pocus Villains Spectacular
11:15 PM – Boo to You Parade – make sure to keep your eyes peeled for the Headless Horseman riding through the park.
There you have it Main Streeters, the most efficient way to get around and enjoy a MNSSHP. Happy Hauntings!
Author:
Erika
Erika Roberts has been a Disney kid for as long as she can remember, but her love of visiting Disney Parks started after just one ride in a Doom Buggy. She couldn't run to guest relations fast enough to offer up her soul in return for an Annual Pass. Since then Disney has taken all of her money, but has given her the most cherished memories; from watching her Nona's face light up with happy tears as we strolled down Main Street on her first visit (she was 84 at the time), to her very own engagement on Halloween in front of the Haunted Mansion.
Erika is excited to be on the TMSM team and where Disney Parks are concerned, you won't catch her dead on It's a Small World. If she asks to ride that, this is a clear indication that she is in danger and you must send help. You will, however, catch her performing Random Acts of Disney (R.A.D's), park hopping with her amazing group of impressively talented and kind friends (usually in some themed attire), hanging out by The Haunted Mansion, and ugly crying during fireworks… then begging for a Mickey Premium Bar to eat her feelings…this is a judgment-free bio.
Otherwise, Erika works for the State of Florida and is actively involved in her community. Erika believes in empowering others and spreading kindness to people from all walks of life. Erika also makes custom designed Disney inspired ears, etched glass, gifts, and accessories. You can check out, like or follow her work on FB, which also links to my shop's Instagram: www.facebook.com/imagineering.emporium. She looks forward to getting to know everyone and sharing the magic of Disney!