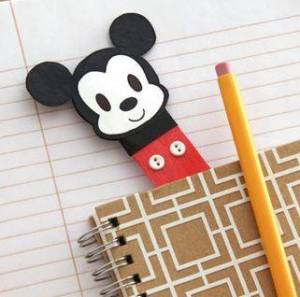 Here's a cute back to school craft idea courtesy of Disney Family!
What You'll Need
Download Mickey Bookmark
http://a.dilcdn.com/bl/wp-content/uploads/sites/9/2013/12/Mickey-Bookmark-Template.pdf

•Extra jumbo (1 inch wide) or jumbo (¾ inch wide) wooden craft stick
•Red acrylic paint
•Cardstock (white and black)
•Scissors
•Black permanent marker (fine-tipped and regular-tipped)
•Glue stick
•Tacky glue
•2 mini white buttons or white beads
•Acrylic sealer
•Small foam brushes (optional)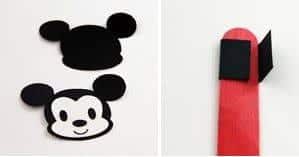 How To Make It
⦁ Paint the jumbo craft stick red, and set it aside to dry.
⦁ Meanwhile, print the template on a sheet of white cardstock. Cut out the face/head piece and color in the eyes, nose, outer face, and ears with black marker, as shown. Go over the mouth line with the fine-tipped marker as well. Use the head backing template piece to cut out a matching shape from black cardstock.
⦁ Glue the face/head piece to the top of the stick so that the chin is about 1/4-inch above the lower edge of the shirt. Then glue the head backing to the back of the face/head, sandwiching the stick top between them and matching up all the edges.
⦁ Brush a protective coat of glue sealer on both sides of the bookmark, if you like. This will also give it a little sheen. For the finishing touch, use dabs of tacky glue to attach two mini buttons to the stick right below the shirt.