Disney California Adventure Park's 'Beauty and the Beast' Attraction is Closing for Good
Beast's Library, an iconic attraction at Disney California Adventure, will officially be closing on December 10, according to Disneyland officials.
The announcement came Tuesday, when it was also revealed that Disney's Imagination Campus, an educational program that will teach students how to use their imagination to solve various challenges, will take its place.

"Our plan is for Imagination Campus to use the Beast's Library space moving forward and the final day for guests to experience Beast's Library will be Dec. 10," a Disneyland official told KTLA.
The attraction, which allowed guests to explore the "Beauty and the Beast" characters secret library, is located inside the Sorcerer's Workshop, found in Hollywood Land at Disney's California Adventure Park. The attraction's Prince portrait hangs in the middle of the room, and guests can watch as it changes to the Beast depicted in the 1991 animated film.
The enchanted book in the library asks guests a series of questions to determine which Disney character best fits their personality. Beast's Library opened in 2001.
Some fans took to social media to express their sadness over the removal of the attraction.
One Reddit commented: "Boo!! I still miss the zoetrope and Ursula.. Beast's library was such a hidden gem, really disappointed to lose more interactivity."
Another user commented: "This is so gross, and I'm usually the person that can look past weird Disney decisions like this."
Theme Park Wizard on X said 'Oh no! The imagination campus will be moving from blue sky cellar into the very awesome and usable space at animation academy inside the beasts library. Now that is tragic.'
A spokesman for the company said in a statement: 'We are constantly adding new, innovative attractions and entertainment to our parks and, with our broad array of pricing options, the value of a theme park visit is reflected in the unique experiences that only Disney can offer.'
What are your thoughts on Disneyland removing the "Beast's Library" attraction? Let us know in the comments!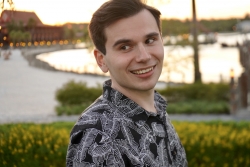 Latest posts by Sean Sposato
(see all)