It's Thanksgiving! A day to spend with loved ones and have a delicious dinner! If you're looking to add some extra magic to your table, here's a great craft idea from Disney Family! Seems easy enough, Enjoy!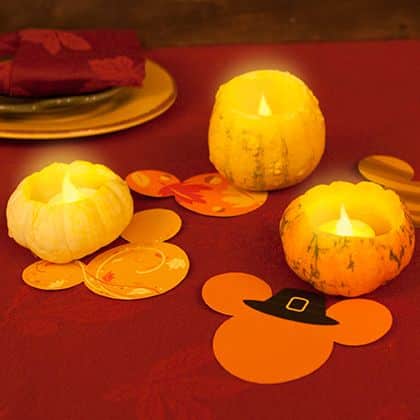 Download PDF ~
https://family.disney.com/wp-content/uploads/2013/11/thanksgiving-mickey-mouse-table-decorations-printable-1113_FDCOM.pdf
Time: 25 Minutes
What You'll Need
Mini gourds
Battery powered mini lights
Scissors
Knife
Spoon or ice scream scooper
How To Make It
Print and cut out the table decorations. Use them to decorate your Thanksgiving table.
Carefully cut off the tops of your mini gourds. Scoop out the pulp and drop in a battery powered light. If you use a real candle, be sure to not leave it unattended.

Have a wonderful Thanksgiving Everyone!