Today In Disney History ~ July 15th
Winnie the Pooh is a 2011 American animated buddy musical comedy film produced by Walt Disney Animation Studios and released by Walt Disney Pictures. It is the 51st Disney animated feature film. Inspired by A. A. Milne's stories of the same name, the film is part of Disney's Winnie the Pooh franchise, the fifth theatrical Winnie the Pooh film released, and Walt Disney Animation Studios' second adaptation of Winnie-the-Pooh stories. Jim Cummings reprises his vocal roles as Winnie the Pooh and Tigger, while series newcomers Travis Oates, Tom Kenny, Craig Ferguson, Bud Luckey, and Kristen Anderson-Lopez provide the voices of Piglet, Rabbit, Owl, Eeyore, and Kanga, respectively. In the film, the aforementioned residents of the Hundred Acre Wood embark on a quest to save Christopher Robin from an imaginary culprit while Pooh deals with a hunger for honey. The film is directed by Stephen Anderson and Don Hall, adapted from Milne's books by a story team led by Burny Mattinson, produced by Peter Del Vecho, Clark Spencer, John Lasseter, and Craig Sost, and narrated by John Cleese.
The film was released on April 15, 2011 in the United Kingdom, and on July 15, 2011 in the United States. Production for the film began in September 2009 with John Lasseter announcing that they wanted to create a film that would "transcend generations." The film also features six songs by Kristen Anderson-Lopez and Robert Lopez, as well as a rendition of the Sherman Brothers' "Winnie the Pooh" theme song by actress and musician Zooey Deschanel.
The film is dedicated to Dan Read, who had worked on Disney films including The Emperor's New Groove and Chicken Little, and died on May 25, 2010. That was also Huell Howser's (who voices the Backson in the epilogue) first and only film role.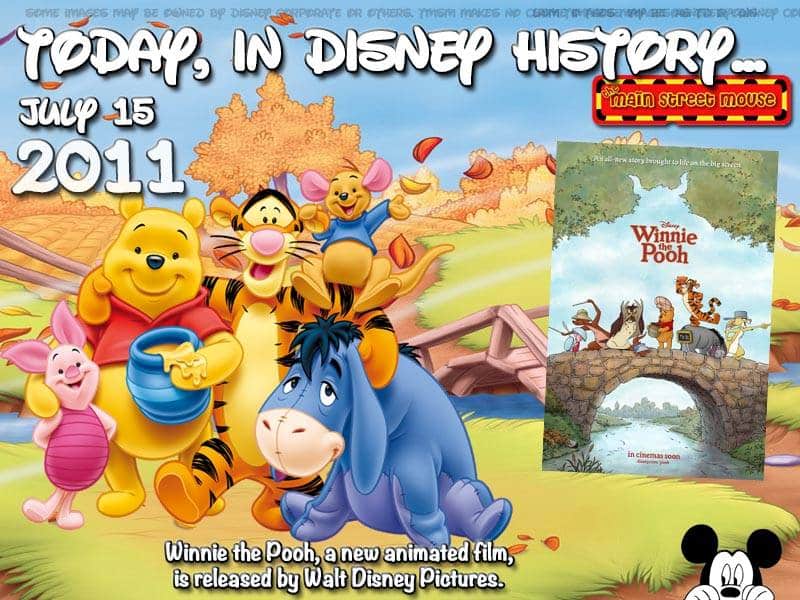 TMSM Today in Graphic by

Sherry Rinaldi DeHar

t; Wiki