By TMSM Racing Disney Guest Blogger Catie Neal
The first alarm went off at 3:30 AM. I don't really think any of us started moving with that one. The second one started ringing around 3:35 AM and that's when we started climbing out of bed. Four women getting ready in one hotel room for a race takes some skill.
Of course our outfits were all laid out the night before so all we had to do was put them on. However, after receiving the costume request for the 10K that was easier said than done.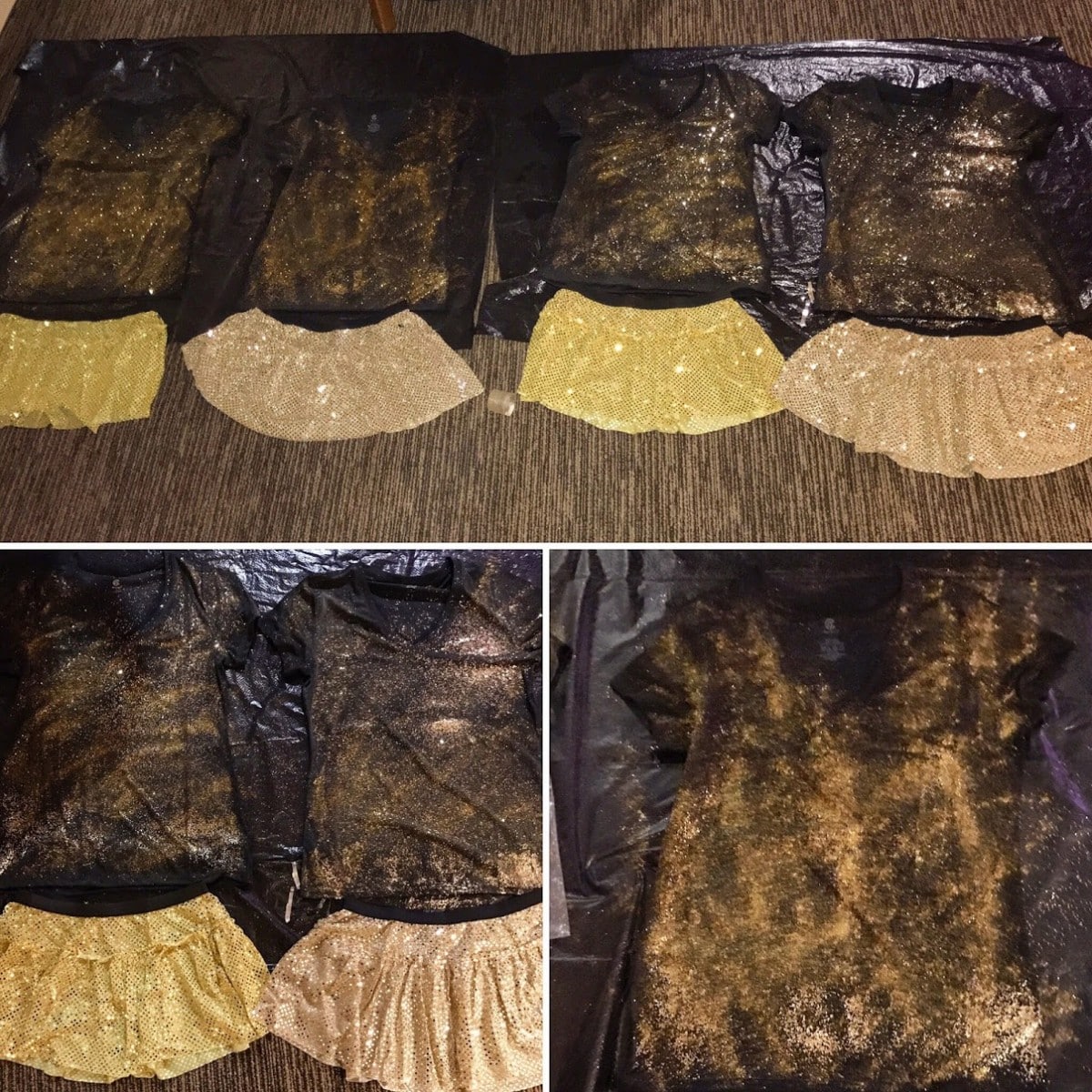 "Pixie dust." I was told they wanted to run as pixie dust. Therefore our costumes were black shirts that were covered in glitter and then our signature gold sparkle skirts from Sparkle Athletic. You may ask how one gets glitter shirts from the East Coast to California, the answer is very carefully. The shirts were pre-glittered at my house and then they were double bagged in Ziploc bags for transport. I also packed extra glitter to apply as needed to the shirts. And yes, I did apply more glitter the night before the race in our hotel room. (I promise we left a nice tip for the cleaning staff the morning of the 10K. Thanks to whomever cleaned up after us!)
Ok, so back to the morning ballet of getting ready for the race. All of us got our outfits on and proceeded to enjoy our favorite pre-race foods. We all took our turns in the bathroom and then grabbed our fuel belts and headed to the race start.
If you didn't know, the security/bag check for all of Disneyland has been moved to the entrance of Downtown Disney. This was the same bag check for the races. Bag check was extremely seamless this year for us. The location of our hotel meant that we were able to walk past the Reunion Lot on the way to the start. This meant if we had bags we needed to check that we could pop in there on the way to the start line. However, individuals who stayed in other areas may have had a lot more difficulty than we did. (I saw a lot of people on social media who struggled and were very disgruntled – more so during the half.)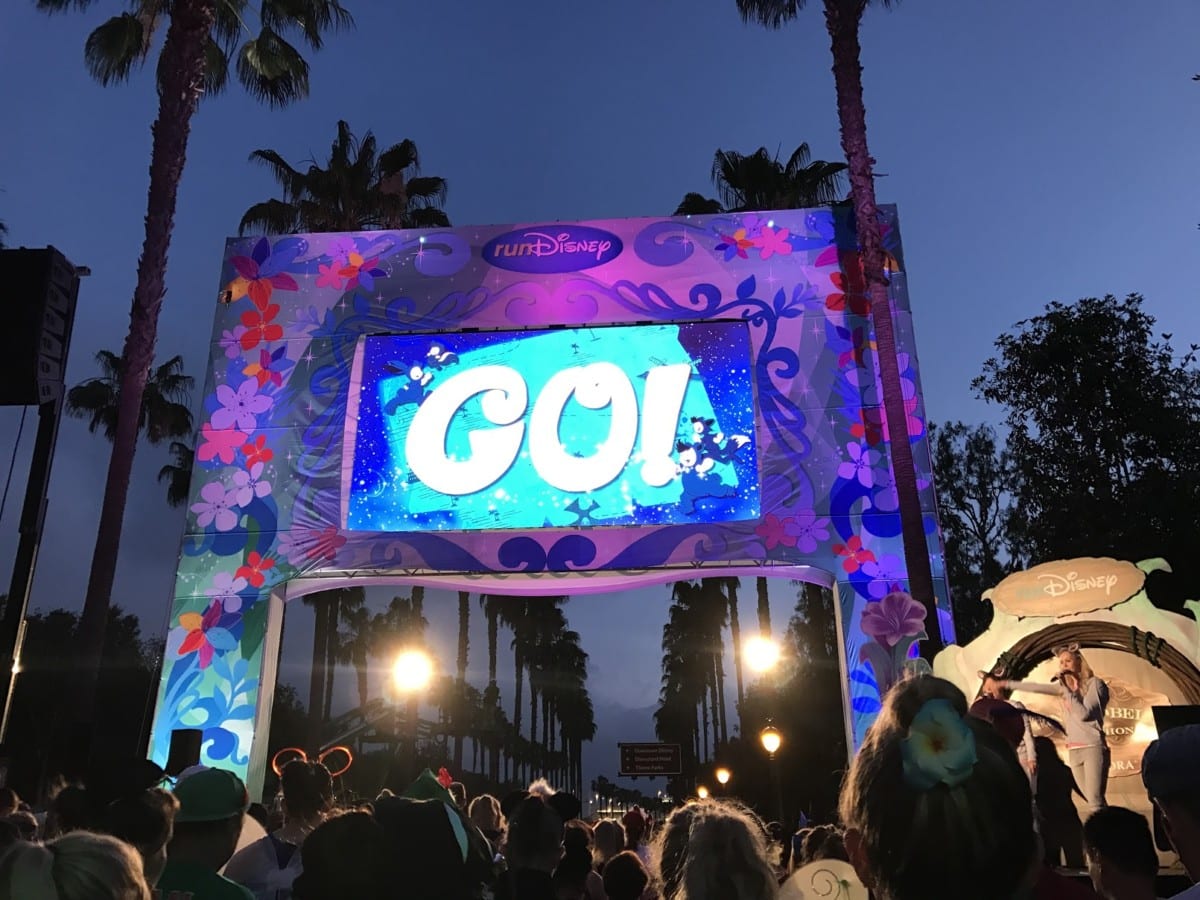 Bag check may have been seamless for us, but getting to the start corrals proved to be a struggle. We hit a major bottleneck in front of the Disneyland Hotel and had a bit of a wait. We then hit a small line of port-a-potties right before the corrals. We made a pit stop, took a group photo and headed our separate ways for the corrals.
Catherine and I headed to our corral and got settled in. We made some friends and snapped a few more pre-race pictures and then got ready to head out on our race.  Before we knew it we were off on our 10K adventure through Disneyland and California Adventure. We had prepared ourselves for this race thinking that there wouldn't be characters out on the course (this was blasted all over social media after numerous people had contacted runDisney about the lack of characters on the 5K course). However, we were pleasantly surprised when we rounded a corner in Disneyland and saw Captain Hook and Smee out greeting runners and taking pictures! SCORE!!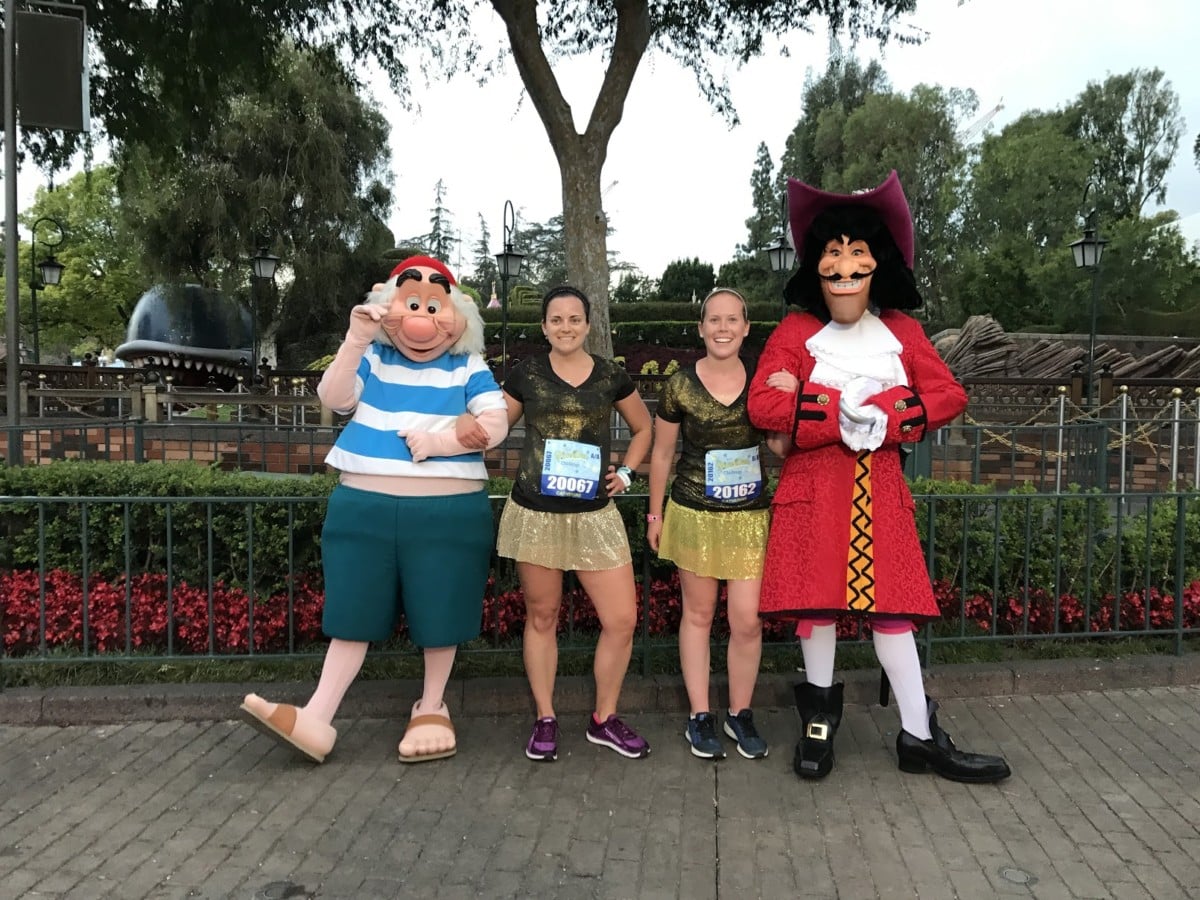 We grabbed our picture and kept on trucking. We came across other characters as well throughout the race. They also had Lost Boys stationed throughout the course and we were supposed to crow like Peter Pan when you saw them. It was actually kind of fun. It made it like a 6.2-mile game of hide and seek with the Lost Boys. They were all over the course in fun hidden areas. They also had pirates out with mics who cheered us on. The water stops were a little more cheerful than during the 5K.
Our only area of the course we wish they would tweak for the future was a) the lack of fairies on the Tinker Bell 10K course and b) the fact that Peter Pan and Wendy were a selfie station. Now I don't particularly care about the selfie part, but their location on the course was superbly frustrating because they were up on a stoop and it made it super difficult to actually snap a good picture with them.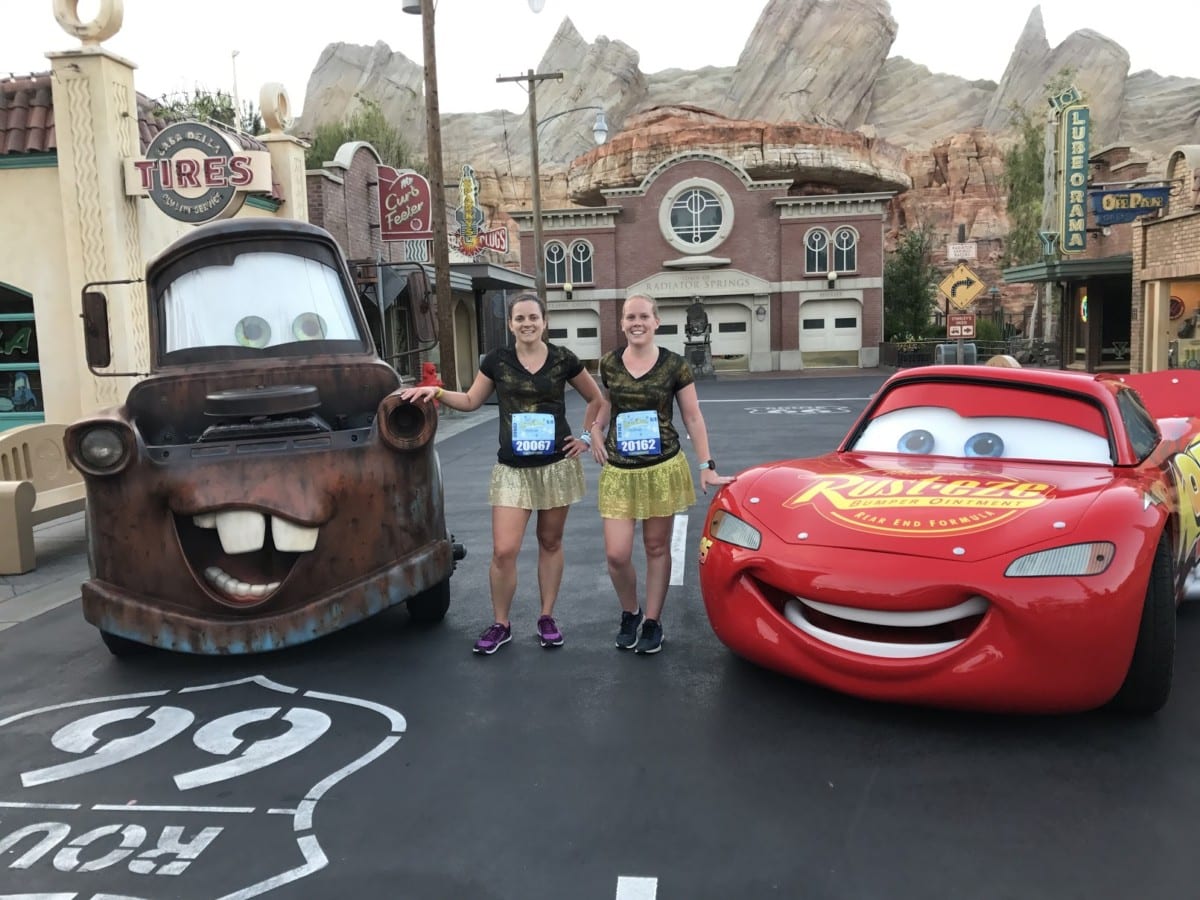 However, this 10K is fantastic as you spend a majority of the race on Disney property and in the parks. There were some serious backstage areas but it wasn't terrible. Catherine and I really enjoyed ourselves and found ourselves running the fastest mile from mile 5 to mile 6. Before we knew it we were getting close to the finish line. We flew across the finish, got our shiny medals and snapped some cute post race pictures. We also realized while waiting on my mom and sister to finish that we never used our "pixie dust" we took on the course. So we started taking some adorable pictures blowing our pixie dust and then even took some videos of it.
We did some stretching and then we headed to the finish line to capture pictures of my mom and sis! The two of them met up on the course and were able to grab some cute pictures and had an awesome finish line photo. They flung pixie dust and it was epic! After they grabbed their medals they also said they took an amazing shot in front of Lightning McQueen and Mater where they did the same thing.
All in all, we had a great race for the 10K. The course is fun, the characters were out (YAY!) and we had so many smiles and laughs along the way! Here's to hoping this great race continues to be as fun and magical in the years to come!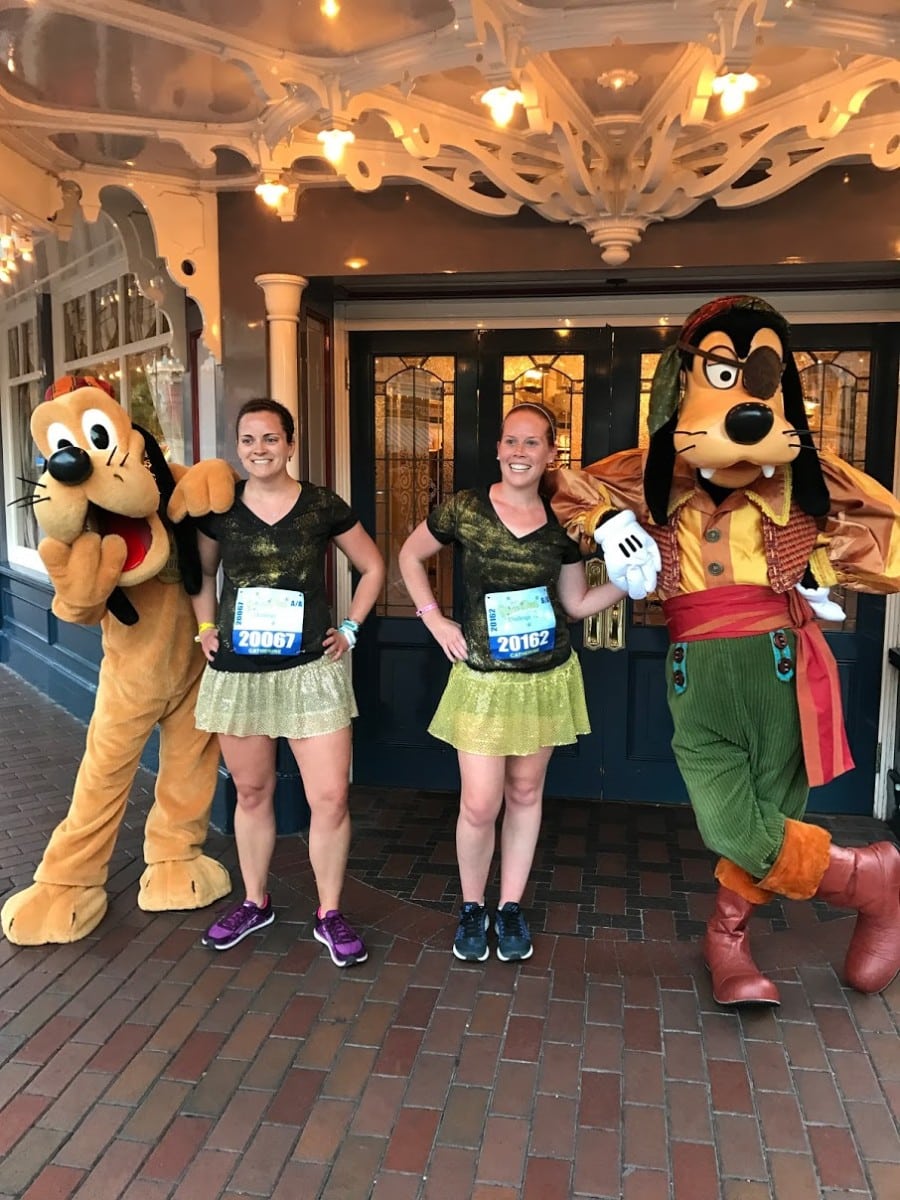 TMSM is very excited to publish the "Racing Disney" runDisney series by Addie Clark and Catie Neal. Please keep an eye out for more of their amazing and informative articles! If you missed of the articles in this series make sure you check them athttps://www.themainstreetmouse.com/tag/racing-disney/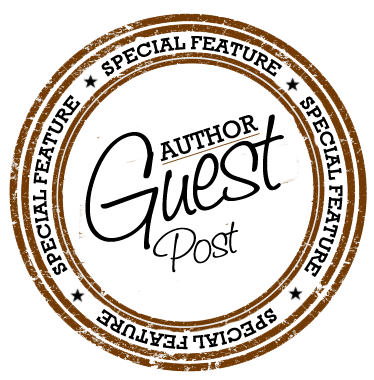 Latest posts by Guest Blog
(see all)