By TMSM Racing Disney Guest Blogger Catie Neal
Race morning started out like all other runDisney events – EARLY! This race actually starts at 5:00 AM instead of the usual 5:30 AM. Mom and I laid out our outfits the night before and set our alarm for nice and early (3:45 AM) in order to catch an ART shuttle to the start line from our hotel. We had decided a few weeks prior that we were just going to recycle our outfits from the Princess Half Marathon. Primarily this was decided due to a lack of time in the costuming department as I devoted a ton of time to our half and 10K costumes.
Mom and I got dressed and tried to sneak out of our room as quietly as possible since my sister and friend weren't able to get into the 5K. We got down to the lobby and climbed onto the ART bus with a few other people from our hotel. After a few other stops at other local hotels we made it to the Disneyland entrance. We went through a quick bag check complete with metal detectors. It was actually super quick and painless. (Go Disney!) We then had to show our bibs to get access into Disneyland park for the start of the race. Yes, the Neverland 5K race starts in front of the castle! It is the coolest thing ever!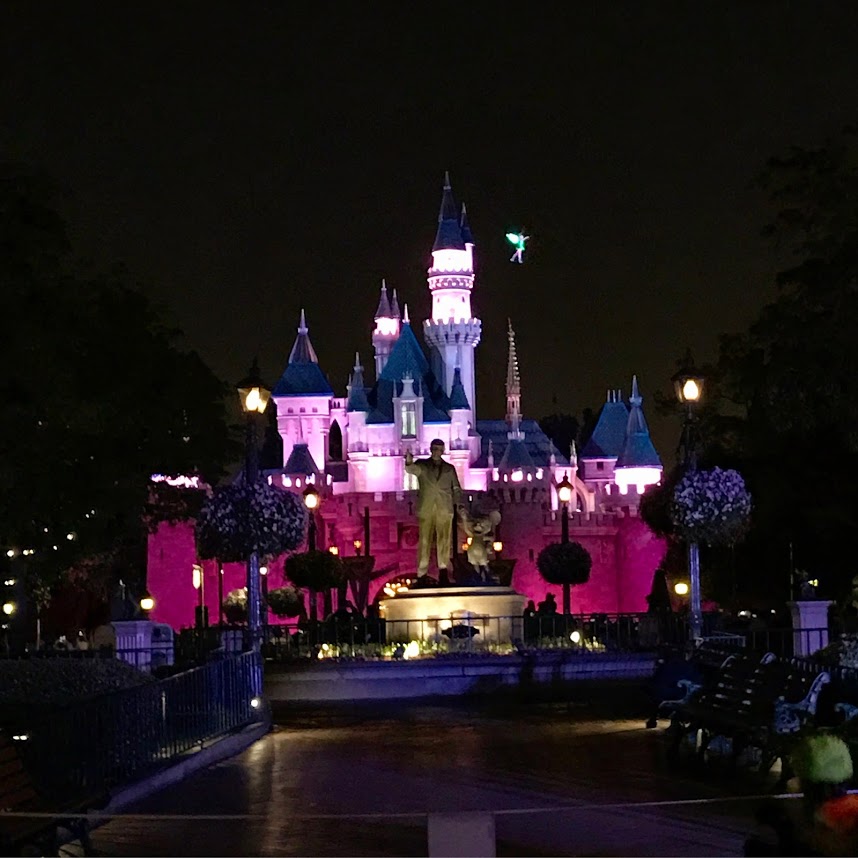 The past two years I have run this race, runDisney has not put corrals onto the Neverland 5K bibs, yet this year there was an "A" on mine and Mom's bibs. When we got to the start, we realized EVERYONE had an "A" on their bib. This caused some serious confusion because they do refer to the "corrals" they create at the start line by "A", "B", etc. So since it's "first come, first serve" in regards to the corrals it would have just been easier if they had just left the corral off.
Mom and I got there as they were filling up corral B, and we realized that where we would be standing, there was a giant tree that would block the castle for the "preshow" before the race. So we asked this nice runDisney guy if we could just wait and put ourselves into the "C" corral which had us directly in front of Sleeping Beauty's Castle allowing us to watch an adorable pixie fly! Yes, that's right – Tinkerbell starts the race weekend by flying behind the castle!
The amazing race announcers were dressed up like pirates and were getting everyone excited by telling us to be on the lookout for pirates on the race course. They also prepped everyone by making sure we all knew the lyrics to "A Pirate's Life for Me." We were given a task that we needed to help find Captain Hook's hook while on the course. So these clues led us to believe we would be seeing pirates and projections of Captain Hook throughout the course. We were also still under the impression that there would be the usual amount of picture stops on the course.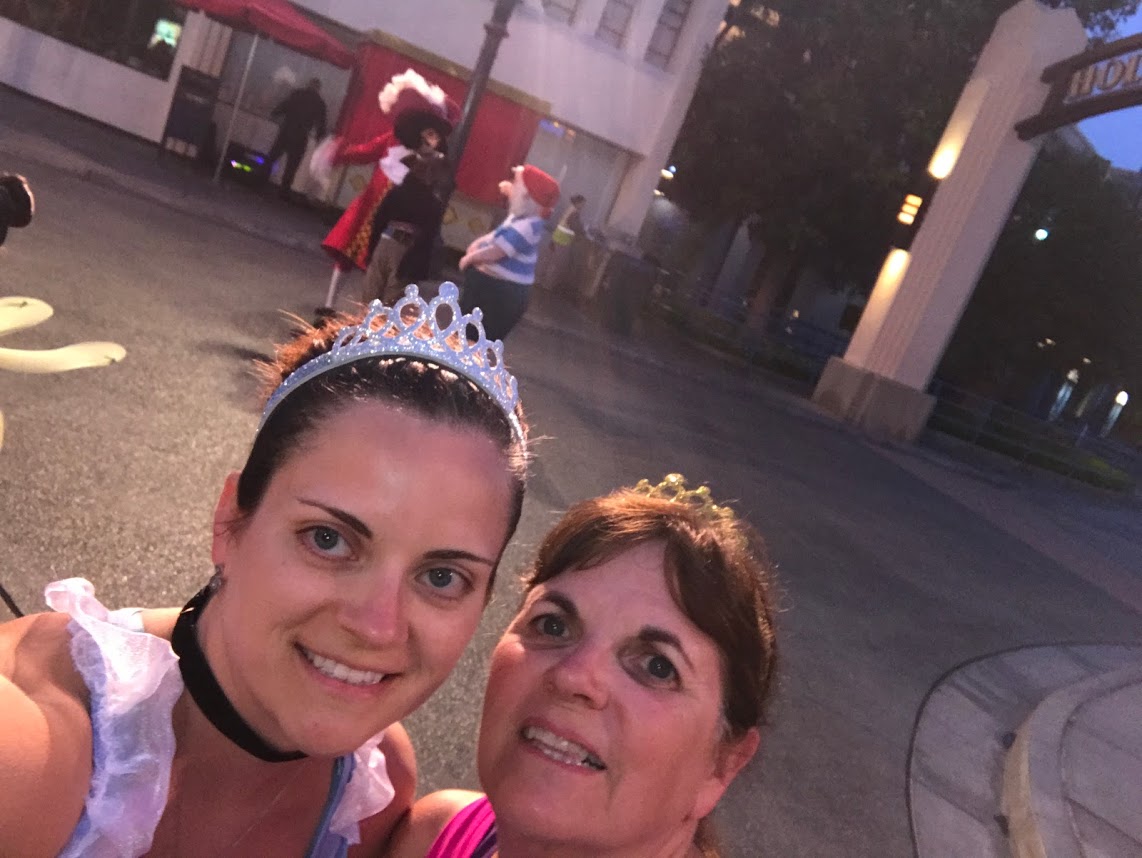 However, it became apparent rather quickly that there would be no picture stops on the course. Mom and I ran through mile 1, the one and only water stop – staffed by temp workers, and had yet to have an actual character sighting. (Disclaimer, I felt the energy level of the staffers of the water stop was very meh.) We finally made it into California Adventure and found a HUGE crowd near the entrance to the Monster's Inc. attraction. We thought OOH CHARACTERS! Well, it was, but it wasn't! Instead of the usual character stop – Captain Hook and Smee were tucked back a ways on the road and we were told by runDisney officials we could "snap a quick selfie."
So Mom and I attempted to grab a selfie, it went terribly. We then continued on our way. We were still holding out hope that perhaps we would be able to grab a picture in another spot, but since we were quickly approaching the end of the race, we realized that we weren't going to have another. Mom and I still had a great time though – it was a chance to make memories running through the "Happiest Place on Earth" together. Mom and I kicked off a fantastic race weekend by running the Neverland 5K and finishing the race together.
However, it was a little disappointing that runDisney didn't clarify that there was going to be a change to the way that characters would be appearing on the course. I know that lots of people complained and they did their best to change the situation, but I feel like this may have been a tougher crowd than most races to "test" this new idea. First, this race weekend is geared towards mainly females and their families. This race is the only race to start in front of the castle and I feel like that draws more small children to this 5K to run with their families. The lack of characters on the course was probably very disheartening for parents who promised their kids the excitement of seeing their favorite characters throughout the course. Also, this whole race was themed around Hook and Smee who honestly would have been better placed at the finish line where it would have been easier to spot them instead of behind some ropes and pushed far away from the race course.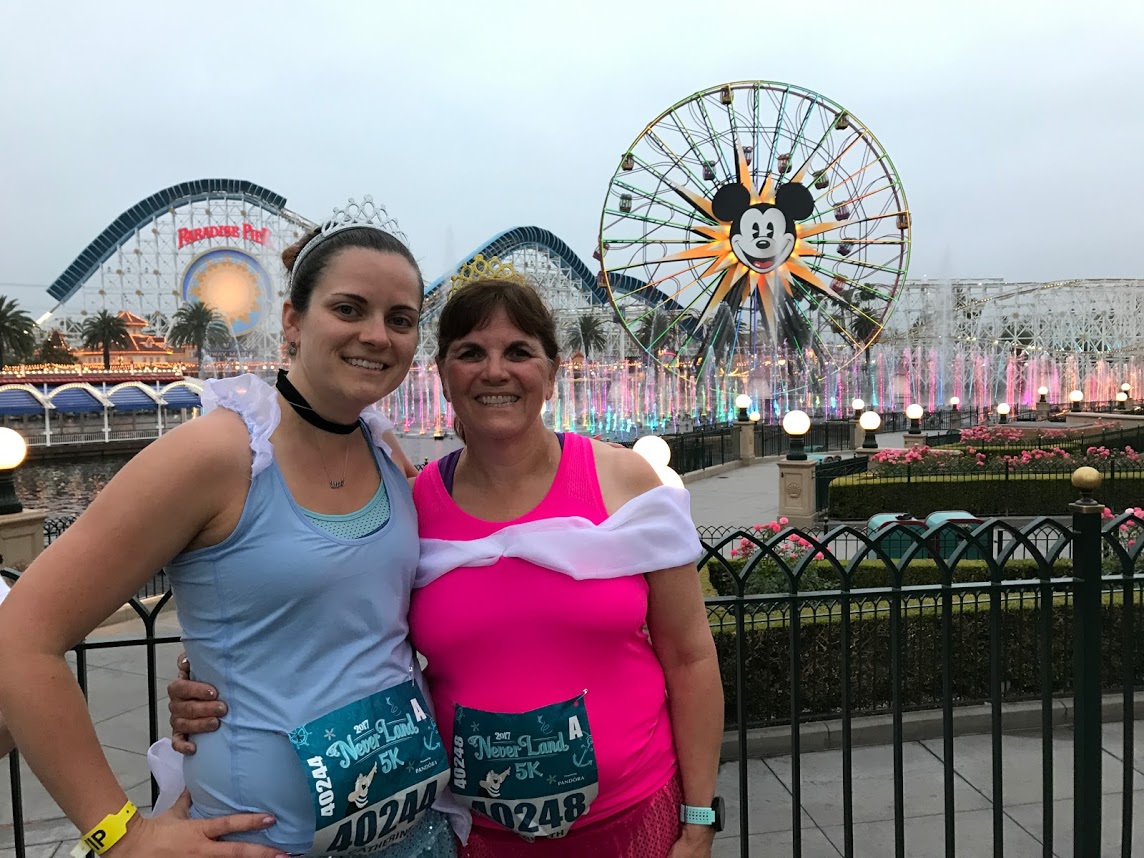 So yes, it was weird not having characters on the course like I was used to seeing on the runDisney courses, but it did not completely deter me from wanting to run races in the future. I do feel runDisney should have perhaps communicated ahead of time about the change to their character stops. I personally feel it would have lessened the blow and shock of realizing mid-race that it wasn't the normal "character filled" 5K that many were used to running. I hope that runDisney realized from their "experiment" from the Neverland 5K that characters are a huge draw to the races. The amount of money, time, and early wake ups are softened by the experience of not only running through the most magical places on Earth, but also having the most magical places on Earth be enhanced by seeing your favorite Disney characters out there as well. Like I said earlier, I will still continue to run runDisney 5K events in the future, but I am sincerely hoping that my future runDisney races will be more like runDisney races of old, and not like the Neverland 5K from 2017.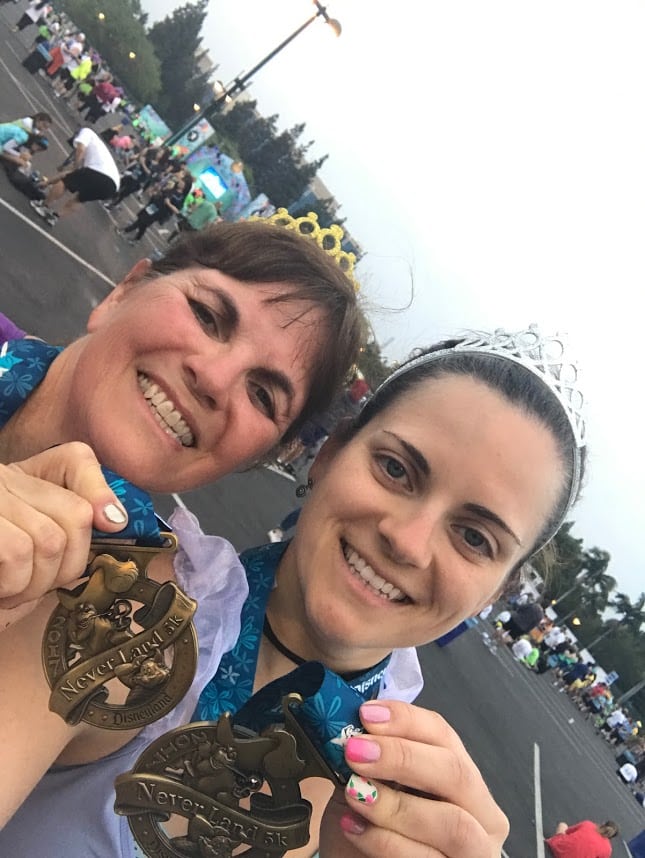 TMSM is very excited to publish the "Racing Disney" runDisney series by Addie Clark and Catie Neal. Please keep an eye out for more of their amazing and informative articles! If you missed of the articles in this series make sure you check them athttps://www.themainstreetmouse.com/tag/racing-disney/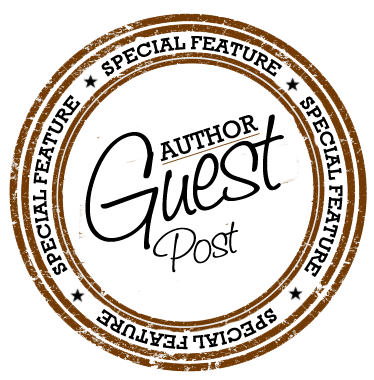 Latest posts by Guest Blog
(see all)