Repost!
**Each month in our magazine, The Main Street Monthly, I write a column called "Disney in the City, Confessions of a Grow, Up Disney Princess." It's one of my favorites, and I know not everyone has the magazine, so I'm sharing one of the articles for you all to see. I hope you enjoy it! ~M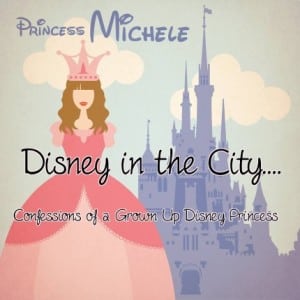 Being a Princess of a particular age is hard. For example, finding socially acceptable Disney fashions that don't look ridiculous is an ongoing struggle, at least for me. One store that we like to check out at the mall is Hot Topic. Back in the day, Hot Topic used to be the goth store, filled with black clothing, chains, and hard rock music. Well, nowadays, they have a huge selection of pop culture items, including a lot of Disney and Marvel shirts and accessories. Great, right? Well, in theory yes. Every time I see new merchandise come out, I get excited…… then immediately wonder how it would look on me. For example, the Cinderella line of clothes that came out for the movie. Super cute….. or so I thought.
I was at Hot Topic with the family, and low and behold, some of the cute Cinderella line items were on the clearance rack. I had been eye-balling this particular skirt with Cinderella pumpkins on it, and black lace underneath. They had said skirt on the rack, and the matching shirt too. I thought I hit the jackpot. Something told me I had better go try it on, and my gosh, I'm glad that I did. I found a large in the skirt, thinking that I'd allow extra room just in case, being that a lot of their clothes are geared for younger and straighter shaped people. What about the shirt? Eh, better grab a large too, same reasons. I went into the dressing room and struggled getting this seemingly adorable outfit on. Once I had on the skirt and shirt that I had been longing for, I looked in the mirror and almost died. Seriously? What in the world was I looking at? I looked like stuffed sausage with a pretty black lace rim. It was awful, and I mean AWFUL. Once the shock wore off, I actually laughed. I guess certain outfits aren't meant for people with a shape to them, at least not this one. So, the Cinderella look was a no go. On the bright side, I saved myself some money, on the down side, I had to face reality. As we get older, we have to pick and choose what we wear a bit more carefully.
When I came out of the dressing room, the family asked how it went. There were no words, just sheer horror of what I just saw. Sausage style Cinderella. No, just no. Needless to say, the Cindy outfit went back on the rack, and I went over to look at the Disney jewelry and purses. Anyone can fit into a necklace and not look ridiculous, same concept for purses. It's a bit of a harsh dose of reality. I mean, I don't feel my age at all. I still shop like I'm a kid, I still love cute and trendy styles. Should it matter that I graduated from high school in the 90's and not in recent years? My gosh, the 90's! It does not seem that long ago. When you put it all into perspective, it makes you reconsider a little, some of the choices in attire that you may make. So, I do love Hot Topic… just some of their styles don't love me back. Their sister company, Torrid, makes adorable Disney clothes too, but they're too big for me, so I'm stuck in the middle. Clothing manufacturers seem to be making efforts to accommodate more sizes, but it's still a struggle. Kohls has a Disney line for adults too, which seem to fit better than what Hot Topic offers, but again, it just depends on the style. So what do us grown up Princesses do? Keep shopping, that's what! It's a never ending quest, trying to stay somewhat age appropriate, but still let your likes and personality shine through, especially where Disney is concerned. It's something that I'm always up for the challenge for, and will try to have fun in the mean time, even if I have to just stick to Kohls!
*To get more articles like this, plus so much more, you can order your copy of TMSMonthly at www.themainstreetmonthly.com/store for only $1.99!
Also, feel free to follow me on Instagram at @cindershella4 or TMSM's Instagram at @themainstreetmouse!