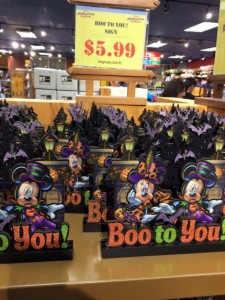 Last night was a rainy one again here in Central Florida, so my family and I headed out to the Disney Character Warehouse at the Premium Outlets on Vineland Road, near Downtown Disney. I love this store, as they're always getting in new Disney Park merchandise, and there's always something new. We went in, and my gosh, they had a TON of great things! One item that caught my eye was the Boo To You decoration with last years Haunted Mansion theme. The regular price on it was $34.99, and the outlet had it for $5.99. What a deal. This was exciting for me, because the Haunted Mansion is my favorite attraction, and plus I like this design SO much better than the new vampire theme that Disney is using this year, it's a win-win! I decided to snap a photo of the deal, and share it on our magazines Facebook page, The Main Street Monthly, https://www.facebook.com/themainstreetmonthly. Before going to bed, I shared it to The Main Street Mouse's Facebook page, just in case people wanted to see. I never anticipated what would happen next.
This morning I woke up, and that picture was everywhere, and people were talking about going in and buying up the remaining Halloween decoration. I saw people bargaining with each other, asking others to go get them one etc. I even had a Main Streeter tell me that people went in this morning and bought a lot of them and that it was already on Ebay starting at $25.00! What in the world happened? As of lunchtime today, the Character Outlet was sold out of Boo To You signs. Crazy. I'm a little disappointed, because I was going to buy a couple of them to give away as gifts, but I only bought one. I never thought that people would head out and scoop them all up. Sometimes we don't think about how much power social media really DOES have. By snapping a pic of something I thought was cute, it sent people for a loop, wanting to get their hands on one. I'm still shocked.

Well, the GOOD news is, the Character Warehouse is having an awesome sale right now! They are taking an additional 70% off of white ticket prices. If an item has the red clearance sticker on it, that's the price you pay. The 70% off items include clothes, toys, decorations, etc, it's a great deal. They have the cute yard decorations from the Flower and Garden fest, like the Olaf rain catcher and the Mickey and Minnie stepping stones, all half off or better. Also, they have a lot of the black and white kitchen items on sale that are STILL in the parks at full price, so be sure to go check it out while you can! Happy Shopping everyone! ~M
p.s. The other Character Warehouse that was at the Outlets on International Drive is closed for renovations, and isn't set to open again till possibly November. More to come as I hear!