From Ryan March, Editor, Disney Vacation Club's Disney Files Magazine and posted on the Disney Parks Blog.
My workplace looks a little different today. There are pine trees on the horizon instead of palms, I'm surrounded by water that appears oddly void of reptiles, and a curious number of people have cloaked themselves in some kind of woven, long-sleeved alternative to shirts called "sweaters." Weird, but fun.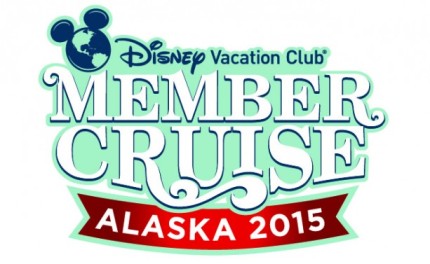 Clearly, I'm not in Florida anymore. I'm in Canada. Or at least I was yesterday. I'm not sure exactly where I am today, but I know I'm somewhere between the port of Vancouver and the Tracy Arm Fjord, sailing with Disney Vacation Club Members aboard the Disney Wonder on our first Member Cruise to Alaska!
Always my favorite business trip and long a highlight on many Members' vacation calendars, a Member Cruise is a Disney Vacation Club charter voyage that enhances the already extraordinary Disney Cruise Line experience with custom décor, unique in-room gifts and a diverse lineup of special shows and experiences for Members and their guests. This year's entertainment lineup is as wild as our Alaskan itinerary (a dramatic departure from our traditional Bahamian Member Cruise itineraries), featuring everyone from contemporary filmmakers to dynamic stage and screen stars to insightful authors and historians.
Part of the fun of the Member Cruise experience is the surprise reveal of our lineup as we sail out of port. For this year's epic voyage, we introduced our entertainment lineup with an epic movie trailer. I actually voiced the trailer's "scratch track" before we hired a professional actor, and I now understand why those temporary recordings are called "scratch" tracks. Listening to my voice describe the lineup made me want to scratch my ears off. Fortunately, the final cut I now share with you kept me safely away from the microphone. You're welcome.
I'll check back later in the voyage to introduce you to some of our special guests. In the meantime, I'm off to see a presentation about bears. Maybe I'll meet Kenai. Or Koda. Or Ditka!