You may have read the title of this blog and thought, I recognize that name.  You may be saying to yourself, who in the world is John Slaughter?   Well, if you have been to Frontierland in the Magic Kingdom, you may have seen the name as it appears on the sign for the Frontier Trading Post.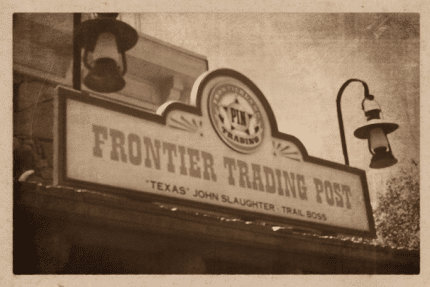 Do you know anything about "Texas" John Slaughter and how he is connected to Disney?  I honestly wondered if it was an Imagineer at first and this was the way they honored him, similar to the Windows on Main Street,  but that's not it.  On October 31, 1958 a classic TV Western series named "Texas John Slaughter" was produced by Disney.  The show starred Tom Tryon as Texas John.  It aired from 1958 till 1961 and had 17 episodes.  It was shown on the "Disneyland" show that aired on ABC, before moving to NBC and the show being renamed to "Walt Disney's Wonderful World of Color."
But was that all he was?  Was he just a TV show character?  Well upon a little more research, I found that "Texas John" Slaughter, born on October 2, 1841, was a Civil War veteran, trail-driver, cattleman, Texas Ranger, famed Cochise County Sheriff, professional gambler, and an Arizona State Representative during his lifetime. Before he died at the age of 80, he was a symbol of the American West and much celebrated hero.

I have never seen the show I admit, but I read it was loosely based upon a real Sheriff "Texas John" Slaughter.  I love seeing these little details in Disney, they are everywhere if we look for them.  I've been to the Magic Kingdom, countless times.  I've gone into the Frontier Trading Post many times as it's always been a great store for Disney Pins and also it used to be the store for Vinylmation Trading, but until today I never even noticed "Texas" John Slaughter's name and never knew anything about him.
Now I'm putting myself on a mission to find little things like this in the parks that I can do some research on, learn about it and report it to you all.  Thank you for reading and be on the look out for my articles where Disney is concerned, "It's All In The (Disney) Details."