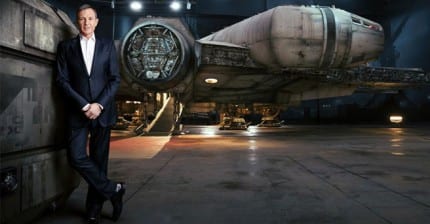 In the latest Disney Shareholders Report, Disney CEO Bob Iger put out some information in regards to Episode VII and the future of the Star Wars Franchise, check it out:
We are well aware that for many Star Wars fans the first 11 months of 2015 will be little more than a countdown to the
December 18th release of Star Wars: The Force Awakens. It's really impossible to capture the full magnitude of the global
excitement around this movie. As you know, we released a very brief "teaser" trailer at Thanksgiving – which was quickly
downloaded more than 110 million times. The more than 40 million tribute videos that fans posted in response in just a matter
of days reflect an emotional connection to this franchise that transcends geography and generations.

As one of the few people allowed to visit the set during filming….and one of the fewer who's seen most of the footage…
I can assure the millions of Star Wars fans who have spent the last decade hoping for a new movie this one will be worth the
wait. And it's only the beginning of a new era of exceptional Star Wars storytelling; next year we'll release our first standalone
movie based on these characters, followed by Star Wars: Episode VIII in 2017, and we'll finish this trilogy with Episode IX in
2019.
It's very nice to have someone, at the level of Iger, come out and speak about the franchise and what the fans can expect.  Seems in this day and age, most CEO's only care about the bottom line.  Iger and Disney is and always will be different, yes it's a company and they better make a profit or they will get fired, but they know that if they give the fans what they want and make them happy then the company will be sitting in better financial situation. When you hear things like this from someone like Bob Iger, you feel like he is talking to you directly. Just not saying something he was told to say by his writers. I personally THANK Mr. Iger for the information and letting us know, from another fan perspective, that the film will be worth the wait.
He also confirmed the years for the releases of Episodes VIII and IX.  He didn't mention anything about the stand alone films, but we can assume those are still slated for the "in between" years.  It's a very exciting time for the Star Wars fans!!!  What's your opinion of Mr. Iger's statement?

Just because I love seeing the trailer, I wanted to let you see it again: