If you are a baseball fan, you know that the teams are starting to report to spring training.  For the Atlanta Braves, they get to play their home pre season games in Walt Disney World.  Like last year, the Braves will open their pre season schedule against my beloved Detroit Tigers.  Here is more information from the Disney Parks blog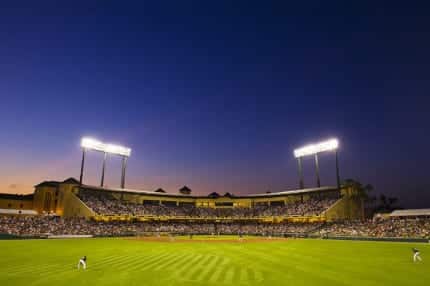 For the 17th straight spring, the Atlanta Braves will be arriving at Walt Disney World Resort this week, and begin their first workouts this today at Champion Stadium at ESPN Wide World of Sports Complex. The first spring home game will take place on February 26 against the Detroit Tigers.

As usual, fans attending the Braves' 17-game home schedule will see a parade of the league's marquee clubs, including the reigning World Series champion Boston Red Sox (March 22), the New York Yankees (March 19) and the St. Louis Cardinals (March 15). The Braves close out their spring home schedule on March 26 against the Marlins, then head back to Atlanta to get ready for the regular season where they look to defend their National League East title.
Braves spring training games at Walt Disney World Resort are, of course, unlike any other spring games. There are fireworks during the singing of the National Anthem at various games, Disney character appearances, and kids are invited down onto the field to run the bases after each game. That's why we call it America's most magical pastime.
Fans can get more information and purchase tickets at espnwwos.com/atlantabraves or at the ballpark box office.