Sheik or Shriek Pumpkin Topiary – Easy DIY Project
Happy Thursday Main Streeters. With less than a week until All Hallows Eve, it's still not too late to decorate for the festivities. Today, I'm going to share with you an easy DIY project with a Disney twist that you can use to decorate your home for Halloween and even keep up through the Thanksgiving holiday.
You'll need a few things to build your topiary:
Foam Pumpkins of various sizes (large, medium, small, and extra small)

You can get these at stores like Michael's, JoAnn's, Hobby Lobby, Walmart and Target. Don't be scared to mix it up and use pre-decorated pumpkins or to make them really unique feel free paint the pumpkins and decorate them as you see fit – Crafter's Tip: use available coupons to save a few dollars.

Plastic Garden Urn

These are available to purchase on-line, or at places like Dollar General, Lowe's, or Home Depot. A quick internet search will bring up a bunch of places where you can order or find these.

1 Foam Board

Purchase at Walmart or Dollar Tree

Stones / Spanish Moss / Fall Florals

This is optional, just for aesthetic but you can find these supplies at Dollar Tree or craft stores

Wooden Skewers
18 gauge wire
Exacto Knife
Once you have collected all the supplies, it's time to build your topiary.
To create my custom topiary, I used pumpkins of various sizes that I collected from Target and Goodwill, and some that I painted from Michaels, left over from my Tim Burton inspired bridal shower last year.
Step 1 – Choose 5 pumpkins (1 large for the base, 1 medium for the middle, 1 small for the top, 2 extra small to make the Mouse Ears).
Step 2 – With your exacto knife, carefully remove the top stump from the large pumpkin and medium pumpkin. This will help to make sure your pumpkins stack comfortably on one another. You can either saw it off or cut a hole in the top of your foam pumpkin to remove that stump.
Step 3 – Take your small pumpkin and a wooden skewer. Carefully lance the skewer into the middle of the small pumpkin until it is sturdily connected to the skewer. Make sure you leave enough to attach the medium pumpkin.
Step 4 – With your small pumpkin and the excess skewer, gently lance the medium pumpkin until the small pumpkin in resting flush on top of the medium pumpkin. This is the start of the top of the topiary.
Step 5 – You may find that now the top of the topiary is a little bulky. In order to safely secure it to the bottom level/large pumpkin, I recommend using two skewers or 2 pieces of the 18-gauge wire to lance the middle of the bottom medium pumpkin at an angle. It should look like an upside down 'V'.
Step 6 – Gently push the medium pumpkin on to the large pumpkin until they are flush. You should now have 3 stacked pumpkins.
Step 7 – If you are using a plastic garden urn, you will need to create a flat surface to place the topiary on. Measure the circumference of the inside of the urn.
Step 8 – Once you have an estimated size of the interior circumference, draw this on to your foam board. Use the exacto knife to cut out the circle.
Crafter's Tip: For an easier measurement, flip your plastic urn over and trace the circle – then subtract 1.5 inches from that circle.
Step 9 – Lay the circle inside the urn to create a flat surface. It doesn't have to be perfect, it just has to be level. If you made your circle too big, carefully use the exacto to size the foam circle down until it fits securely and level in the urn.
Step 10 – This is an optional step. If your level surface is close to the top of the urn and you don't wish to see the foam board, you can choose to cover the foam circle with stones, fall florals, or Spanish moss. Make sure to leave a circle in the middle where you will nest the whole topiary.
Step 11 – Now it's time to add your "ears". Take the extra small pumpkins and flip them so the stem of the pumpkin faces out. You will use either the skewer or the wire to lance the side of the pumpkin, place them like mouse ears on top of the small pumpkin.
Step 12 – Take the whole topiary and place it in the center of the urn; and you're done! You don't have to secure the topiary to the foam if the interior is level.
This is the finished product at my house. It was a fun and quick DIY project.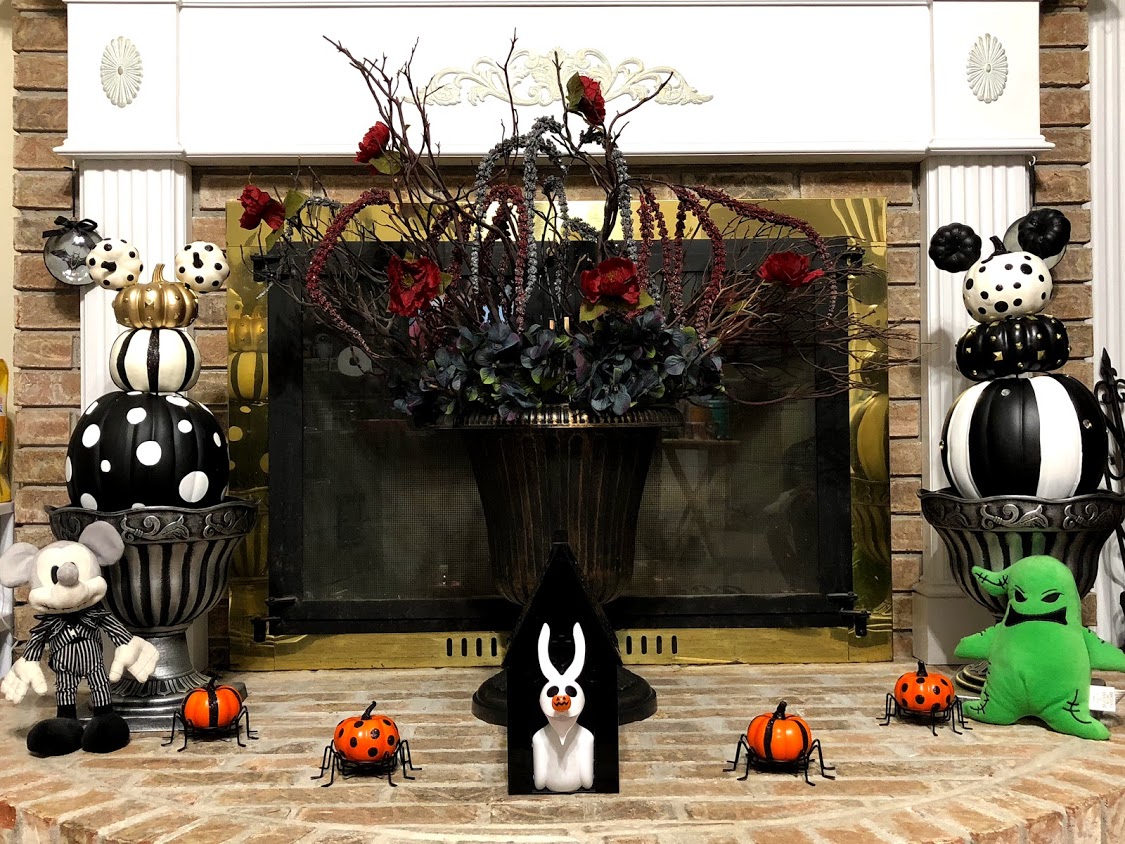 Tell us Main Streeters, would you try this project at home? If you do, make sure to share pictures with us!
Until next week!
Author:
Erika
Erika Roberts has been a Disney kid for as long as she can remember, but her love of visiting Disney Parks started after just one ride in a Doom Buggy. She couldn't run to guest relations fast enough to offer up her soul in return for an Annual Pass. Since then Disney has taken all of her money, but has given her the most cherished memories; from watching her Nona's face light up with happy tears as we strolled down Main Street on her first visit (she was 84 at the time), to her very own engagement on Halloween in front of the Haunted Mansion.
Erika is excited to be on the TMSM team and where Disney Parks are concerned, you won't catch her dead on It's a Small World. If she asks to ride that, this is a clear indication that she is in danger and you must send help. You will, however, catch her performing Random Acts of Disney (R.A.D's), park hopping with her amazing group of impressively talented and kind friends (usually in some themed attire), hanging out by The Haunted Mansion, and ugly crying during fireworks… then begging for a Mickey Premium Bar to eat her feelings…this is a judgment-free bio.
Otherwise, Erika works for the State of Florida and is actively involved in her community. Erika believes in empowering others and spreading kindness to people from all walks of life. Erika also makes custom designed Disney inspired ears, etched glass, gifts, and accessories. You can check out, like or follow her work on FB, which also links to my shop's Instagram: www.facebook.com/imagineering.emporium. She looks forward to getting to know everyone and sharing the magic of Disney!