TMSM's Adventures in Florida Living ~ Food, Friends and Kylo Ren
Happy Wednesday Main Streeters!  Here we are again…. it's time to catch up on what's transpired in the past week.  Time goes by fast, doesn't it? I mean, it's already March, the Flower and Garden Festival is already starting at Epcot, and before we know it Easter will be here.  That being said…. lets chat!
Last weekend we knew we'd have to split things up between work and play.  Having a business like this doesn't allow for weekends off, so we have to balance things out. Sometimes I roll work into fun, or at least try.  I knew it was time to put together our monthly magazine, and I also knew we needed pics, so a field trip was necessary, we had to take a work trip to Epcot!  On a non work trip, we went to Hollywood Studios Friday night for some fireworks and fun.  We met up with friends, and headed to the Star Wars Launch Bay to do some character meet and greets, after getting a carrot cake cookie of course.  One that I really wanted to do, was meet Kylo Ren.  He's only been at the Studios for a couple of weeks, so I was curious.  Before the meet and greet we saw him on stage over at the Jedi Training Academy, which was pretty cool.  I think he's a good addition to the Studios.  Anyhow, the line for Kylo was short, maybe 15 minutes, and was so fun. He's intimidating but that's part of what makes it a good time.  Our group got a pic with him, then when we were walking out I asked for a pic by myself…. He just said "you may." Man of few words.  Total hoot though! After Kylo Ren, we met up with Chewbacca and headed out for Star Wars fireworks! Fun evening!
The next day, we had some running around to do, and got invited to the Magic Kingdom later that night for fireworks and a few rides. It was cold out on Saturday evening, for Florida anyhow, but we had fun. Andrew (my older one) got chosen for some Monster interaction at the Laugh Floor, which of course embarrassed him, because, you know, that's his age. He took it all in stride though. Being that it was late and cold, the lines for rides weren't long. We rode Big Thunder Mountain just before midnight then headed home.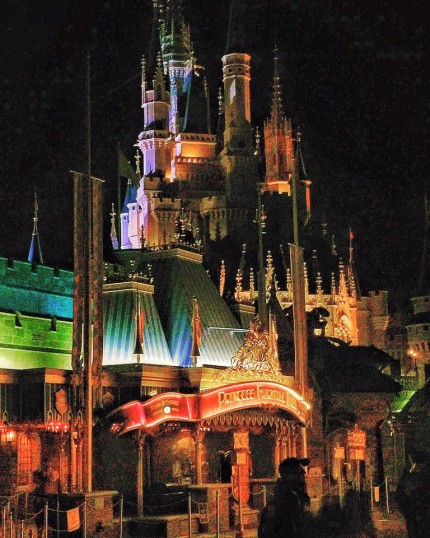 The next two days were all about work, work, work. Month end is always crazy busy because of the magazine. I keep saying that I'm going to get things ready ahead of time, but I never do. I'm pretty happy with how things came out. My friend Joe stepped up to help us with photos, and the other pics are ones I took myself. I'm so glad it came together as good as it did. The magazine is so much work but our readers enjoy it, so that's worth the effort. This month for my Disney in the City article, I wrote about something that's an important subject for so many people, self esteem and body shaming issues. Yes, the magazine is fun, but sometimes I think it's good to use that platform to put out topics that are thought provoking, and maybe can help other people. I hope you check it out and let me know what you think! www.themainstreetmonthly.com
Well, that's if for this weeks update.  As always, thank you for keeping up for our family adventures.  For more, feel free to follow me on Instagram at @cindershella4!  Till next week, sending you love, blessings and pixie dust! Thanks for reading! See ya real soon! ~M
Michele Atwood is the Owner/Editor of The Main Street Mouse and it's subsidiaries and author of the book "Moving to Main Street U.S.A." Michele also contributes Disney news to the Joe Kelley Morning Show on 96.5 WDBO in Orlando. She and her family made the move from Michigan to the Orlando area to pursue their Disney dreams. Michele is a life long Disney fan, and has two sons who have followed suit, each going on their first Disney trip before their first birthday's. Part of the goal Michele has for The Main Street Mouse is not only to keep members informed, but to create somewhat of a Disney Family by relating to others through personal experiences and opinions. Also, Michele is making it a priority to share stories of inspiration and hope to other Disney Fans in an effort to share the Magic and hopefully make a difference in the lives of others.