Mickey Mouse Gingerbread Cookies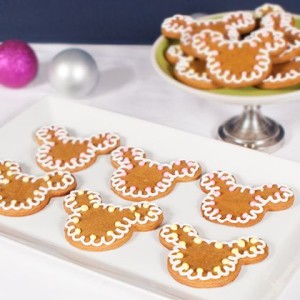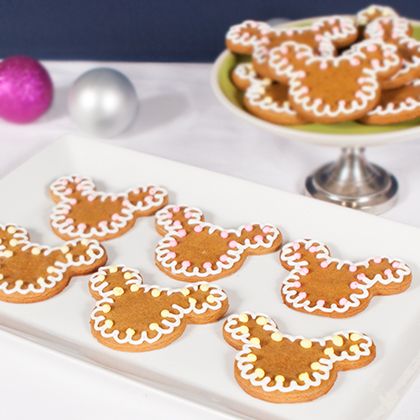 It's almost time for the baking season! Let's check out a Christmas cookie recipe courtesy of Disney Family! These cookies are cute and seem easy to make! Here's the recipe!

What You'll Need
Gingerbread dough
4 Teaspoons powdered egg whites
1/3 Cup of water
1 Tablespoons fresh lemon juice
Mickey Mouse shaped cookie cutter
16-inch pastry bag
¼-inch round pastry bag tip
How To Make It
1 Make your favorite gingerbread dough recipe. Divide your dough in half and wrap each half in parchment paper. Place in the refrigerator for 2 hours.
2 After 2 hours, preheat your oven to 350-degrees. Roll out your first half of dough onto parchment paper. Sprinkle flour over the paper and dough if the dough is too sticky. Roll out the dough to ¼-inch thick and use the Mickey Mouse shaped cookie cutter to cut out Mickey shapes. Place the Mickey shapes onto a parchment lined baking sheet and bake for 15-18 minutes.
3 Allow the Mickey cookies to cool for 5 minutes before you remove them from the cookie sheets.
4 Combine 1 box confectioner's sugar, 4 teaspoons powdered egg whites, 1/3-cup water, and 1-tablespoon fresh lemon juice into a mixer and mix on medium until combined. Continue to mix on high until soft peaks form (about 4 minutes). Pour the white icing into a pastry bag fixed with a ¼-inch round tip.
5 Once the cookies are completely cool, you can decorate them with the royal icing. You can draw a scalloped edge all along the perimeter of the cookie or make up your own decorating technique.
This may be a fun activity to do with the kids over the next few weeks! Thanks for reading, have fun!