From the Disney Parks Blog and written by: Disney Parks Blog
The holidays are a wonderful time to create memories filled with new stories and shared experiences at your favorite Disney park. And this season, commemorating the special moments with a keepsake from Pandora's collection is the perfect way to celebrate.
Jewelry has long been cherished for its ability to capture moments, emotions, and memories in tangible form. From elegant necklaces to sparkling bracelets, each piece holds a unique story, weaving together the threads of our lives. And when it comes to jewelry that truly captures the essence of magical moments, Pandora's collection stands out. With their exquisite craftsmanship and attention to detail, Pandora Jewelry offers a range of pieces that allow you to carry cherished memories and experiences with you wherever you go. And if you're looking for something more special, don't forget to explore a delightful selection of mood rings, which add an element of fun and mystery to your personal style. While Pandora Jewelry offers an extensive collection of beautifully crafted pieces, they may not have specific mood rings in their lineup. However, there are many other reputable jewelry brands and independent artisans that specialize in creating stunning mood rings. Whether it's a special occasion or simply a desire to express yourself, Jewelry offers the perfect pieces to celebrate life's beautiful moments.

Let's spread some holiday cheer around Walt Disney World Resort and Disneyland Resort with a sneak peek at what exciting events and releases are to come from Pandora Jewelry!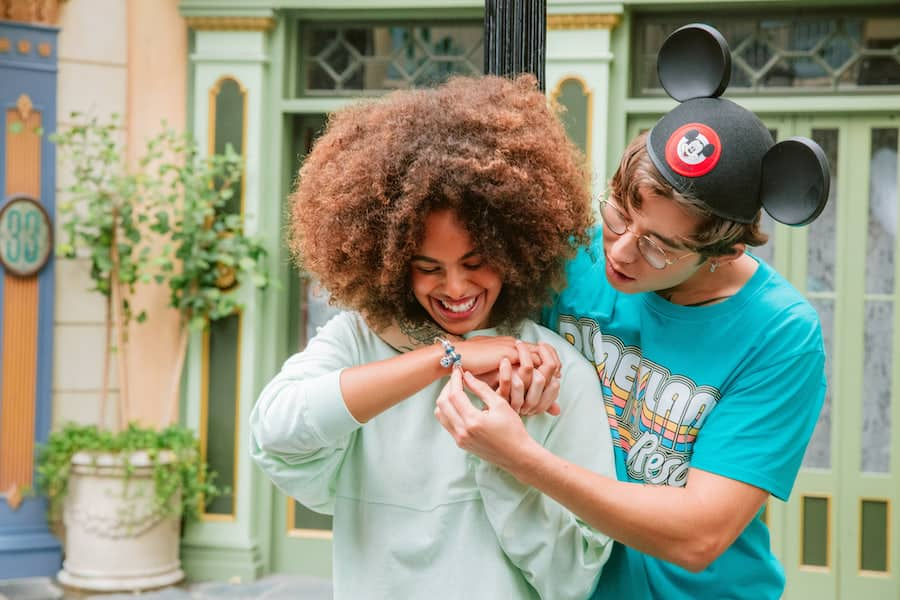 As The Official Charm Bracelet of Disneyland Resort, Walt Disney World Resort, Disney Cruise Line and Aulani, a Disney Resort and Spa, Pandora Jewelry has become a staple in helping guests commemorate their experiences since 2014. Their handcrafted charms are designed with quality and detail in mind, providing a way to carry your favorite Disney characters and memories with you no matter where you go. (I never leave the house without my personal go-to, Infinity Stones ring!)
A visit to Disney Parks brings cause for celebration no matter the reason, but for those extra special moments, Pandora provides commemorative keepsakes to ensure each trip feels a little more magical than the last. Taking home a piece of the Walt Disney World Resort 50th Anniversary celebration or your very first runDisney race is a memory that lives on forever, and there is something for every Disney memory!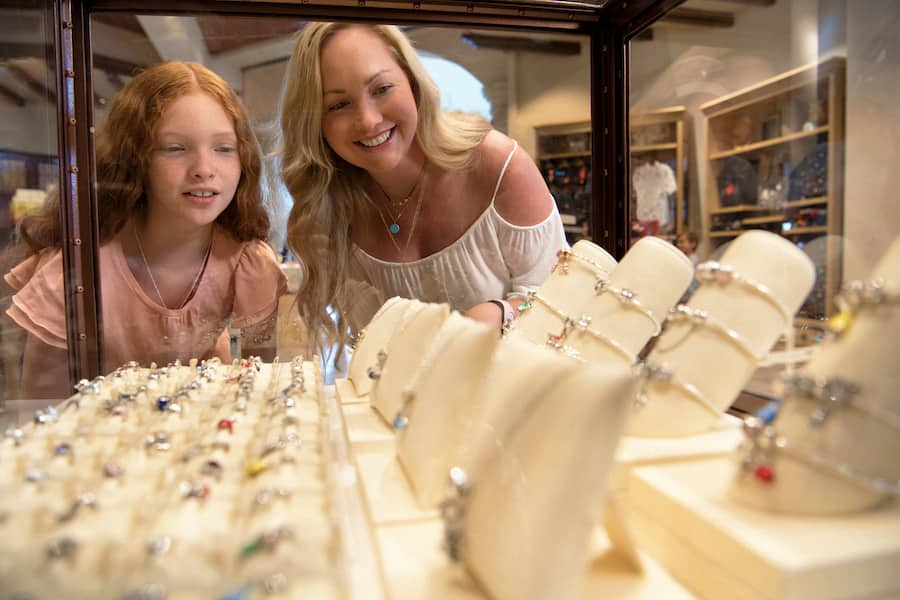 Pandora offers so many ways to customize the perfect gift
for your loved ones – or yourself! And, Pandora stylists are available at
select Disney merchandise locations to personally assist you in picking out the
perfect jewelry and charms to curate whatever style or collection you're
looking for.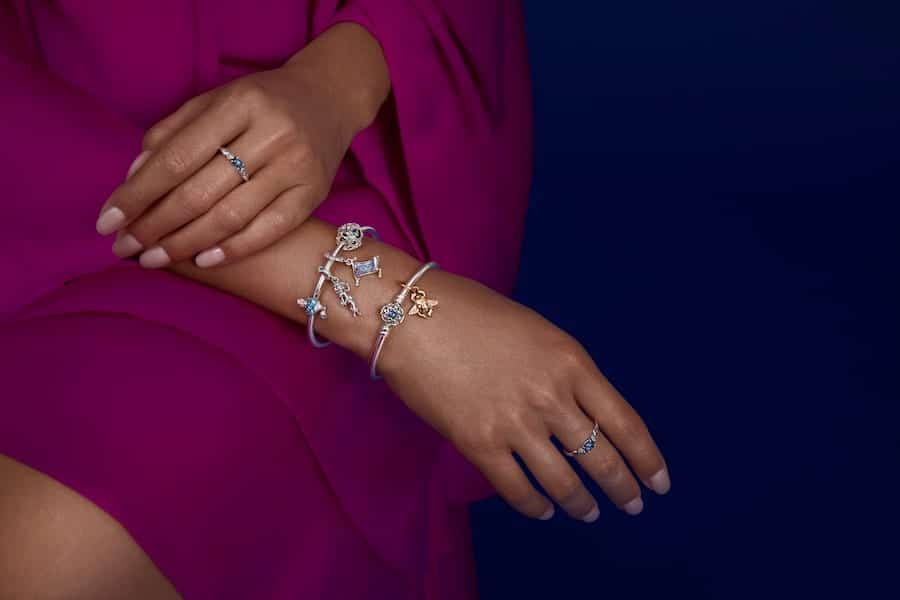 New Pandora
charms are released on a regular basis, and it's always exciting to see what
they have in store! The wonder of their latest debut – the Disney Aladdin Collection – has me humming "A Whole New World" and reminiscing
on the beauty and nostalgia of one of my favorite Disney films.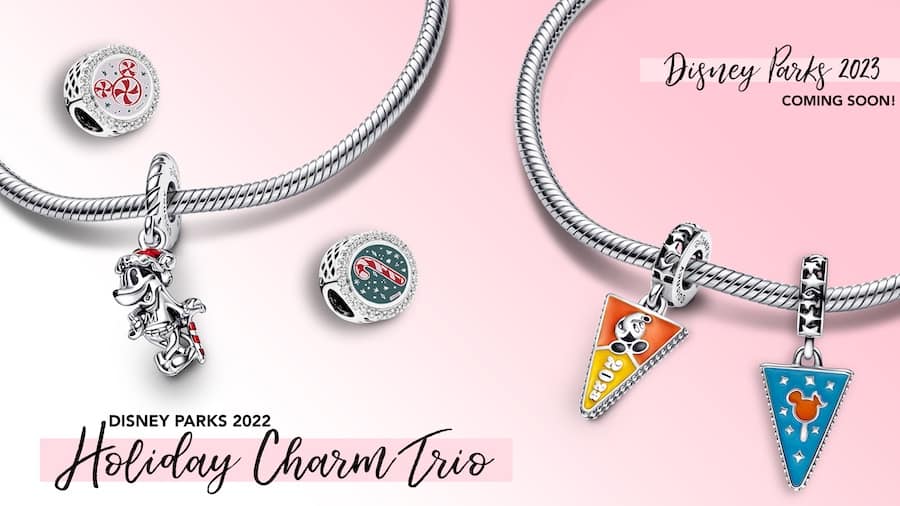 Coming this
December, the "Classic Characters BFF" charm set will be the perfect "mine and
yours" gift for you and your bestie! Or, if you have a Disney vacation planned,
snagging the new "Disney Parks 2023 Mickey Mouse Pennant" charm is a great
reminder of memories made on your trip.
Speaking of what's "in store," Pandora will host holiday calligraphy events on December 9 and 10 at Walt Disney World Resort (Uptown Jewelers, Legends of Hollywood) and for the very first time, the event will also take place at Disneyland Resort (La Mascarade d'Orleans, Embarcadero Gifts). Every Pandora Jewelry purchase will include a holiday tag with customized calligraphy, drawn by a professional artist right before your eyes!
Check out the Walt Disney World and Disneyland Resort merchandise event pages in the coming weeks, as additional details will be available soon!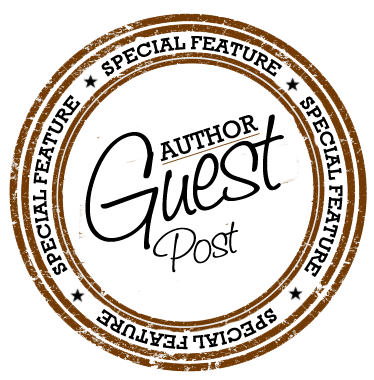 Latest posts by Guest Blog
(see all)