We all know Disney is known for its many classic movies, and one of them is having an important anniversary!
Bambi turned 80 years old this month!
The first Bambi movie was produced in 1942 by Walt Disney and became his fifth animated feature. It is based on the book Bambi, Life in the Woods by Felix Salten. It tells the story of a male white-tailed deer named Bambi, his parents, and his three friends Thumper, Flower, and Faline. Bambi is known for his spindly legs, curiosity and high-pitched voice. An interesting fact I learned is that they changed the species of deer from the book to the movie. In the book he was a roe deer, but for the movie they changed it to a white-tailed deer because they thought it would be more familiar to the American audiences.

It did well in the box office, eventually making $267.4 million.
Disney always pays close attention to details, and for this movie that included observing two four-month-old fawns that were brought to the studio by some game wardens from Maine.
This movie received three Academy Award nominations:
*Best Sound
*Best Song-for the song "Love is a Song" that was sung by Donald
*Best Original Music Score
It has won some more recent awards and accolades as well:
In 2008, it ranked number three in the Animation category of the American Film Institute's top Ten list.
In 2011 it was added to the National Film Registry of the Library of Congress.
This proves that this movie has staying power and generation after generation enjoy it.
If you haven't seen this movie yet, you definitely should watch it to celebrate this momentous occasion.
Also, make sure you say Hi to him by the tree of life on your next visit to Animal Kingdom.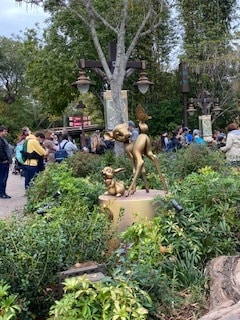 Latest posts by Sarah Cooley
(see all)