From the Disney Parks Blog and written by: Katie Wilson
When I think of comfort food, fried chicken immediately comes to mind! Learning how to make it on my own when I set up my first kitchen seemed like a daunting task at first, but after a few calls to my mom to get her advice (and reassurance), I made my first batch of fried chicken on my own. Now it's something I look forward to making for family and friends.
Since I'm new to the Disney Parks Blog, I'd like to describe what I do as a recipe tester. My role is to adapt and reformat recipes for the home cook. Our chefs develop and write recipes that feed large numbers of people in restaurants. They have access to equipment the average home cook doesn't have. Most importantly, they have incredibly talented teams working in the kitchen with them. I make smaller versions of these recipes in my home kitchen using my own equipment. While I have to make them without a team, there are eager taste-testers in my house who seem to disappear when it's time to do the dishes. I want to ensure that the home cook can enjoy the flavors of Disney in their home kitchens. This is my dream job and I am so excited to cook up the magic with you!

Now back to fried
chicken!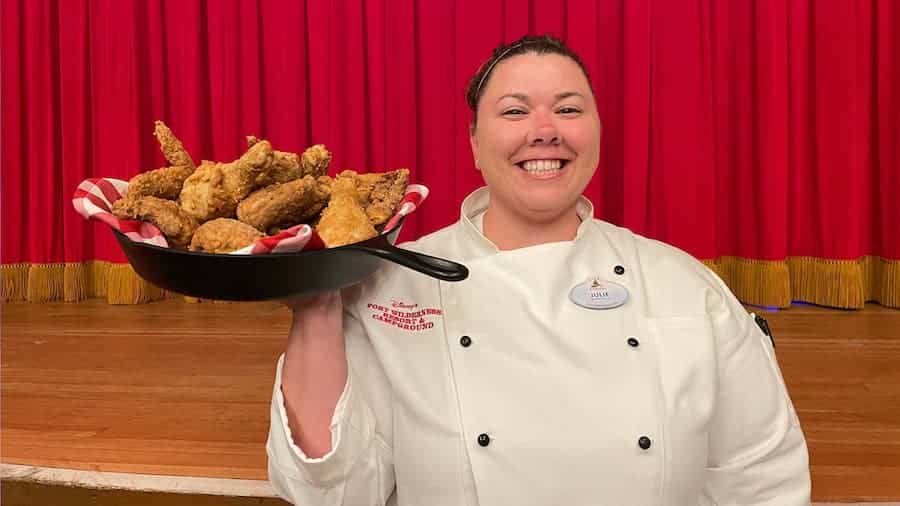 The talented culinary team at Hoop-Dee-Doo Musical Revue was kind enough to share their fried chicken recipe. This popular dinner show reopened last month, bringing back some favorite menu items, including fried chicken. "Our team was so excited to get back in the kitchen and whip up our beloved fried chicken once again," Julie Hrywnak, chef at Disney's Fort Wilderness Resort and Campground, said. "They really bring the culinary magic to the whole experience and enjoy the guests' smiles and the energy in the room when the fried chicken is presented to the tables during the show."
Over 800 pounds
of fried chicken is prepared by the cast each night for the Hoop-Dee-Doo
Musical Revue dinner show and teams from entertainment to food and beverage
work together to keep our guests entertained and fed.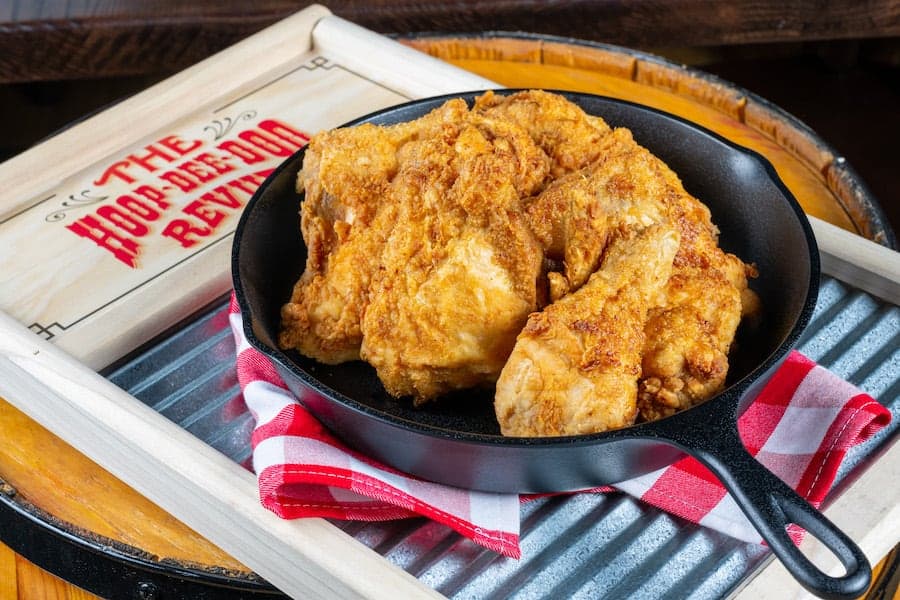 How do they make sure they bring out the star of the meal at exactly the right time? They listen for its cue of course! In fact, the music of the show runs through the kitchen speaker so the cast knows the exact timing in the show to plate the food and send it out to our hungry guests. "Our cast love to sing along to the show as they prepare the country feast," chef Julie said. "And the fried chicken is definitely a guest favorite that keeps them coming back for more!"
As a recipe
tester, I really value advice from Disney chefs. Chef Julie shared her top tips
for making fried chicken with us:
Don't over-bread the chicken, all it needs is one really good coat
Make sure your oil is between 325-350 degrees to get the chicken nice and crispy
Have fun with it! Fried chicken is a comfort food and is meant to be enjoyed!
Here is our
recipe to help you celebrate! Call up a few friends or family members and offer
them some of this delicious fried chicken — if they bring a few side dishes to
share.
Famous Fried Chicken from Hoop-Dee-Doo Musical Revue
Serves 4
BRINE
3 cups cold water
2 tablespoons garlic powder
4 tablespoons coarse salt
1 medium chicken, cut into 2 legs, 2 breasts, 2 thighs, and 2 wings
FRIED CHICKEN
Canola oil, for frying
Reserved brined chicken
3 cups all-purpose flour
1 cup cornstarch
1 tablespoon coarse salt
1 tablespoon paprika
1 tablespoon onion powder
2 teaspoons ground white pepper
FOR BRINE:
Combine cold water, garlic powder, and coarse salt in a large glass bowl. Add cut up chicken.
Cover and refrigerate for 8 hours.
FOR FRIED CHICKEN:
With caution, heat 3 inches of oil in a heavy-bottomed pot until it reaches 350°F.
Remove chicken from brine and pat dry.
Whisk flour, cornstarch, salt, paprika, onion powder, and white pepper in a shallow bowl or pie plate. Dredge chicken in seasoned flour, making sure to fully coat each piece.
Carefully place chicken in hot oil, working in batches if necessary. Cook chicken, turning once, 13-14 minutes for breasts, 9-10 minutes for thighs, 7-8 minutes for legs and wings, until all meat reaches an internal temperature of 165°F.
Carefully remove from oil and drain on paper towels.
Always use caution when handling sharp objects and hot contents.
Please supervise children who are helping or nearby.
This recipe has been converted from a larger quantity in the restaurant kitchens.
The flavor profile may vary from the restaurant's version.
If creating culinary magic for our guests inspires you, perhaps you're ready to take the next step in your career. We're currently hiring a variety of roles including cooks, chef assistants and more! Visit DisneyCulinary.com to learn more and apply today!
Be sure to download the recipe here!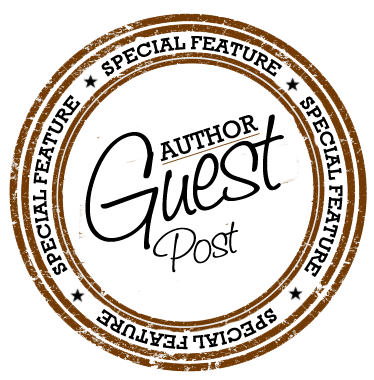 Latest posts by Guest Blog
(see all)