From the Disney Parks Blog and written by: Emily Southard
Since we're almost halfway to Halloween, here on the Disney PhotoPass team, we thought ok cool, let's launch a couple of creepy cool things at Walt Disney World Resort.
First stop: The 5th Dimension. Sort of. Get your
subdued smiles and gloomy glares ready. There's a storm brewing near the Hollywood Tower Hotel!

Our newest Disney PhotoPass Lens launches today, and it'll make you feel like you've stepped back in time to Halloween night, 1939. Tip: When using this Lens, go far enough down Sunset Boulevard to hear the shrieks of those onboard the attraction (if I'm riding, you won't even have to get that close). It really adds to the mood.
This Lens is available to use only on Sunset Boulevard at Disney's Hollywood Studios through the My Disney Experience app with the purchase of Disney Genie+ service.*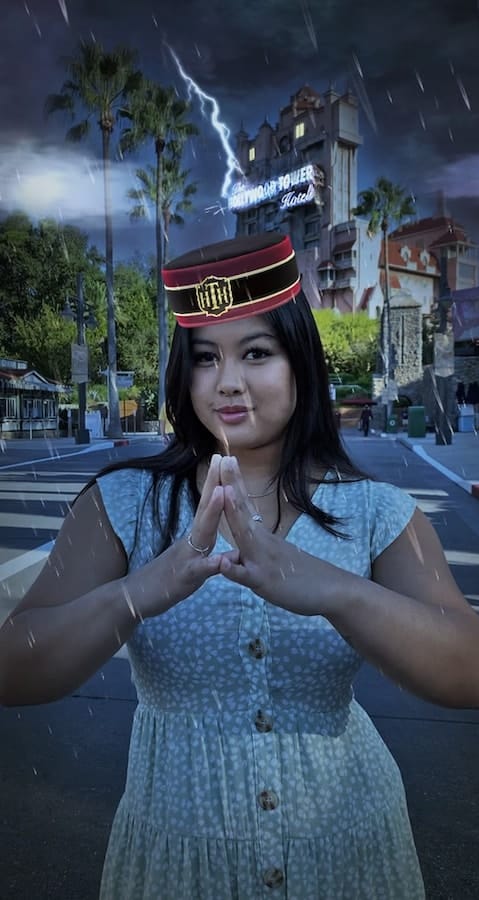 Obviously, I can't talk about creepy things and not mention the Haunted Mansion.
For an attraction that specifically asks for no flash pictures due to the spirits being sensitive to bright lights, I'm about to talk
about something ironic: onboard photos.
Starting today, all foolish mortals materializing onboard this attraction at Magic Kingdom Park will notice that your photo will have a new look. As they're known to do, the grim grinning ghosts are coming out to socialize – in the dead space of your photo! And if you ride this attraction about 10+ times each visit like I do (not hyperbole), you'll also notice that each time you ride, a different ghost might follow you home.
Let me make this clear – Disney PhotoPass Service utilizes lightning to help capture photos onboard. So for those of you who constantly wonder where the camera is on this attraction, let that be your clue. Or, you know, just ask me in the comments, and I'll tell you where it is.
Remember, there's no photo preview wall at the exit of this attraction where you can link your photo, so there are two options to have it automatically linked to your Disney account while riding:
Use your mobile device. Enable Bluetooth® for the My Disney Experience app before riding, ensure you've logged into the app sometime earlier that day, and keep your device out of low power mode. Then just put your device in your pocket or bag while you enjoy the ride.**
Wear a MagicBand that's linked to your Disney account. If you plan to reuse a MagicBand from a previous visit, click here for a few tips about your Disney PhotoPass experience.
This update at the Haunted Mansion is the first in our ongoing efforts to enhance onboard photos at some of your favorite Walt Disney
World Resort attractions.
Next time you head off to Magic Kingdom Park or Disney's Hollywood Studios, I do hope you enjoy these cadaverous capture opportunities.
*With the purchase of Disney Genie+ service, Walt Disney World guests can access many Disney PhotoPass Lenses in the My Disney Experience app as soon as they enter the park. Select Disney PhotoPass Lenses are accessible only within designated areas of Walt Disney World Resort. Other Disney PhotoPass Lenses will remain accessible in the My Disney Experience app until 5:59 a.m. on the 45th day after the day on which the Disney Genie+ service was used; certain states and localities are excluded. Many Disney PhotoPass Lenses use technology that detects the coordinates of key points on a guest's face and/or hands and may be used only by guests 18 years of age and older who have consented to use of this technology. Therefore, guests unable to provide such consent, as well as guests under 18 years of age, will have fewer lenses available to use. To access Disney PhotoPass Lenses, an eligible mobile device with the My Disney Experience app with access to the device's camera and location is required. A purchase of Disney Genie+ service at Walt Disney World Resort does not include downloads of a guest's Disney PhotoPass photos or videos that were captured by photographers and onboard attractions. Use of Disney PhotoPass Lenses is subject to the Terms and Conditions. Subject to restrictions and change without notice.
**Message, data and
roaming rates may apply. Availability subject to handset limitations and
features may vary by handset, service provider or otherwise. Coverage and app
stores not available everywhere. If you're under 18, get your parents'
permission first.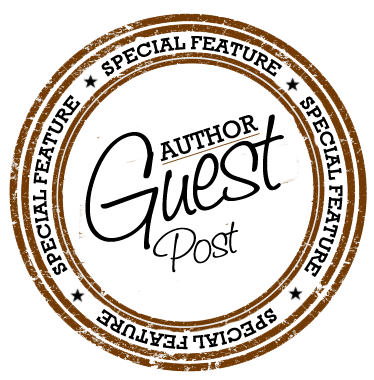 Latest posts by Guest Blog
(see all)