Mandalorian fans–Disney has released a first-look at "The Mandalorian" season two and it's full of all the excitement we were expecting after the series' smash-hit first season!
The season two of the series is only a little over a week away. However, we're going crazy waiting for its premiere on Disney+.
Although, in an attempt to put us all out of this mandalorian misery, Disney has released an all-new trailer featuring never-before-seen scenes from the second season. Take a look at the trailer below in the embedded tweet!
The next chapter begins. Start streaming the new season of #TheMandalorian Oct. 30 on #DisneyPlus. https://t.co/aMW0yJoENL

— The Mandalorian (@themandalorian) October 20, 2020

The trailer was first released on this week's Monday Night Football game on ESPN between the Arizona Cardinals and Dallas Cowboys. Now, the trailer is taking the internet by storm as this tweet currently holds over 2-million views in only its first 24-hours on the internet.
Similar to the first season, season two of "The Mandalorian" will feature more stories following the lone gun slinger and The Child–more popularly known as "Baby Yoda" on social media and on some of our favorite Star Wars-themed merchandise of all time!
According to the official synopsis of season two of the series, by Lucasfilm, in this second season fans can expect "The Mandalorian and the Child to continue their journey, facing enemies and rallying allies as they make their way through a dangerous galaxy in the tumultuous era after the collapse of the Galactic Empire."
This new story also comes with the addition of two new cast members, including Rosario Dawson (who is rumored to be playing Ahsoka Tano) and Timothy Olyphant. At this time, it is still not confirmed who these two stars may be portraying in new season.
You can catch the new season of the show officially when it premieres on Disney+ on October 30!
What are your thoughts on this new special look at "The Mandalorian" season two? Let us know in the comments!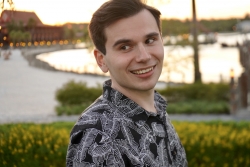 Latest posts by Sean Sposato
(see all)