Disney Cinnamon Glazed Almonds Recipe
Disney Cinnamon Glazed Almonds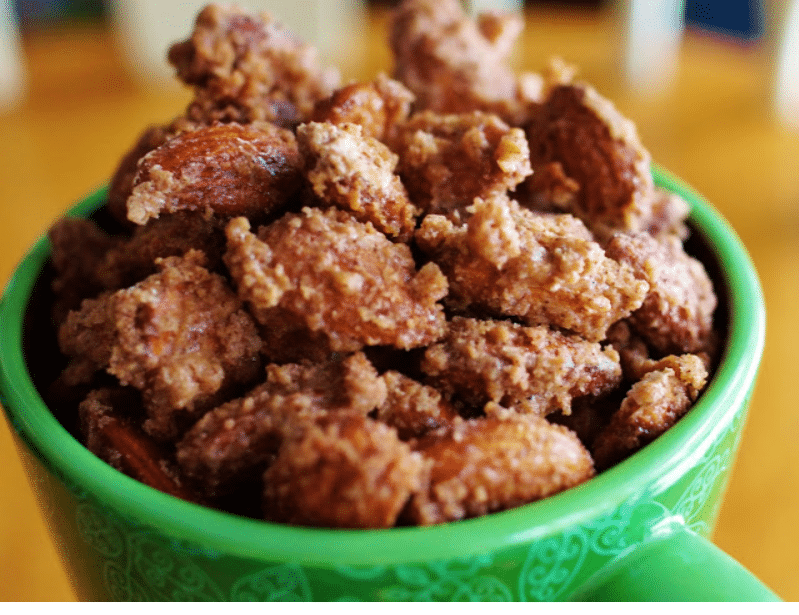 Anyone who knows me knows that I love the everything about the cinnamon glazed almonds that are sold all around Disney Property! They are so delicious and they smell amazing. Well my friends, you are in luck. I found a recipe for the almonds, so now you can enjoy this delectable snack in the comfort of your own home!! Enjoy, I know I will!!
Ingredients:
• 1/3 cup butter
• 2 egg whites
• Up to 2 teaspoons salt
• 1 cup granulated white sugar
• 4 teaspoons cinnamon
• 16 ounces whole almonds
Directions
1. Preheat oven to 325. Melt butter in oven-safe bowl or cup, about 10 minutes.
2. Meanwhile, beat egg whites with an electric mixer with salt until frothy.
3. Gradually add sugar and beat vigorously until the mixture is thickened and stiff peaks form.
4. Add cinnamon and beat until fully blended.
5. Fold in almonds.
6. Pour in butter and stir.
7. Gently pour mixture onto foil-lined cookie sheet and spread the mixture to a single layer of nuts.
8. Bake for 10 minutes, stir, and return to oven for another 10 minutes.
9. Repeat 4-5 times, for a total cooking time of 40-50 minutes, or until mixture has glazed onto almonds and almonds are crisp.
Mixture will froth and foam during the early stages of baking but will bake onto the nuts towards the end of the baking time. Serve warm or at room temperature