Universal's Story Coaster Weaves a Spellbinding Tale #HagridsMotorbikeAdventure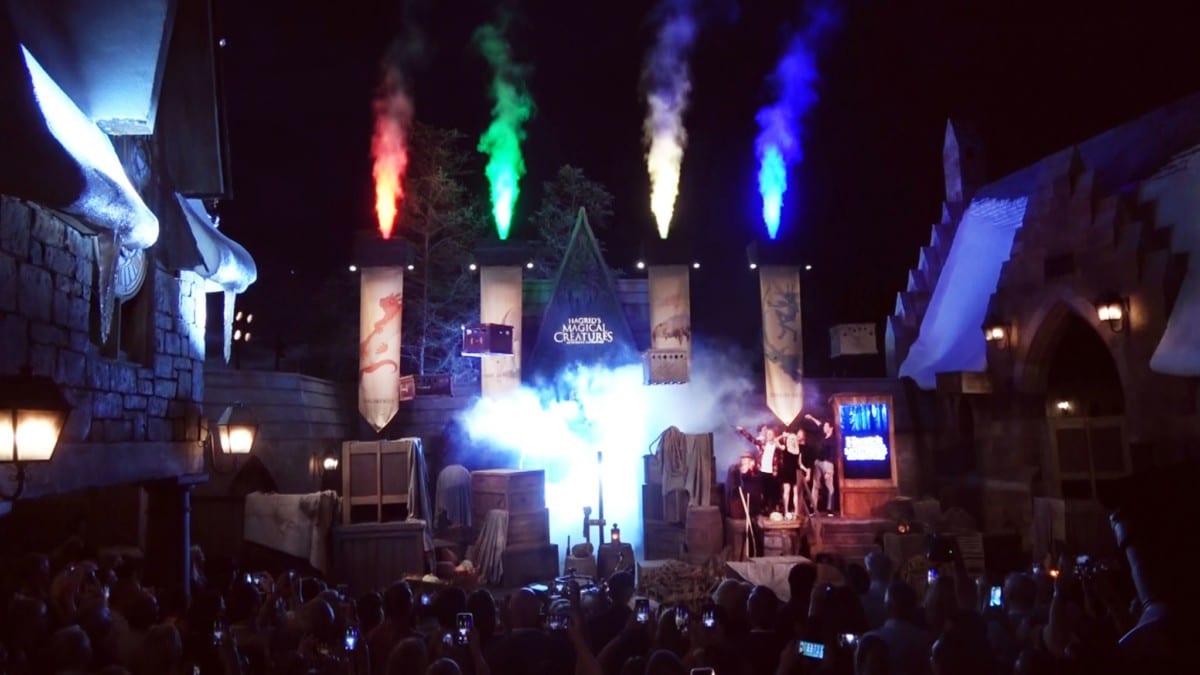 On June 11th 2019, I was lucky enough to attend the Media event for Universal Orlando's newest attraction, Hagrid's Magical Creatures Motorbike Adventure, on behalf of Adventures By Daddy.
Universal is calling this new Roller Coaster a "Story Coaster" as I assume Disney may refer to their Guardians of the Galaxy Coaster coming to Epcot soon.

This ride allows you to choose between riding the "motorbike" or sitting in the "sidecar" while you twist and turn around the Forbidden Forest encountering some Magical Creatures along the way. Without giving away too much, I can tell you this coaster has 7 launches, achieves 50MPH and has a first of it's kind (up for debate by some) free fall drop of about 17 feet. It might even go backwards a bit.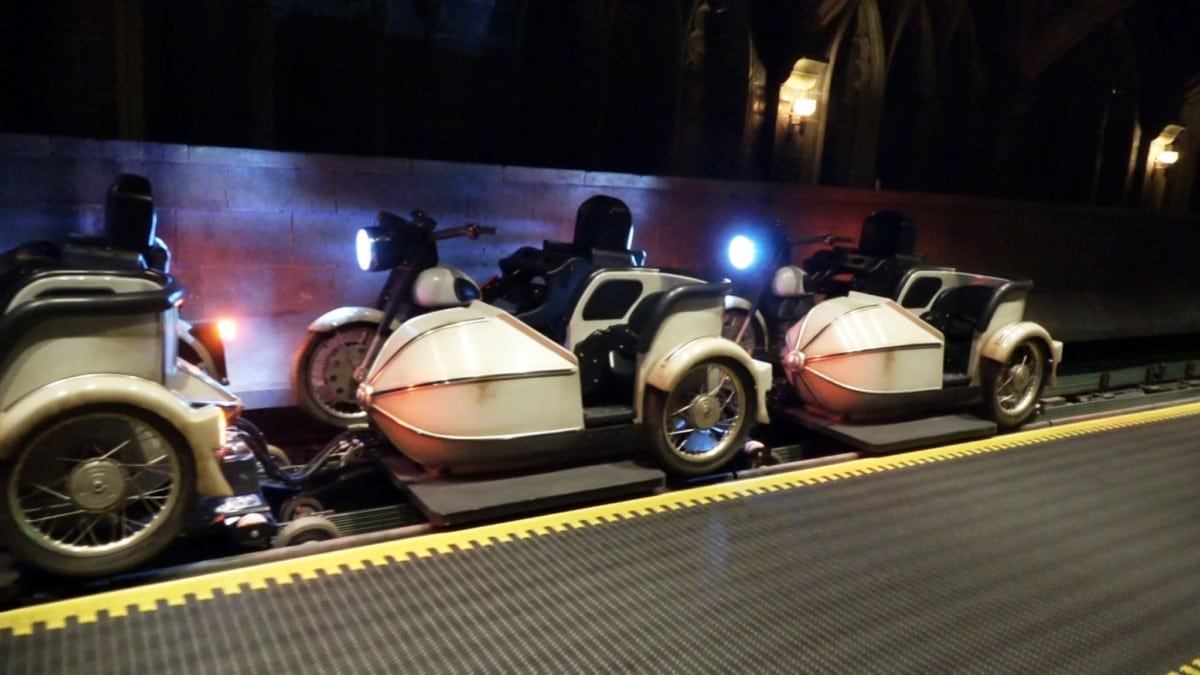 As for what Magical Creatures you may encounter – possibly a Unicorn. Maybe even a Blast Ended Skrewt which I hear is quite rare. Without spoiling it, there is a nice amount of "story" and I myself much prefer this to the most thrilling loop de loop, highest, fastest thrill coasters.
The vehicle is very unique and so is the load system. Taking a page from Disney, there is a moving sidewalk that allows for the coaster to always be moving. Riders make their way onto the moving platform and then onto the vehicles. They allow you to select between the Motorbike or Sidecar having you separate in queue right before boarding so there is no confusion. The video below shows the moving sidewalk and coaster vehicles clearly.
Full Disclosure. I am a Pooh sized person and was not able to ride this coaster. I mean, I fit in the seat fine. It was actually comfortable. But unlike Disney World rides, the restraint needed to be lowered far beyond what my tummy and thighs would allow. As a comparison, I can ride Slinky Dog and Expedition Everest with ease. I can even ride Flight of Passage. Instead of being bitter about it, I say it gives me motivation to lose another 30 pounds. Do not be discouraged as I saw many large people able to ride. It is all about proportions. But Universal still remains much more restrictive than Disney in this area.
The Queue was long, winding and absolutely gorgeous. It has been so long since I have ridden Dueling Dragons (the coaster that was replaced by Hagrid's) that I cannot tell what is new and what might have been rethemed. It definitely feels part of the Harry Potter Universe now. Potter fans will find many easter eggs in the queue and gloriously dimly lit caves throughout the passages. There is a pre-show featuring Hagrid done with clever projection effects.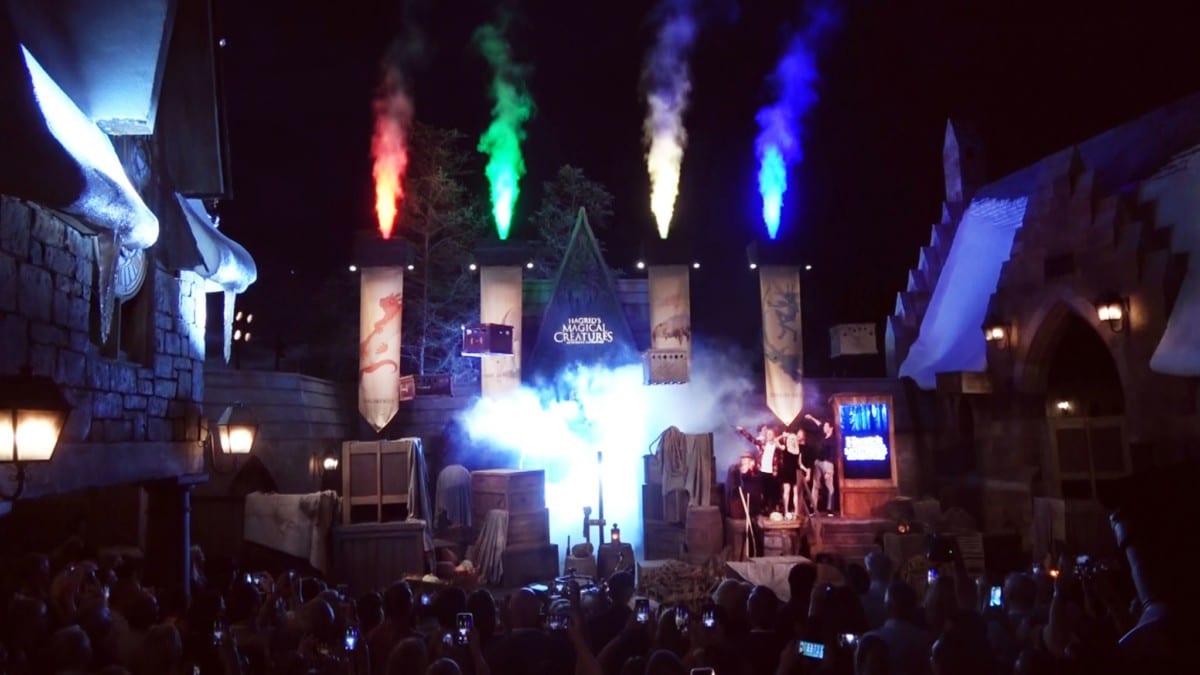 There was a Grand Opening Celebration at night that I really enjoyed. I videotaped it below and it is worth watching. On hand to help open the attraction was Warwick Davis, Rupert Grint, Tom Felton, Evanna Lynch and James and Oliver Phelps. Can you guess how the levitation was achieved? It was quite genius.
All in all, Universal has built a solid attraction that I cannot wait to ride. I love this age of new "Story" coasters and even though I am more a Disney fan, I can respect this wonderful creation and know that it means the Theme Parks will need to compete for tourists. This means we will all be getting better attractions.
See footage from the media event below!
John "Panda" Saccheri is the creator of the BigFatPanda.com YouTube Channel.
John has been rooted in the Disney culture from childhood. He only had the opportunity to visit Walt Disney World once, at the age of 5. After returning home, he never stopped talking about it, yearning to return. His parents were worried about his "obsession," but John began working at the age of 12 with a focus on saving up for the next Disney trip. He was able to visit Disney World at least once a year from 14 years old onward.
Today, a successful entrepreneur, John was able to move from his hometown of Long Island, New York, to Central Florida to be close to the Mouse. Going to the parks still seems like a fantasy to him!