Tasting Around the World~Round 2
We hit up the Epcot International Food & Wine Festival for the second time this weekend and our bellies were ready for Round 2 of tasting around the world.  This time we decided to load up one of the cute little wearable gift cards which make it a lot easier to purchase your food and drink.  No need to pull out your wallet while juggling food, drink, and children and no need to keep track of all those receipts.  So we loaded up our gift card and headed out around the World Showcase.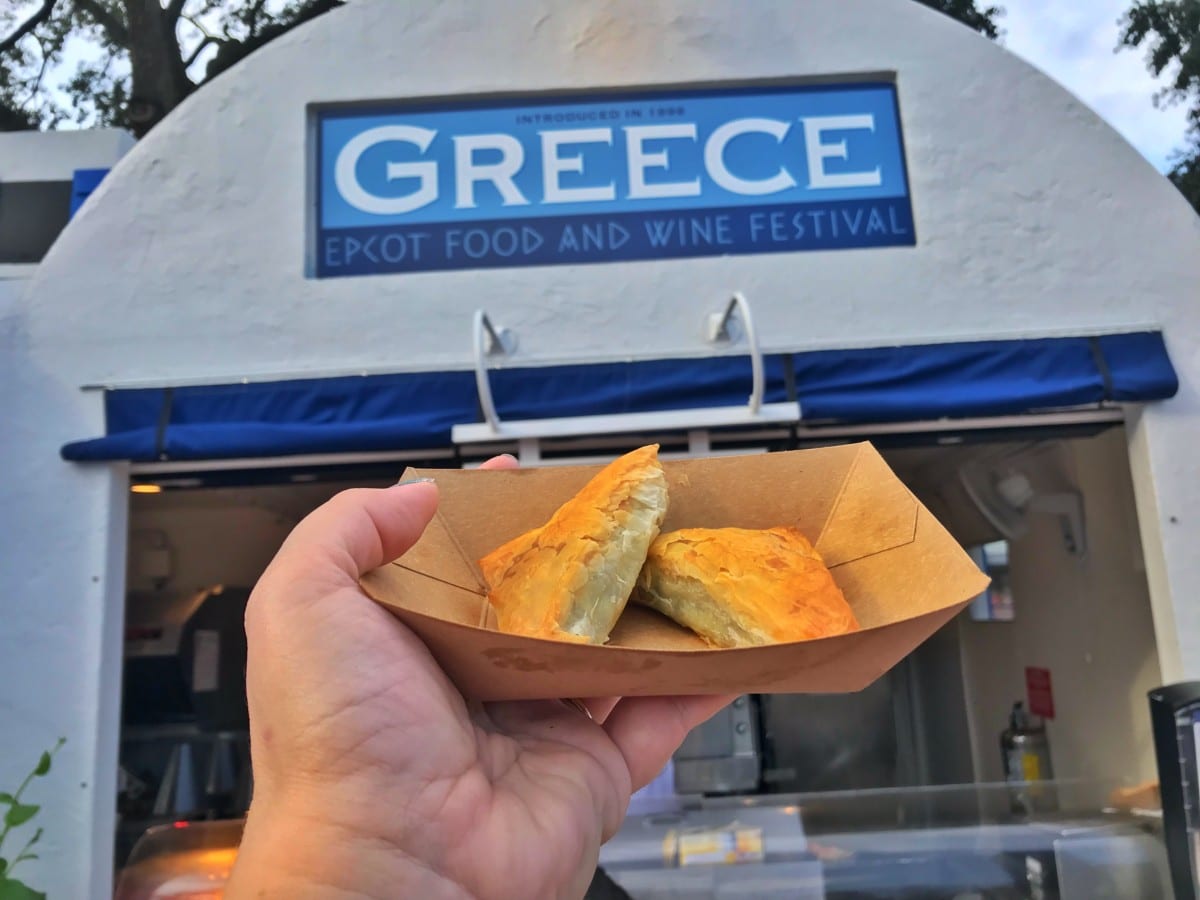 First up was Greece.  My oldest daughter and I decided to try the Spanakopita.  We've had this in years past, so it's always on our list to get and it definitely did not disappoint.  If you don't know what Spanakopita is, it's basically a Greek spinach pie.  The outside is a light flaky crust and it's filled with spinach and it's so good.  I think in years past it was 1 bigger piece, but this year it's two smaller pieces which was fine with me because my youngest daughter wanted to try it too.  Well guess who ended up stealing one of my pieces, she did!  She really liked it.  My youngest son also gave it a taste and gave it a thumbs up, so I guess we have a winner.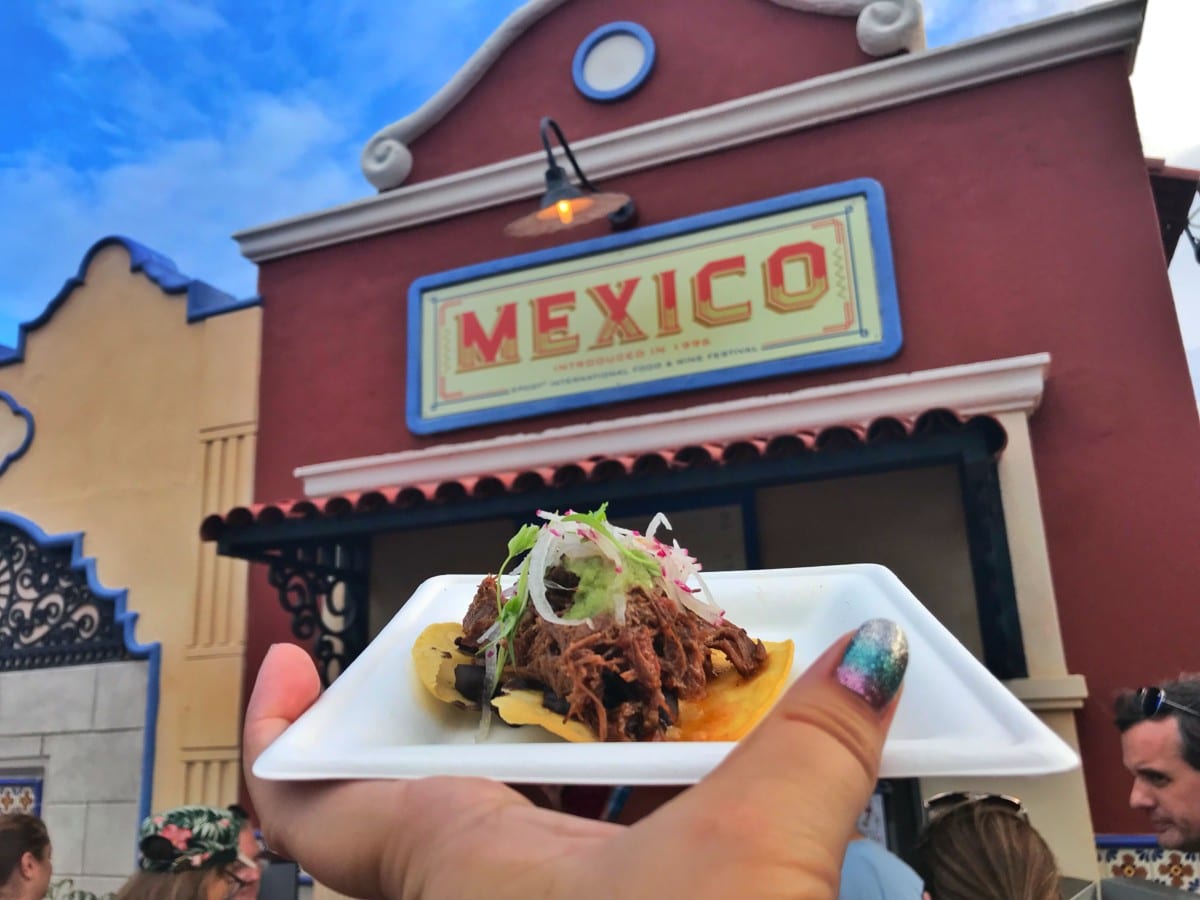 Next up was Mexico.  As we were walking by, the Short Rib Tostada caught my husbands eye.  This looked really yummy and the taste did not disappoint.  The corn tortilla was loaded with tender short ribs, black beans, salsa verde, and spring onion.  Now reading the description, I didn't think I would like it, but after tasting it, I really liked it and would definitely order it again.  My husband also really enjoyed it.  The kids were not adventurous enough to taste this one.  They were ready to hit their favorite stand next, China.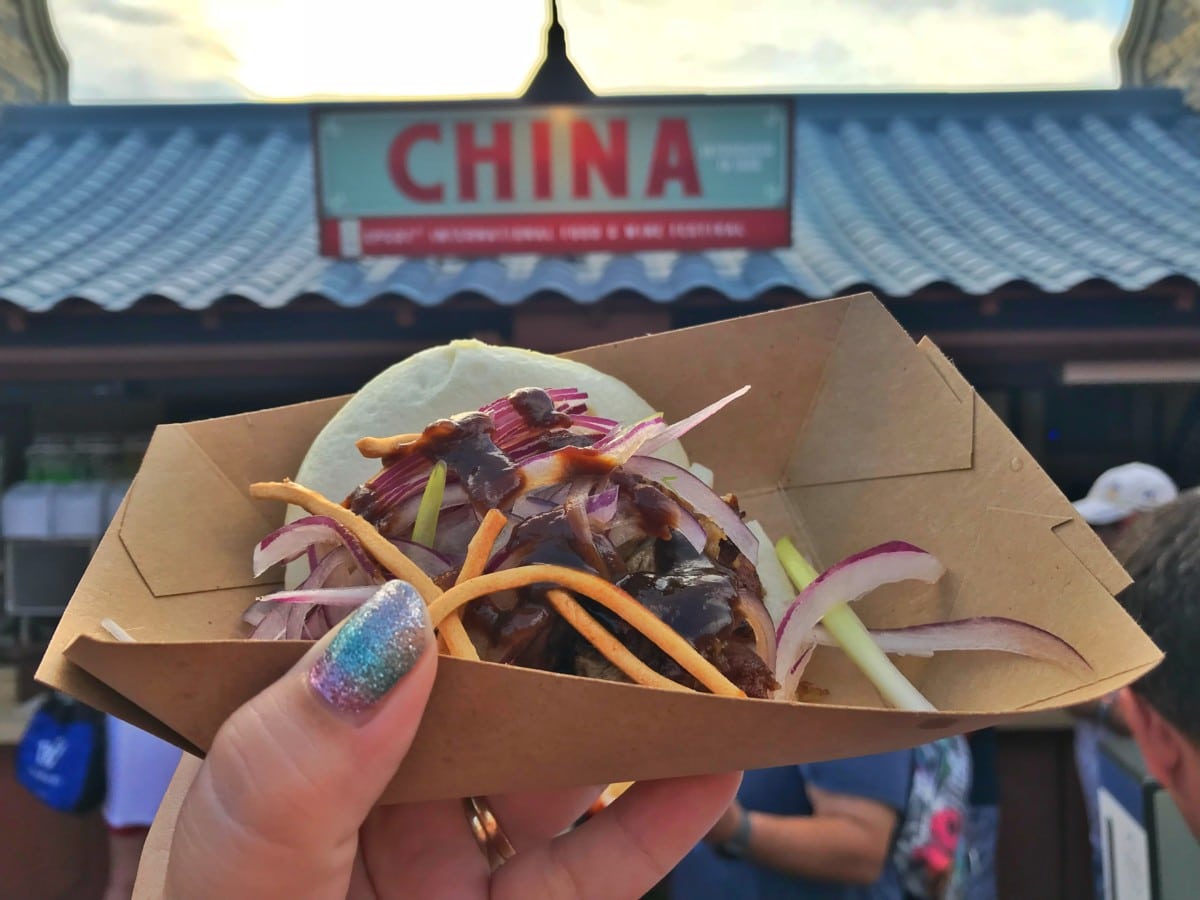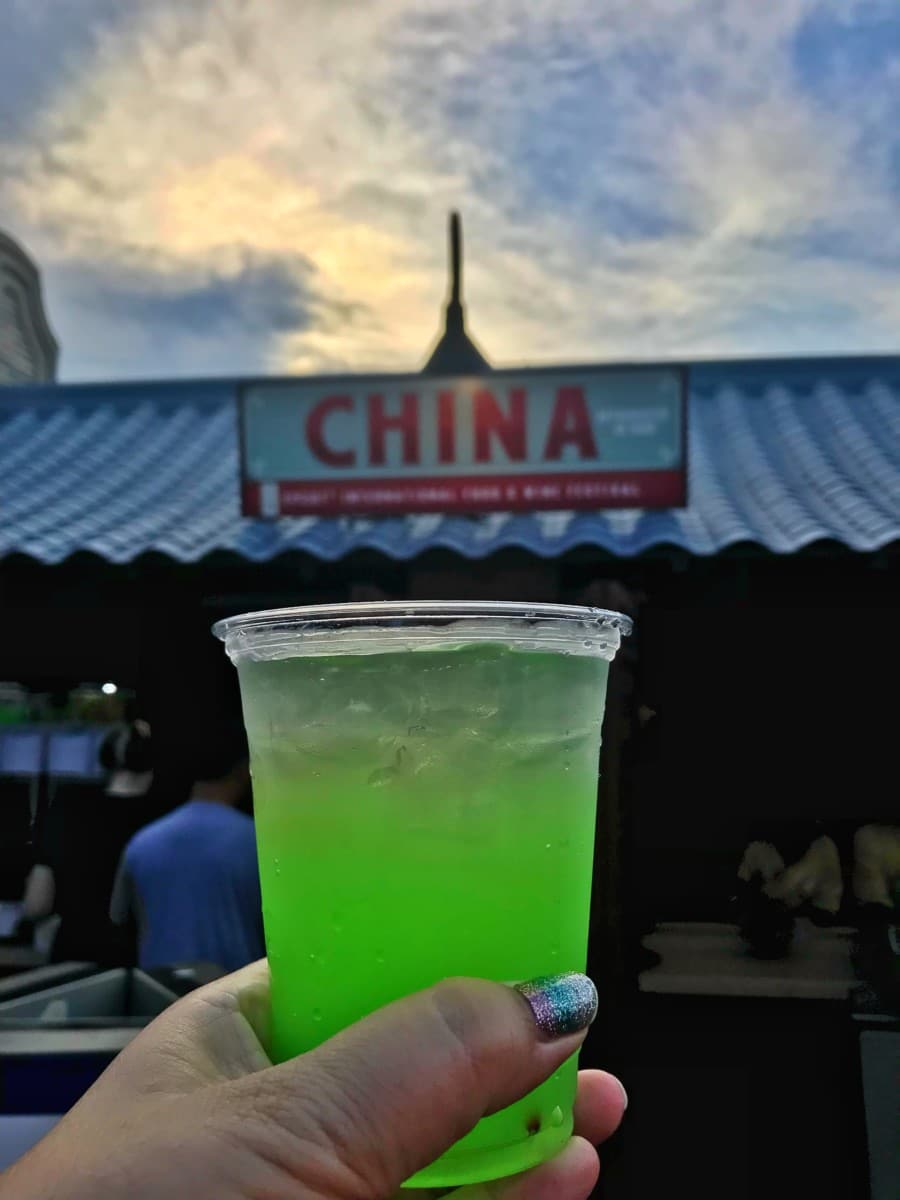 We got a lot in China.  First up was my choice, the Bejing Roasted Duck Bao Bun with Hoison Sauce.  Here at The Main Street Mouse, we try to keep it real.  Last year I got this and absolutely loved it, so I was so excited to get it again.  Unfortunately this year it didn't taste so great.  The duck just tasted very bland and it was disguised by a lot of raw onion.  At first I thought I just got a bad batch, it happens, but I ran into my friend later on in the day and she had it too and felt disappointed as well.  Next up for me was the Honeydew Bai Jiu Cocktail.  Now this was a winner in my book.  This was a mix of Chinese Bai Jiu Spirit and Honeydew Syrup.  I will give one warning, which my husband did warn me, but I did not listen and just went in for a sip.  The Bai Jiu Spirit is poured on top and they did not mix it in, so my first sip was all alcohol and very strong.  Make sure you grab a spoon and stir this before you take a sip.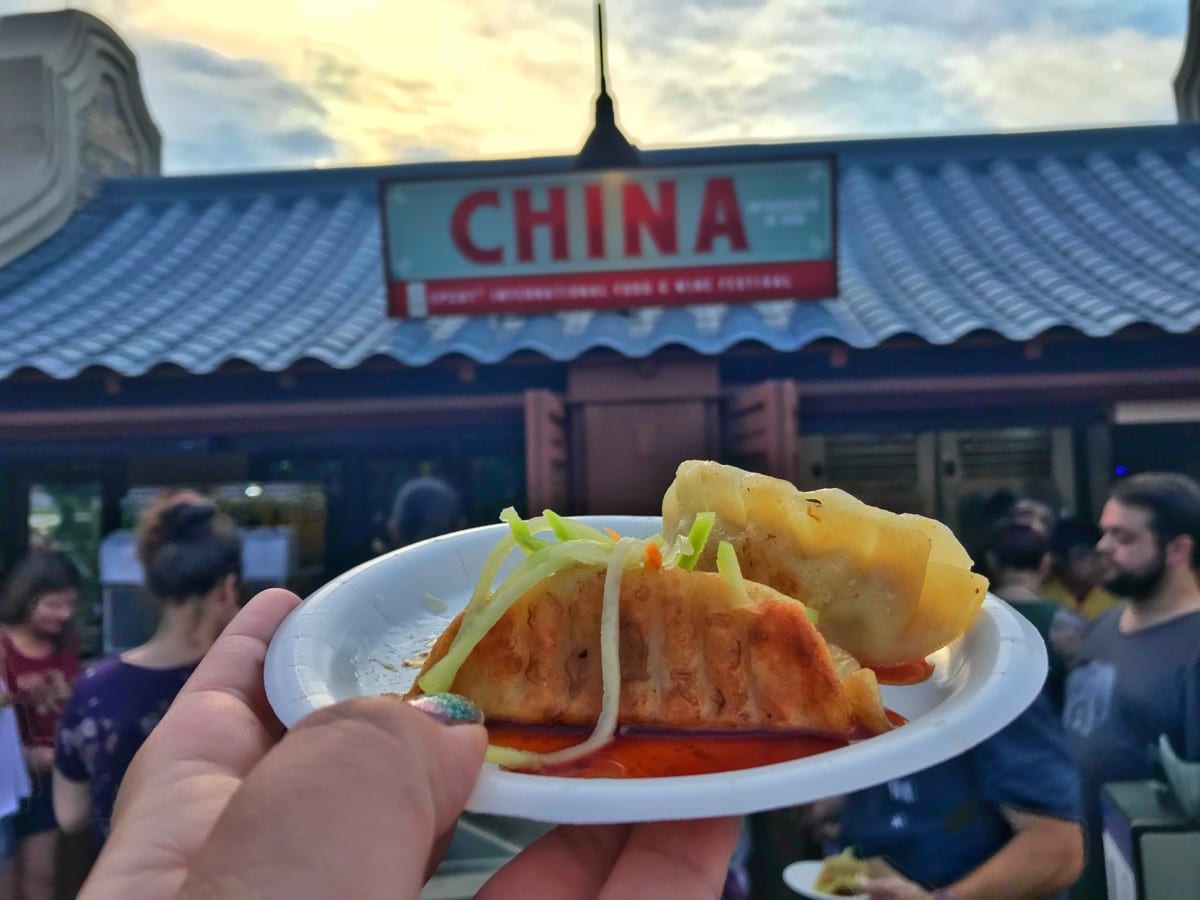 Next up in China was my youngest daughter's choice, the the Chicken Dumplings with Chinese slaw.  She gave this two thumbs up and really enjoyed it.  She let me take a bite and it was really good.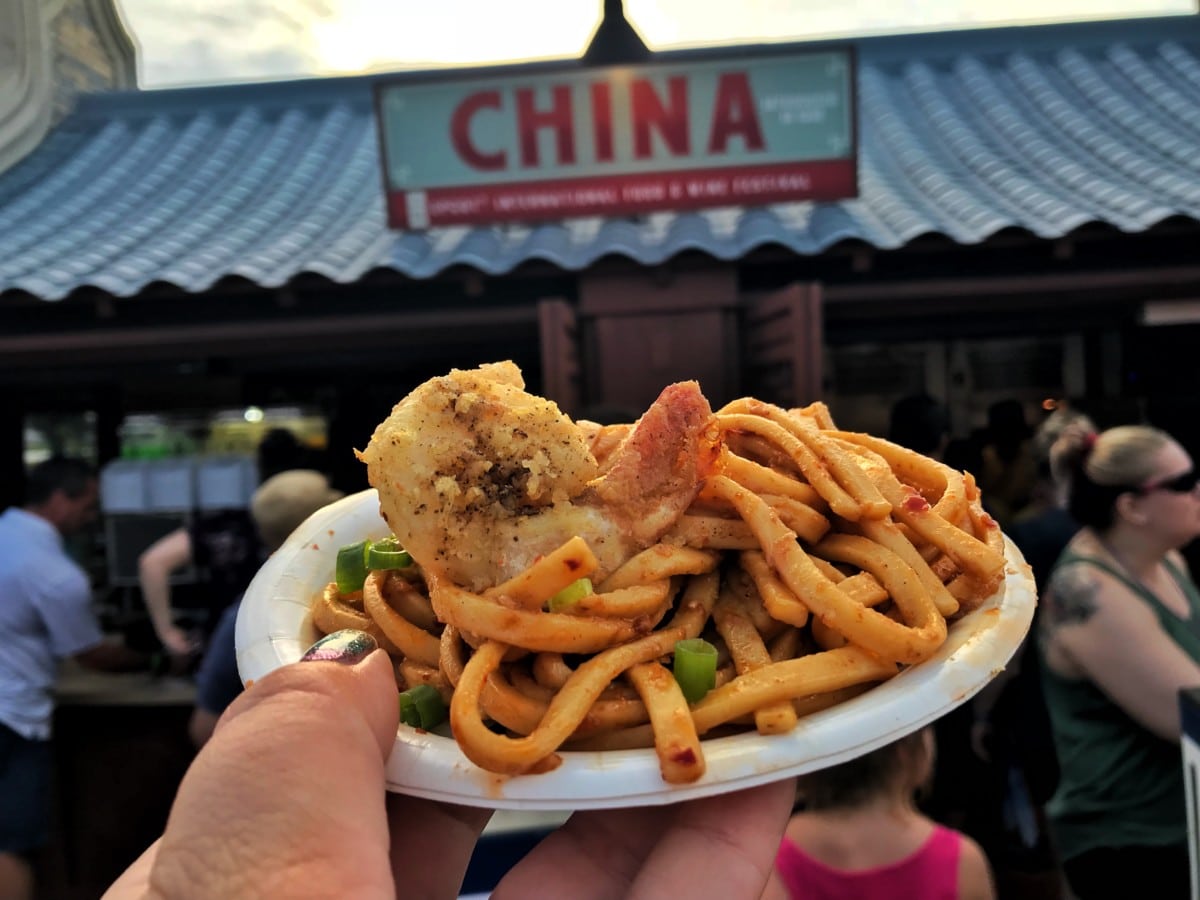 My husband and oldest daughter both got the Black Pepper Shrimp with Garlic Noodles.  The portion size was pretty big for the price on this one.  It comes with two large shrimp and a plate full of noodles.  They both really enjoyed it, but my oldest could not finish her noodles because they were a little too spicy for her.  My husband thought the spice was perfect and had no problem helping her finish it.  I had a taste and thought it tasted good as well.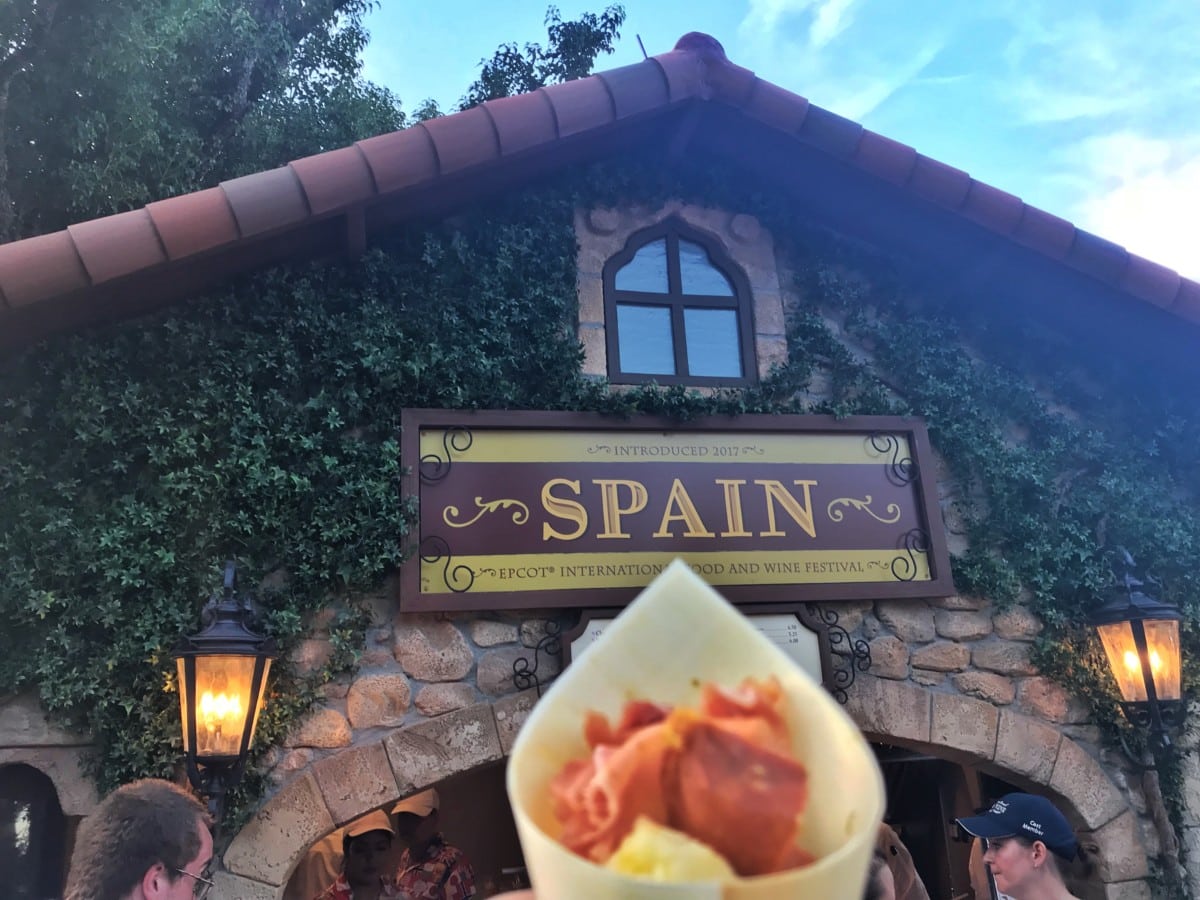 Next up was Spain.  I have been eyeballing this Charcuterie in a Cone since the festival started and it did not disappoint.  It reminds me of a dish I make for the holidays.  The cone is filled with a selection of imported Spanish Meats, cheeses, and olives mixed in an herb vinaigrette.  It was really good.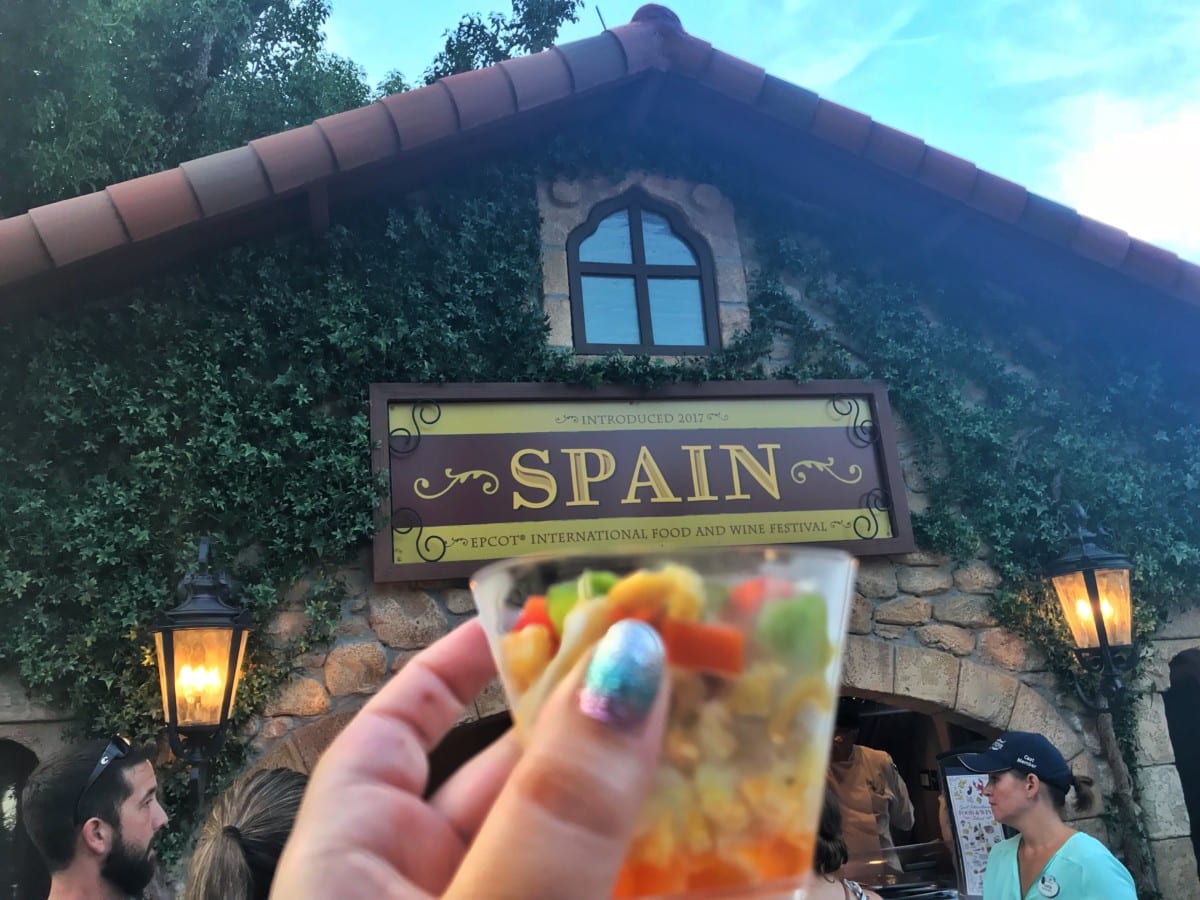 My husband ordered the Seafood Salad.  He really enjoyed it.  It was filled with shrimp, bay scallops, and muscles mixed in with olive oil, white balsamic vinegar, and smoked paprika.  I had a taste and it wasn't my favorite.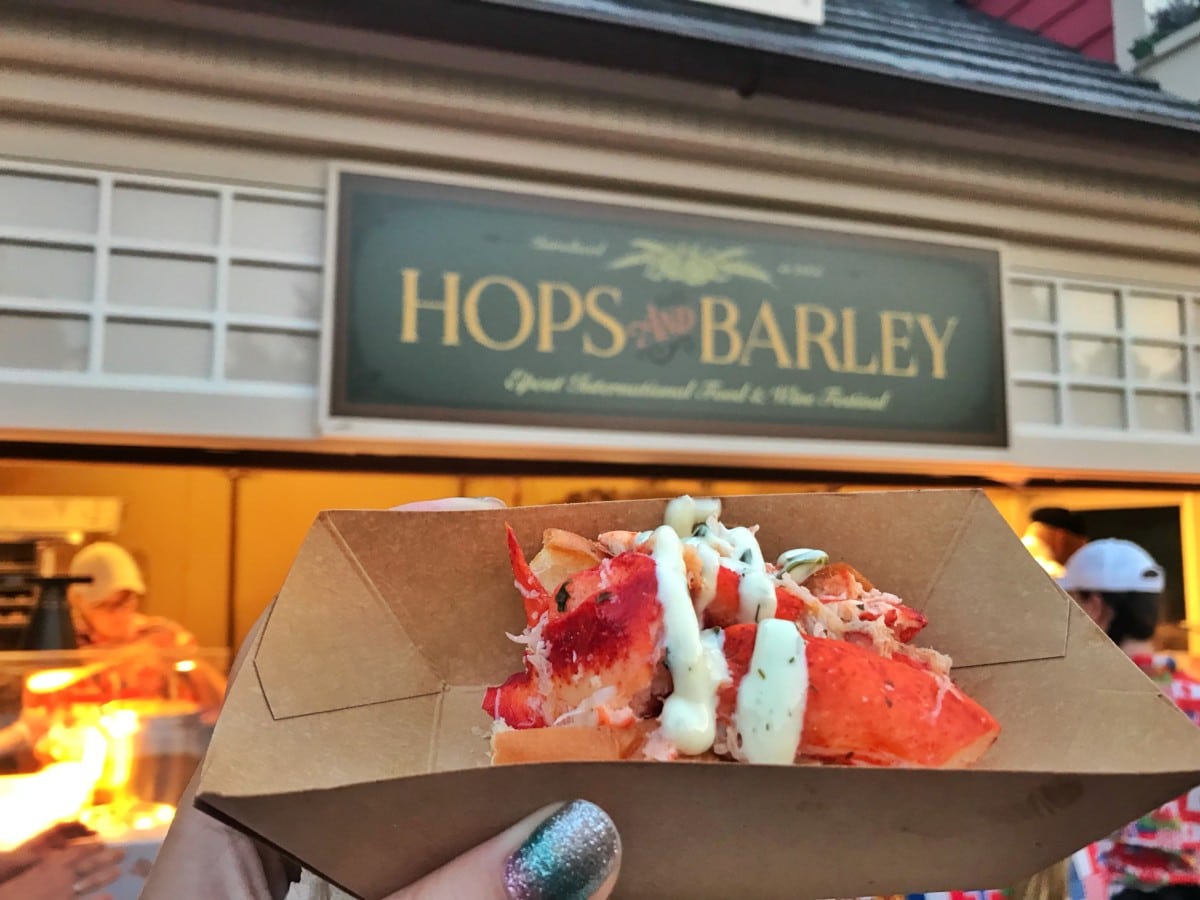 Now I know we already covered the New England Lobster Roll last time, but I had to order it again.  Last time, although it was really good, there was not a lot of lobster in it.  We ordered three of them again and this time they were loaded with claw meat.  There was a ton of lobster stuffed inside the rolls.  My husband, daughter and I were quite happy with it this time.  And not pictured here, but we covered last time, my son got the carrot cake again and really enjoyed it for the second time.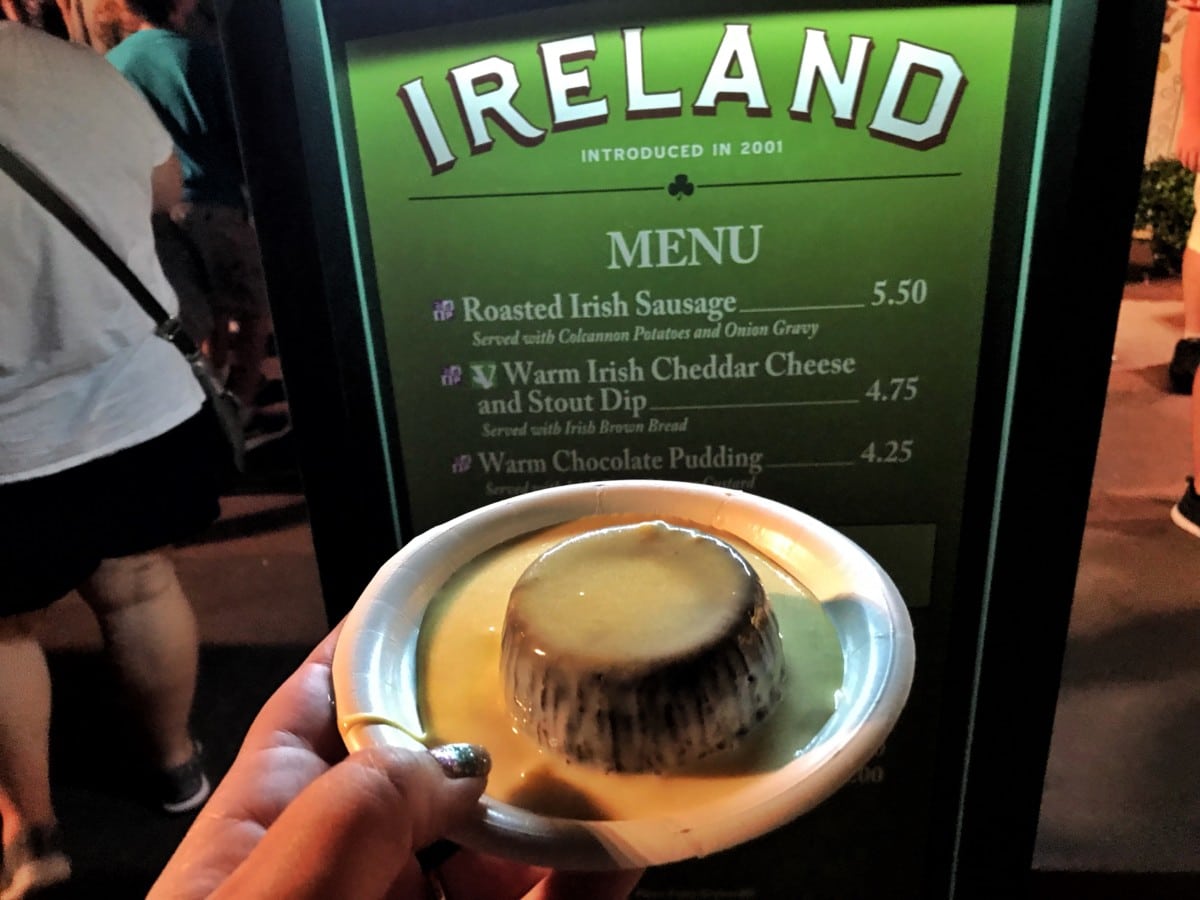 Last but not least on our Taste around the World this time was Ireland for my youngest daughter's favorite dessert at the festival, Warm Chocolate Pudding with Irish Cream Custard.  This comes out warm and oh so yummy.  I did not get to taste this one, although I have in the past, but my daughter devoured it before I could ask.  She said it was warm and yummy and still her absolute favorite.
Well that's it for Round 2 of Tasting Around the World.  We still did not get to taste everything we wanted, because let's be honest tasting around the world is not cheap for 5 people, but we will be back for more and I'll share with you what we get next.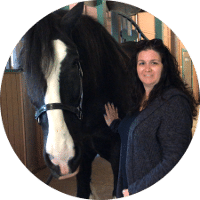 Author:
Janel Adani
Janel Adani I have been a Disney fan all my life. I have been an AP holder for over 20 years. I have 3 amazing kids who are growing up with Disney as their playground. We love to try new food and drinks at the parks, obsessed with Disney Merchandise, and enjoy family Staycations throughout the year at one of the Disney Resorts.