By TMSM Racing Disney Guest Blogger Catie Neal
The alarms began to ring on the morning of the half at 3:30 AM. On this day, we all seemed to hop up with the first alarm! Outfits had been laid out the night before with a few minor tweaks taking place in the hotel room. We all took our turns in the bathroom, downed our pre-race fuel, and got ready for the walk to the start line. Since our hotel is only about a block from the finish line, we refused to check a bag and decided we (myself and my friend Catherine) would just take all the post-race pictures we wanted and then would head back, grab quick showers, and watch my mom and sister finish!
Things were far smoother getting to the starting area than the day before – at least for us. I saw TONS of posts on social media about how people who drove waited forever to get into the parking garages and were late for the race. Thank goodness we didn't have any issues! My heart breaks for all who did have problems!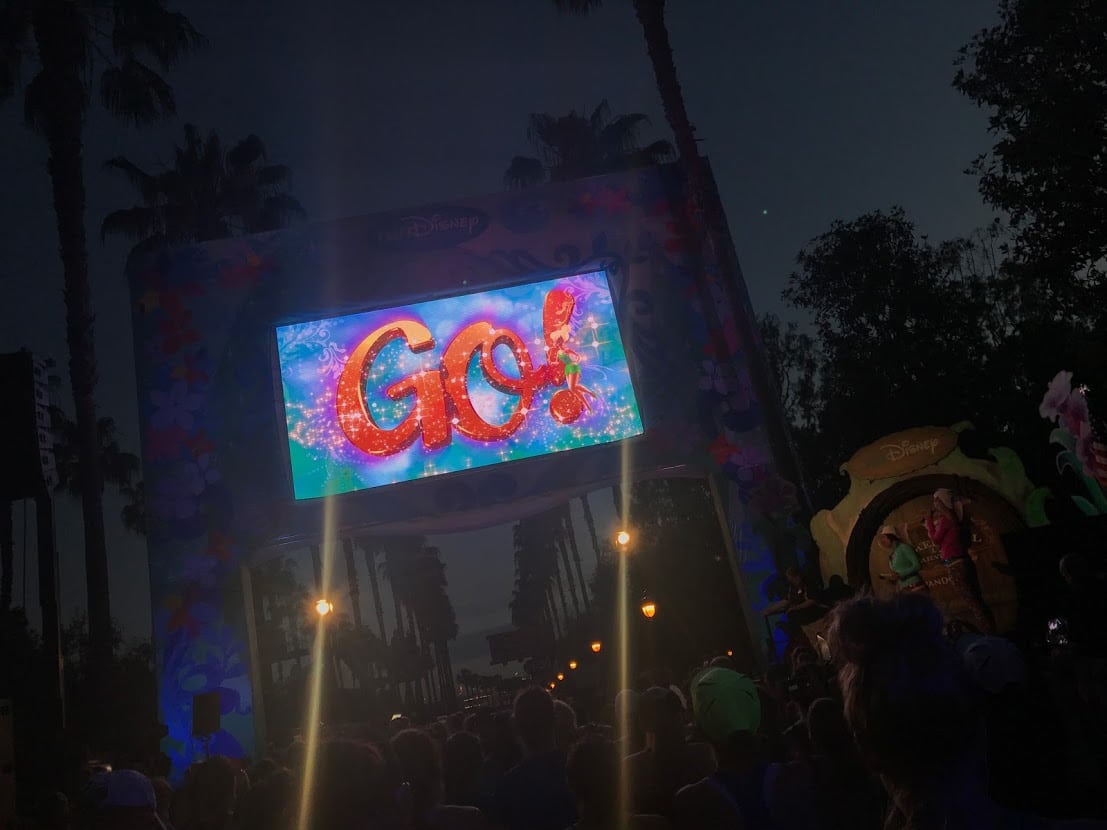 We made it to the area where we would split off for our own corrals so we did a quick pre-race FaceTime with my dad, said our good byes and good lucks and made our ways to our corrals. runDisney had taken away the line of port-a-potties heading to the corrals and had just placed some outside of each corral. Catherine and I had NO wait at our port-a-potty in front of our corral! It was a HUGE win!
After our quick bathroom break we entered our corral and plopped down on the ground to relax and stretch before the race. Our corral stayed SUPER empty until about 15 minutes before the race started. It was very nice! My dad even FaceTimed us a second time just to check out how empty our corral was! (It's NEVER like that for me at a runDisney event!)
The announcers finally came on stage and began the pre-race introductions. Then came the great stall of the Tinkerbell race. Clearly this year was the "Great Stall" for both Tink and Princess! One of the announcers started joking at one point when another was singing "When You Wish Upon a Star" that perhaps he could even attempt the national anthem – so we assumed that the singer struggled just like a lot of runners to get parked and make it to the start line! Yikes!
So we finally started the race about 10ish minutes after we were scheduled to start. Luckily it didn't really affect Catherine or I but those 10 minutes can seem agonizing when you are further back in the corrals!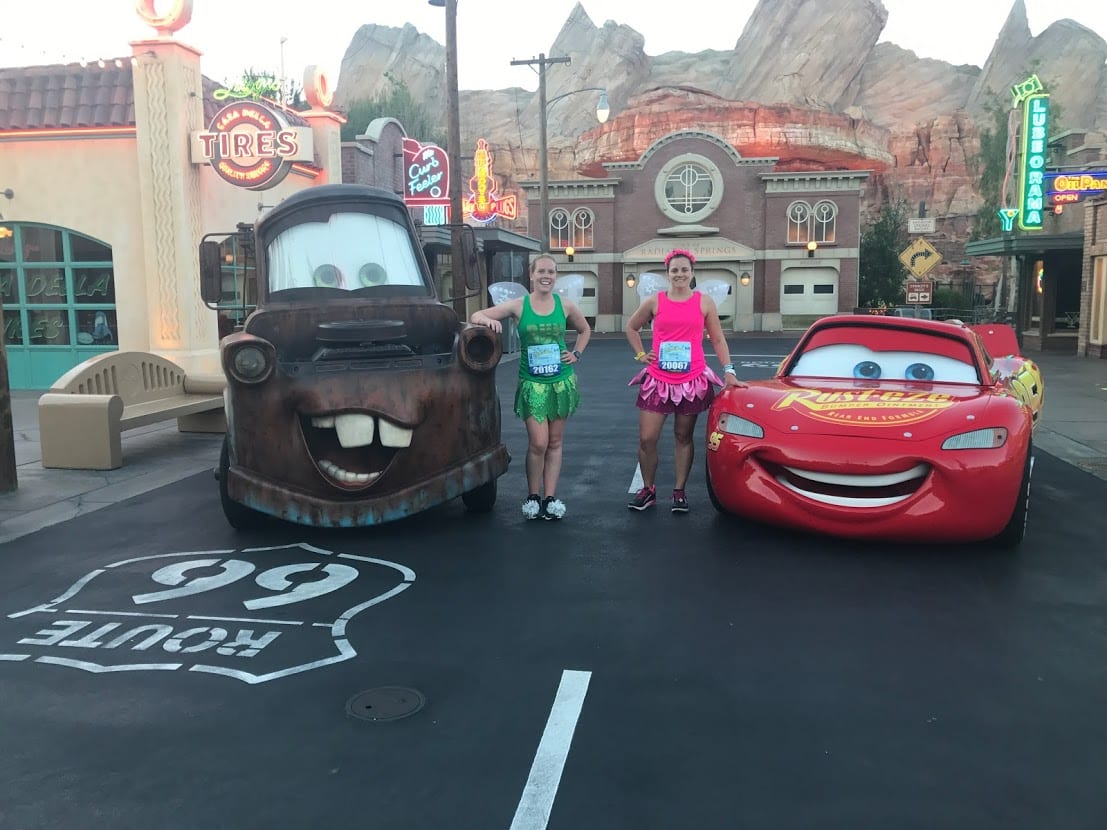 Before we knew it we were on our way for the half. This race is pretty awesome in my mind. As Catherine put it – it's the perfect combination of Disney and racing. The first half of the race is centered around Disneyland and California Adventure. We were able to snap a few pictures with some characters and landmarks. I was a little bummed that there was no "professional" Castle picture but that's OK – we made do!
After we left the park part of the half, I asked Catherine if she would mind if I turned on some music. We were promised bands and a few other things – but I was a little leery after how the rest of the weekend had progressed. Thank goodness for my phone and our playlist! We passed 1 band and 1 marching band during the rest of the miles – the band was phenomenal though. It had this killer female lead singer! It was some awesome girl power! The marching band left a lot to be desired.
However, I was personally most looking forward to seeing the Red Hat Society as they had been on the course in years past. As we got near where they were the year before I told Catherine to get excited; however, we turned the corner and they weren't there! I don't know what happened but I thought perhaps they would be there later on the course, but they never turned up!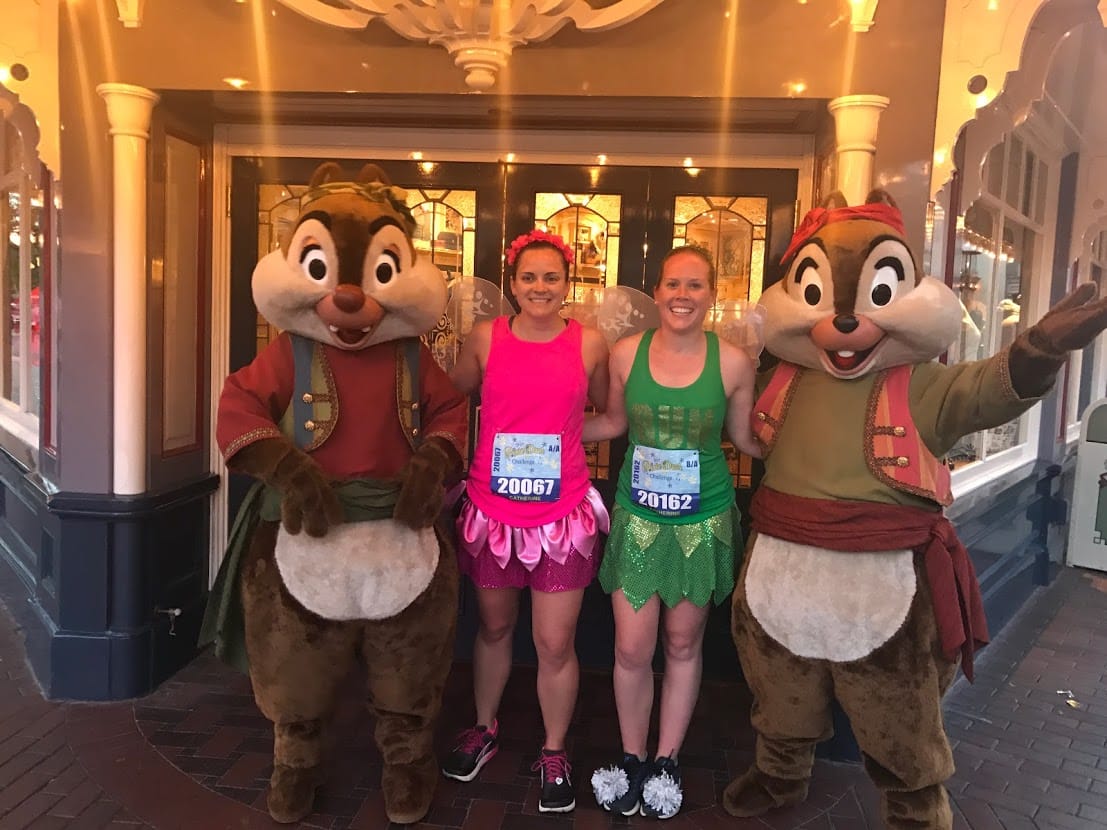 Catherine and I though still chose to just plug along. We grabbed our fuel provided by runDisney near mile 9. I was a little bummed by this – usually volunteers have handfuls of Clif Shots that they hand to you, but this race we had to grab them off the table ourselves. The height of the table was just a little off so I had to turn funny and it didn't necessarily feel all that great. I'm really hoping that runDisney ditches this whole contract worker for races idea. They just lacked a lot of the "oomph" that the volunteers bring to events. If they keep them, I hope that they get the word out there that a little enthusiasm on the course can go a long way. I can't wait to see what happens for Addie when she runs in September!
Anyway, back to the race. Catherine and I were winding our way back to Disneyland through lovely Anaheim! We thanked all of the police workers we saw for being out keeping us safe on the streets. We watched spectators make some amazing driving feats to see their family members on the course. And we rocked out hard to my "Princess Half" playlist. (I honestly started that playlist YEARS ago and I just update it yearly with jams – it's served me well!)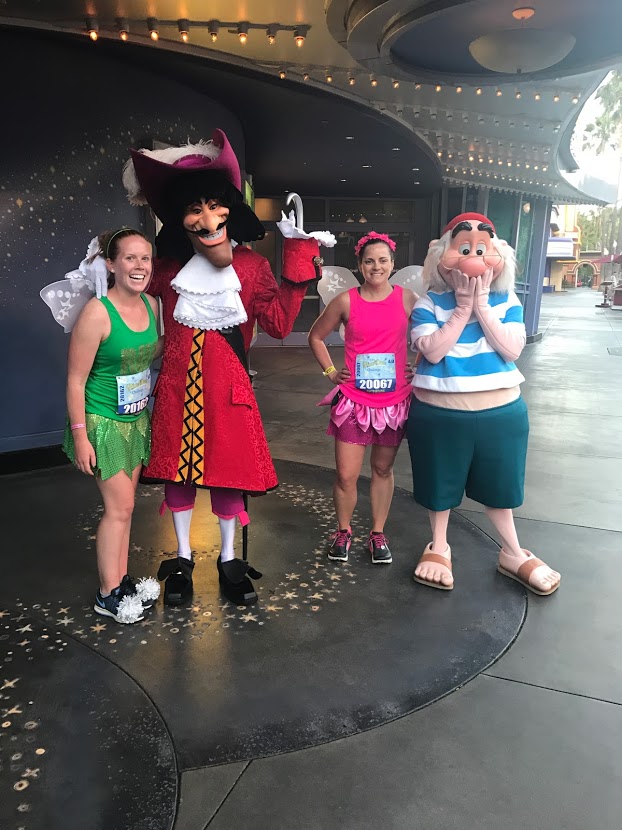 Next thing we knew we were looping back around behind California Adventure on mile 12. We were right beside runners who were on mile 5 at this time. There were some awesome cheers from them to us and vice versa. (I LOVE the comradery of female-geared and runDisney races – it's magical!) Catherine and I put the hammer down and chugged on to the finish. At mile 12.5 we realized we still had our pixie dust and we were determined to get a super cute finish photo with our dust this time. So at mile 13 we pulled off to the side to grab some handfuls of pixie dust. We ran down to the finish line and flung our pixie dust in the air as we crossed. It was awesome!
After finishing we made our way through all the workers and grabbed our medals. There was a tiny snafu when I was first attempting to get my medal. I signed up for the "Treasure Lounge VIP Experience" and so I didn't have a picture to prove I ran the challenge. Instead I had a wristband. The workers didn't realize that at first and sent me over to an official runDisney table who automatically saw my wristband and waved me through. We grabbed our awesome bling – I mean these medals are GORGEOUS – and headed out to the post race area. On our way, we tried to get our usual post-race official photo. When we tried to get a picture of the two of us together – the photographer told us it wasn't allowed. She then immediately allowed it for the next group!
We decided to let it not make us mad and we headed out into the post-race festivities! We decided to hit up my VIP tent first. I was a bit disappointed when we first walked up. I had built this thing up in my mind that it was going to be awesome. They had said there would be food and a character option – yeah there was none. There was a fabulous smoothie – I devoured it immediately, and a cute little backdrop for a picture. I was the first VIP person to stop at the tent and so the girls from Jamba Juice were so excited they snapped a ton of pictures with me. They even allowed Catherine to come in so we could take some cute pictures with the back drop. We then headed over to the huge topiary wall they had out for runners to grab a picture with. They had this wall with beautiful flowers in 13.1 – it was magical!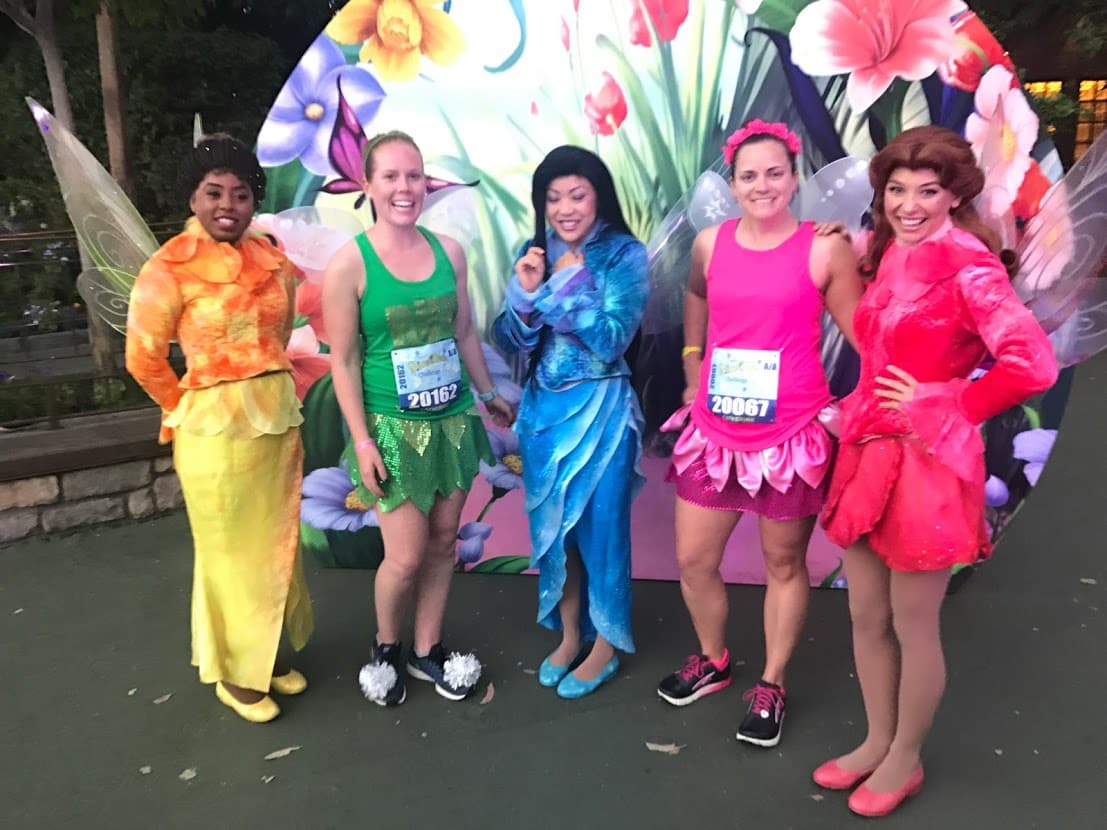 After grabbing all the pictures we wanted, we grabbed our gear and headed back to the hotel. I was tracking my mom and sister and knew that they were getting close to each other on the course. Thank goodness for the projected finisher times – it gave Catherine and I a way to figure out how long we had to get ready. After grabbing quick showers – we threw some things into Catherine's back pack – a camera and their other medals, and headed back to the finisher area. We made it to the finish line viewing area and didn't have to wait too long until the two of them crossed the finish line hand in hand again! It was so cool to watch them cross!
This race was HUGE for my sister who had been injured and wasn't even able to walk a few blocks without pain and she finished all 19.3 miles of the challenge this weekend! I was so proud of her! And as always, my mom is the coolest person ever – I mean hello she is down for any race or challenge I throw at her and she always finishes every race she starts. Plus, it was MOTHER'S DAY and the two of the most influential Moms in my life crossed the race together – magical I tell you!
So my overall opinion of the race weekend was that it was fine. I had a great time and I wasn't going to let anything deter me from enjoying myself. Am I going to run Tinkerbell again? More than likely yes – as Mom mentioned to me just the other day – "we are perfect in the challenge you know?" Do I hope that runDisney listens to some feedback and tweaks the weekend – of course but I don't expect them to not make changes either… runDisney puts on fantastic events that can't compete with other races I run. The experience is one-of-a-kind. You run through the parks, get to see some of your favorite characters, and get some of the best bling I have ever had.
In my mind, the whole weekend is a nice way to look at running period. Sure maybe it wasn't exactly what I was expecting, but some runs are just like that. They aren't always the best, but I always get 100% of what I put into them out of them. We chose to have a good time and enjoy ourselves during the race and as a result – I made magical memories with my family and friend and earned some awesome bling. Until next time Tinker Bell! <3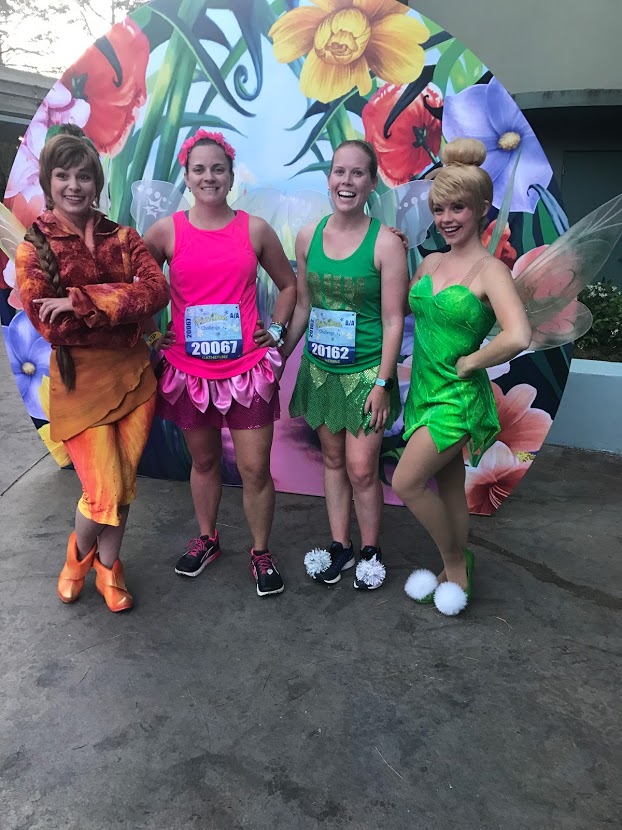 TMSM is very excited to publish the "Racing Disney" runDisney series by Addie Clark and Catie Neal. Please keep an eye out for more of their amazing and informative articles! If you missed of the articles in this series make sure you check them athttps://www.themainstreetmouse.com/tag/racing-disney/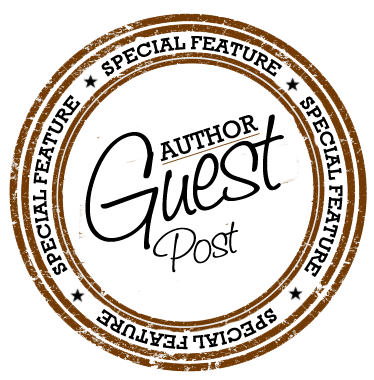 Latest posts by Guest Blog
(see all)