This past Sunday (April 23rd),  while walking into the Magic Kingdom, I grabbed the times guide as I usually do.  I always take a look to see if there is anything new going on or possibly an extra showtime.  This week's guide had something I hadn't seen before.  It said:
Picnic in the Park!
Limited Time! Enjoy a Saturday afternoon picnic in the Park!  Boxed lunches available for purchase at Tomorrowland Terrace Restaurant, with a special reserved picnic area in the East Plaza Garden

Saturday 11:00 am – 2:30pm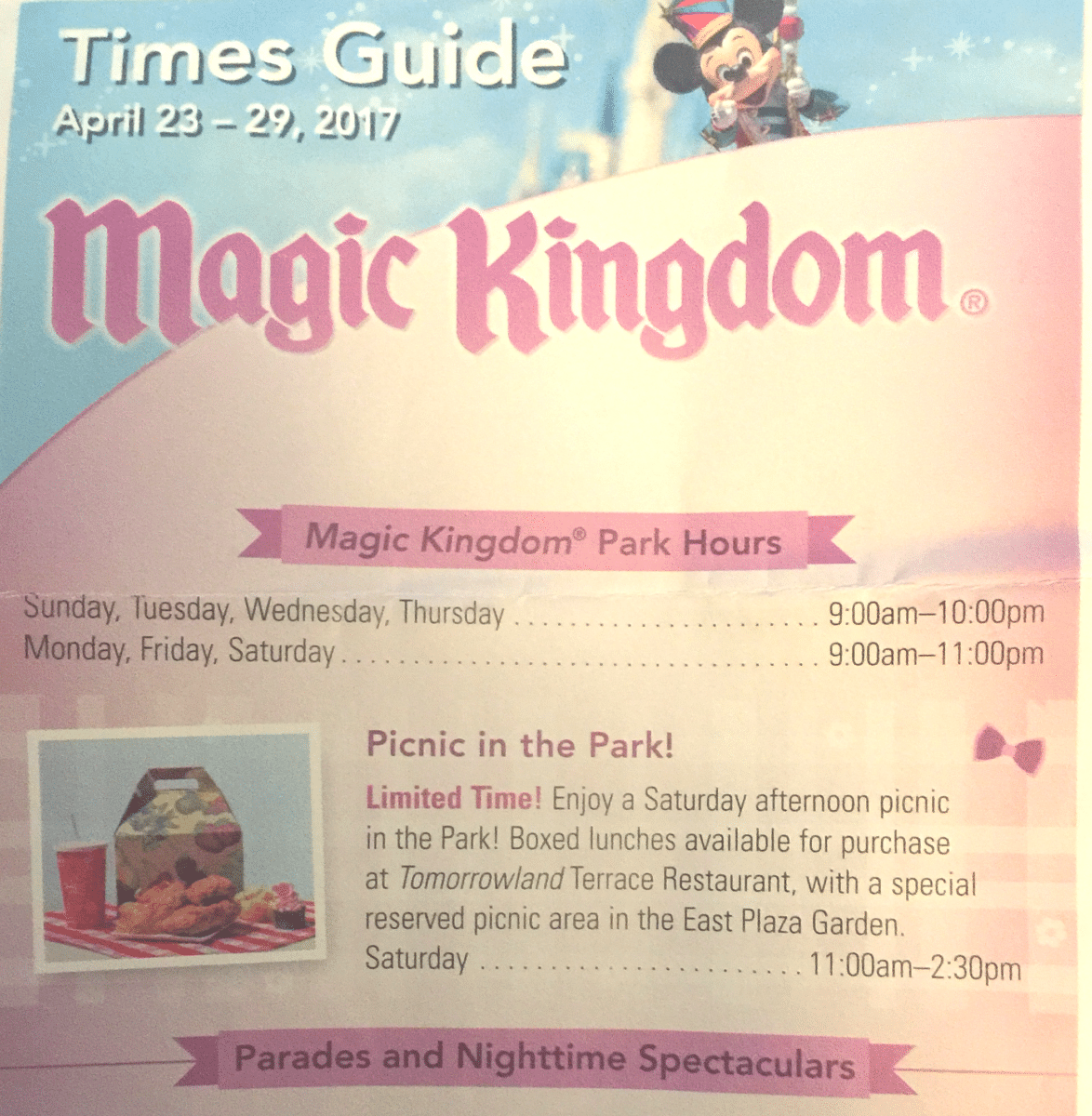 When I first saw this, I had no idea about this new offering and to be honest the guide didn't provide any more information than I listed above.  You may or may not know, but this weekend is Dapper Days.  Dapper Days is not a Disney sponsored event, but it does appear this has been created to go along with the theme of the weekend.  A picnic in the park does go very well with the Dapper style.
So while doing my research on what this is, I found what you get exactly in the box lunch.  Each lunch comes with:
House-made chips
Fruit cup
A mini Dapper Rose cupcake
Regular fountain drink
and your choice of:
Fried Chicken
Chicken Caesar Salad
Greek Salad Wrap
BBQ Pulled Pork Sandwich
Not to forget about the children, there is also a Kids' Meal offering.  The kid's version has:
A side of house-made chips
Go-Go SqueeZ
Mini Dapper Rose cupcake
Kids' fountain beverage
and a choice of:
Chicken Strips
Uncrustables Peanut Butter and Jelly Sandwich
The price for these box lunches are $14.99 for adults and $9.99 for children 9 and younger.
There is, even more, information about Dapper Days offerings at Walt Disney World on WDWMagic.com