Gatorland Expansion Coming In The Fall 2017
On Wednesday 18th, 2017, Gatorland Orlando announced their largest expansion in the park since 1949,  Gator Joe's Adventure Outpost and Stompin' Gator Off-Road Adventure To Open Fall 2017.  The full video of the announcement can be seen at the bottom of the page.

Complete with swamp dust, fireworks and fanfare, Gatorland®, the "Alligator Capital of the World," officially broke ground today for a $2 million park expansion, the largest since opening in 1949. The brand-new Gator Joe's Adventure Outpost and Stompin' Gator Off-Road Adventure are slated to open in early Fall 2017.
Making an entrance on one of the 12-foot high, custom-made, off-road monster vehicles for the new Stompin' Gator Off-Road Adventure, Gatorland President & CEO, Mark McHugh, exclaimed, "You haven't seen nothing yet. Get ready for even more adventure at Gatorland." He then led media and VIPs for a special opportunity to board one of the off-road vehicles for a sample adventure.
Also on hand for the official ceremony were Robert High, President of H.J. High Construction and Anthony Lepore, Principal of Anthony Lepore Architects, builders and architect for the new park features.
The new Stompin' Gator Off-Road Adventure will take guests into a section of the park that has never been seen, running alongside the swamps that feed the headwaters of the everglades. Each of the three monster-style, off-road vehicles seats 12 riders, plus the driver, and is decorated to represent iconic alligators and crocodiles in Gatorland's rich history.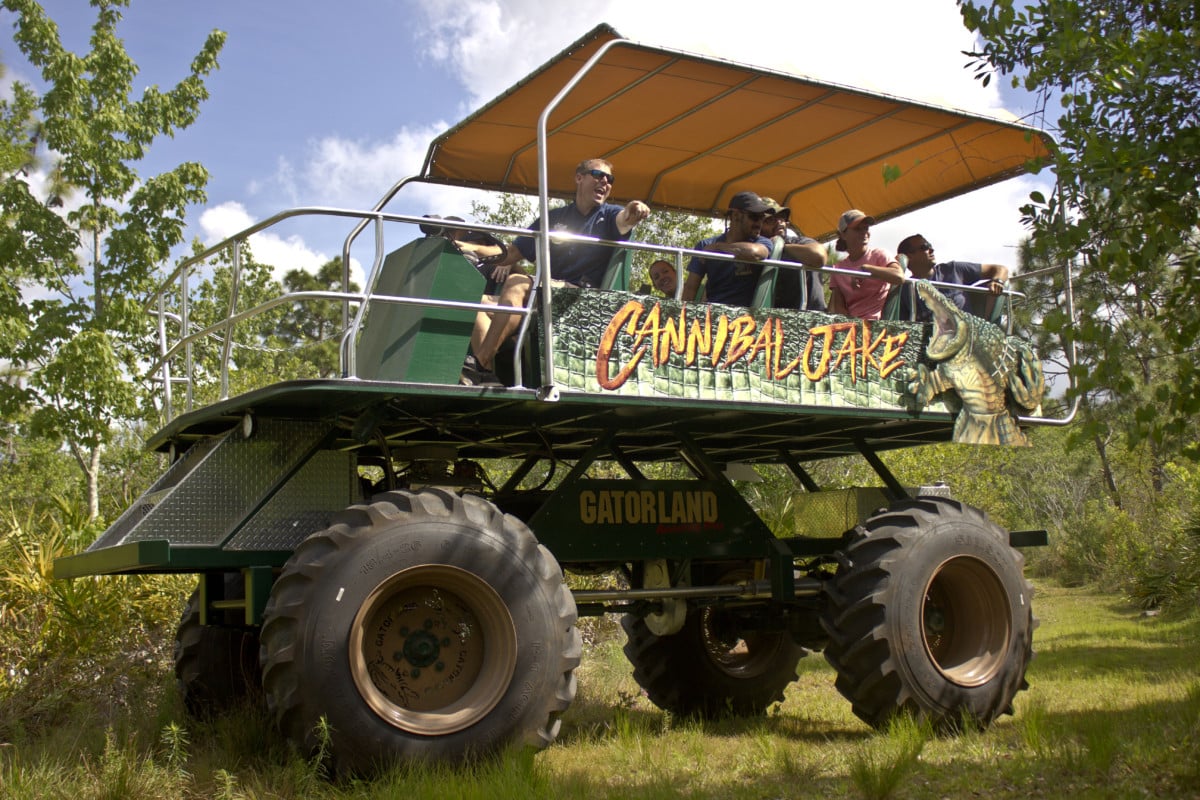 "Our new adventure ride is a natural extension of all our adventure activities throughout the park, and a continuation of our exciting entertainment experiences. The Stompin' Gator Off-Road Adventure will let guests experience Florida's natural beauty as they venture through several different ecosystems," explained McHugh. "They will go over hills, through mud puddles, creep through a real alligator grave yard, and splash through a pond full of hundreds of alligators, of course."
The new Gator Joe's Adventure Outpost will be located in front of the Stompin' Gator Off-Road Adventure, and serve as the park's home base for reserving and purchasing all separately-ticketed park adventures, including the Stompin' Gator Off-Road Adventure, Screamin' Gator Zip Line, Adventure Hour, Gator Night Shine, and Trainer For The Day.
Orlando-based H.J. High Construction, a leader in Florida's construction marketplace which specializes in general contracting, pre-construction services, design-build, construction management and preventative maintenance services, began its relationship with Gatorland in 2014. The company constructed the 15,000-square-feet Gator Spot attraction at Fun Spot Orlando, which features more than 100 alligators, including rare leucistic "white" alligators, of which there are only 12 in the world. "We are thrilled to continue our work with Gatorland and build unique facilities for them to both entertain and educate the public," said Robert High, President of H.J. High Construction.
Gatorland is a 100-acre theme park combining Old Florida charm with exciting experiences, exhibits, and entertainment. The park originally opened as a roadside attraction in 1949. Today, it provides affordably-priced family fun featuring thousands of alligators and crocodiles, breeding marsh with observation tower, free flight aviary, nature walk, petting zoo, educational wildlife programs, award-winning gift shop, Florida's best train ride, Gator Gully Splash Park, on site restaurant and one of-a-kind shows including Gator Wrestlin', Gator Jumparoo, and Up-close Encounters.
Another not to be missed feature is the Screamin' Gator Zip Line with over 1,200 feet of high flying thrills, five intense zip lines, and a massive 150-foot suspension bridge. For more Gatorland information, visit us online at www.gatorland.com or call 800-393-JAWS
Co-Owner / Webmaster / Business Relations / PT Writer
As co-owner and co-creator of The Main Street Mouse. Working in a technical support position for 18 years, it was time for a change. As the Webmaster and Project Planner, I spend most of my time researching everything from the latest Disney News, technology advances and of course keeping up on all the Marvel news that comes out. I never considered myself a writer but I've come to like blogging and sharing news with all. I feel blessed everyday that I get to spend my days working with my best friend and love of my life while we continue to grow and expand what started as a hobby all those years ago.