Today In Disney History ~ February 11th
Pooh's Heffalump Movie is a 2005 American animated film produced by DisneyToon Studios and released by Walt Disney Pictures, featuring characters from A. A. Milne's Winnie-the-Pooh stories. This film features songs by Carly Simon.
Heffalumps were first mentioned in the original Winnie-the-Pooh books. They appeared in a nightmare sequence – along with their fellow scary creatures, the woozles – in 1968's "Winnie the Pooh and the Blustery Day." Though heffalumps and woozles have appeared in other Disney Pooh media, such as the New Adventures of Winnie the Pooh TV series, this was the first theatrical film to feature a "real" heffalump. Lumpy's design is similar to the heffalumps seen in the 1968 featurette and the song "The Horribly Hazardous Heffalumps!" is in the same style as "Heffalumps and Woozles" from "Blustery Day."
This was the final theatrically released film to feature voice actor John Fiedler as Piglet. John Fiedler died in 2005.
Pooh's Heffalump Movie was released on DVD and VHS on May 24, 2005 in the United States. In the United Kingdom, the film was released in a trilogy DVD on November 7, 2011, along with The Tigger Movie and Winnie the Pooh.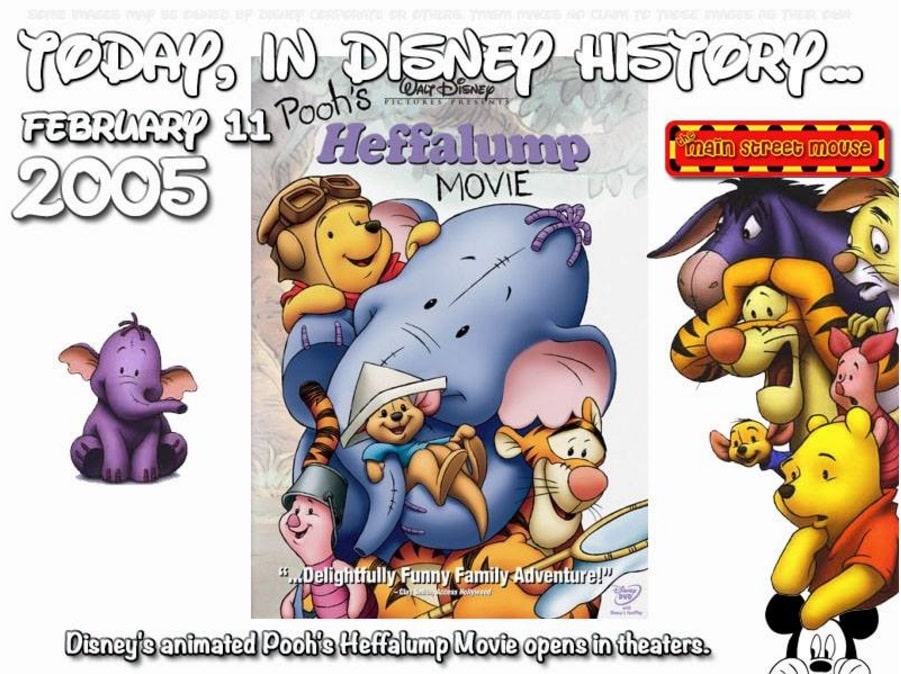 TMSM Today in Graphic by Sherry Rinaldi DeHart; Wiki