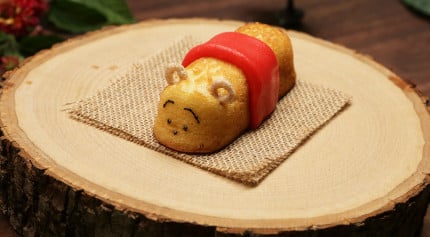 Did you know you can turn a Twinkie into a Winnie the Pooh Tsum Tsum treat? Well, you sure can! Here's how to make your own, courtesy of Disney Family!
What You'll Need

1 box of Twinkies
Red taffy
Cheerios
Black gel icing
How To Make It
1 Place Twinkie on plate.
2 Unwrap taffy and wrap around center of Twinkie.
3 Use a toothpick to apply Pooh's eyes, nose, mouth, and eyebrows.
4 Place cereal pieces above eyebrows to create Pooh's ears.