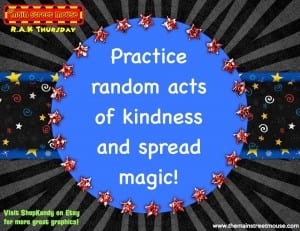 Happy Thursday! It's time for our weekly feel good article, Random Acts of Disney Kindness. This series focuses on acts of kindness with a Disney touch added! Tonight, we have more submissions from some of our fabulous Main Streeters! Here's what they had to say~
Michelle Koger Tink~ I just got back from a two day trip from the Magic Kingdom and Epcot and I had the best experience with off duty cast members. There were 7 exchange students from Germany that were walking around Epcot, they sat next to me talking in German. I know German and I started giggling and then they started talking to me, then they asked me to walk around with them so I did. I was solo on this trip, but I had the best time! They were so sweet and just nice to everybody that they ran into. When they saw people that were lost, they helped them out! I had a great time. Kudos to the exchange students from Germany!

Jennifer Rottner Light~ When Russ and I were there in November with Elizabeth & Jeremy, the guys bought that crazy light bulb necklace at the Xmas party. Halfway through the night they were waiting for us girls while we were visiting Anna & Elsa and a CM came up to them and asked to change out their lights. They said that most of them were having battery issues and switched them for new ones right there. It was pretty unexpected and nice that Disney was walking up to people offering this rather than wait for complaints.
Melissa Sharp~ So in the summer of 2014 my sister (not a huge Disney fan) went with us.. We were eating at Pinocchio's and it was pouring so I had my sister and dd look for a table while I ordered food in the super sized line.. My phone kept going off as I was ordering and searching for them. It seems Mickey saw that my daughter was soaked and a little disappointed so he had a cm bring her a blue icee with Mickey straw and cupcake. She was thrilled! Just wish I had seen it happen..Made my non loving Disney sister smile as well..
Louann Burnitskie~ I was just down at Saratoga Springs the first week of February. My son who is autistic gets so excited when we go because it means the purchase of another DVD and more CDs. He literally cannot contain himself until we head down to the World of Disney so that he can find and purchase his treasures. Well when we arrived home he went immediately to his luggage to retrieve them and they weren't there. Omg…the devastation was unbelievable. He then realized that he forgot the bag next to the TV in the room; it was never packed. I thought they were lost forever. I called down to Saratoga Springs and the CM I encountered remembered that her manager received the bag I called about. The new guests turned it in. They mailed it right out to my son and he had his treasures three days later. His excitement when the box arrived was priceless. Thank you to the CMs at the Saratoga Springs that made my son's trip totally magical. And to the family that turned the bag in, thank you from the bottom of our hearts.
Carrie Kaffenberger~ I've seen so many post in from my friends going to Disneyland that have people giving their fast passes away to people. That why I love the FP system there. Cause you can share the love!!
Shana Boo DuBois~ When I was there in December, on a solo trip, I was having dinner at The Crystal Palace; Eeyore saw me by myself and came over to give me a kiss on the forehead. Sweetest thing, ever!
Jessi James~ We had a good experience with another guest. It was Valentine's Day and my daughter's 5th birthday. She had just finished seeing Elsa and Anna. She picked up a stuffed Sven and starts pretending to ride him yelling I am riding Sven. A gentlemen between 18 – 21 taps me on the shoulder and asks me permission to purchase it for her. He gave it to her telling her that now she could ride Sven everyday. He also told me that was the cutest thing he had ever seen and it made his trip. We all can help spread the magic for others. It was a good lesson to learn.
Allison O'Quinn On our last visit we were waiting in the lobby of beach for the tragical express with my two toddlers. A young lady with the hotel came up and asked me if the kids could have a balloon and explained they were left over from and event. She then handed one each to the girls and told them Mickey wanted them to have those balloons to say thank you for coming to visit him.
On the same trip a CM at beaches picked up my daughters Ariel necklace she dropped, handed it to her and said "uh oh, you almost lost your voice!" Haha such a cute touch. High five man.
Carrie Kaffenberger (she had two!) We're lifelong Denver Broncos fans and Payton manning came to Disneyland last Monday after his super bowl win and we got to see him in. The parade then after for his interview and he looked at me as he passed and after that when he left I got to fist bump him!!! Was one of the coolest things for me. Sounds kinda creepy now but I got to touch Payton Mannings hand in Disneyland!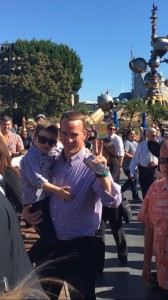 Thanks for all the stories, we appreciate the input! Have you had a magical experience at Disney? If so, tell us about it, your story could be featured in an upcoming article!