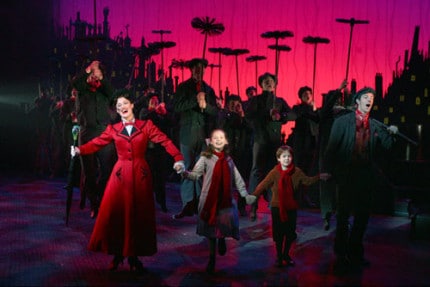 When Disney Theatrical first formed back in the early 1990s, the creative team behind Beauty and the Beast wanted to adapt Mary Poppins first. In 2006, that would finally come to life on a Broadway stage.
In the 1990s, Cameron Mackintosh, the producer of such timeless Broadway shows as Les Miserables and The Phantom of the Opera, obtained the rights from P.L. Travers to adapt Mary Poppins as a stage show. In 2001, Mackintosh met with the head of Disney Theatrical, Thomas Schumacher, and the two began talks of a possible collaboration, so that the songs from the 1964 Walt Disney Studios film could be used in the stage adaptation.
George Stiles and Anthony Drew were tapped to add songs to this new production, after hearing about it and sending a demo to Mackintosh of "Practically Perfect." Additionally, Julian Fellowes, who had written the screenplay for Gosford Park and would go on to create and write the hit Downton Abbey, was asked to write the book. The creative team was rounded out with several well-known British theatre masters. To create the magical effects of Mary Poppins on stage, Disney approached well-known illusionist Jim Steinmeyer, who had previously helped create some of the effects in Beauty and the Beast.
The show originally opened in London's West End in the Fall of 2004, starring Laura Michelle Kelly (most recently seen on stage in Finding Neverland) as Mary Poppins, and Gavin Lee as Bert. The show played for over three years before closing in 2008.
In 2006, the production was transferred to Broadway, with Ashley Brown (who had previously played Belle during the Broadway run on Beauty and the Beast) in the title role, and Gavin Lee reprising his role from the West End. Many notable performers filled the shoes of Mary and Bert during the Broadway run, which I'll talk about next week.
Mary Poppins was nominated for seven Tony awards, including Best Musical, but won for Best Scenic Design. The show received generally positive reviews, mostly being praised for the technical feats. The show ran for over six years on Broadway, totaling over 2,600 performances before closing to make way for the next Disney Theatrical production: Aladdin. The show has since been produced in Australia and has been translated into several languages for productions around the globe. Additionally, a national tour in the U.S. was run from 2009 to 2013. Recently, plans for a new U.K. tour were announced.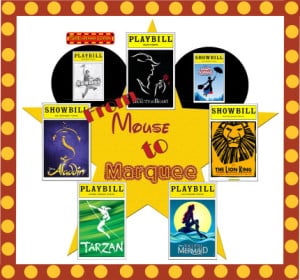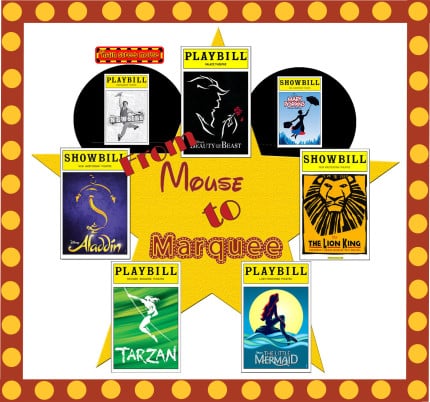 TMSM is thrilled to give it's readers a chance to experience it's new series "From Mouse to Marquee" written by Addie Clark. If you have missed out on any segments of "Mouse to Marquee" you can find them all here in our archives!