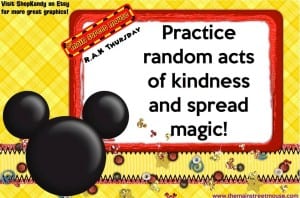 Last week for our Acts of Kindness blog, we shared Main Streeter stories. Since we received so many entries, I decided to make it a two part series so more stories could be shared! Disney Parks are magical thanks to amazing Cast Members, other guests, as well as activities and attractions that make going all the more special. Here are more Disney acts of kindness sent in by our readers!
Amy Harrivel One thing that was magical to me, was in August of 2014 my friend and I went to WDW. This was her first Disney trip and I wanted to give her the full experience! So this was going to be both our first time at the Hoop Dee Doo Musical Revue! I used our Dining plan for this. But to my surprise we didn't get a category 3 or even a category 2 seating. We got a category 1 seating ! It was so unexpected and exciting! We were right in front of all of the action! We loved it! I know it wasn't a specific person who provided this magic, but quite entirely the whole experience was the magic!

Judy Kern On our first trip in 2001, my son (4) left his beloved Teddy bear at the Poly! I phoned from the airport as soon as we found out! Well, it was a long few days, but the concierge staff mailed Teddy back to NJ with a wonderful note attached! I framed it and still have it on display!
Susan Leeson On our first trip to WDW in 2009, we went to MVMCP. We were standing near the castle for the parade. We were wearing our first visit badges & 2 ladies in front of us turned around to start talking to us. They noticed it was our first visit & insisted we take their place at the front so we would have the best view. We were delighted. Very kind of them & we had an amazing night!
Laura Richardson This is much harder now with FP+ but I've had people (guests) walk up to us leaving the park and hand us their fastpasses. It's a nice thing — especially during really busy times. Also, one time in the Aloha Isle line, I had the person standing at the counter at Aloha Isle buy our Dole Whips. It was a young man who handed us a card explaining that he was doing it in honor of his grandmother who had passed away. He was buying several people's snacks. That was nice.
Jennifer Goldbach Lomassaro On our trip in November 2014 we were walking around MK and we were checking out the menu at the Columbia Harbor House. My 16 year old Autistic son was with us. He was telling me and his dad that he wasn't sure if he wanted to eat there. (He is a picky eater.) The cast member who was the town crier out front asked my son if he wanted to try one of the shrimp. My son smiled and said sure. He handed my son the bell, asked him to ring it for him and ran into the restaurant and came back with a couple of shrimp for him to try. He loved it and we went inside to eat. Which is now our new favorite QS place at MK.
Linda Jennings Ward We were at Hollywood Studios we had already used our fast passes, my youngest who is delayed and blind wanted to go on Toy Story Mania. I saw the line was 120 minutes and I told her I can't wait in a line that long. She was a little disappointed. A CM hearing our conversation came over and gave me fast passes for that ride for her, her sister and myself. So grateful for that CM!
Elisa Cosgrove My BFF and I who are at DL at least every week had found some fast passes in the ladies room at DCA, we waited by the ladies room, one of us walked nearby the surrounding area for someone to come back. After 10 minutes we found a CM and asked what they do. She explained there was no way to trace them and we gave them away to two couples we saw. Made their day, as they were for the Radiator Springs Racers.
Adrienne Stolar In October I was in DW with the family. They left the day before I did – when it came time for them to leave I was a sobbing mess ( we live in different states). A CM did something that was unbelievable. To make a long story short I had to check them out of my room and check myself in. During conversation I mentioned I didn't have tickets for the park that day & I was mad at myself because a t- shirt I wanted I couldn't find in Downtown Disney. He then took my magic band and gave me a 1 day park hopper to go find my t- shirt. Needless to say that led to more crying. Yes I sent a letter about him, he was awesome! Who does that? Disney Magic at its best! °o°.
Carolyn Chillemi Crouse On arrival day, our magic bands weren't opening our hotel room. (no big deal!) The CM checking us in apologized profusely. That evening, we got back to our room and there were two amazing treat packages. One for me and my husband and one for my daughter. It was so unexpected and very much appreciated!
These are all wonderful stories, thank you to all who sent them in! Did you have some Disney Magic happen for you on a previous trip? If so, be sure to tell us about it, you could be in a future blog! Until next time, share a little extra kindness if you can, you never know who really needs it! ~M