Holiday Parties – DisneyBounding Style!
Holiday Parties – DisneyBounding Style! by Guest Blogger Arielle Boardman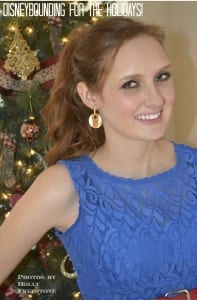 Here's a little backstory for this Disneybound project: I started planning this back in October. I had this HUGE grand vision of what I wanted it to look like, what characters I wanted to do, etc, etc. But then, ya know, life gets in the way. The holiday season can be SO busy, right?! I work for an online boutique, so right after Halloween we were put into high gear for Black Friday, I would wake up, work while I was getting ready for work, get to the office and work some more and then come home and put another 2 or 3 hours of work in! Plus a cold on top of that didn't help. So anyways, by the time I got to this photo shoot I was super frazzled. I didn't really have a plan and the night before I discovered that I was missing an entire bag of clothing and accessories! And I wasn't feeling to confident about myself (leave it to my face to pop up 3 more pimples the morning of a photo shoot!!) or my outfits.
Sometimes life doesn't go as planned but we just do what we can and make it work, am I right?! Same thing goes with DisneyBounding! Some people shy away from DisneyBounding because they are scared that it won't be perfect and they'll be criticized or body shamed. Or they feel like they can't afford a brand new outfit for every DisneyBound. But that's NOT what DisneyBounding is about! It's about having fun, connecting with your inner Disnerd and feeling confident about yourself. And if someone says something mean about it, then they are wearing rude pants and you don't need them in your life! My DisneyBounding project didn't go as planned but I'm quite proud of it! Here are 3 great DisneyBound ideas, that were affordable, that you can use for your next Holiday or new Years Eve soiree! Annnnd if you have absolutely no idea where to start or even what I'm talking about check out my DisneyBounding Basics article here!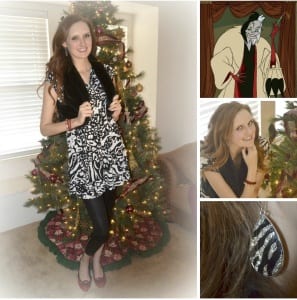 Cruella De Vil:
I'm not a fan of fur and I always make it a point to purchase items that I would wear AFTER my DisneyBound. It is so much more affordable when you purchase pieces that you will wear all the time. I found this really great faux fur vest at a thrift store for $4!! I like the dress because it looks animal print-like. And I added the pleather leggings that I already owned to make it more winter-friendly. I borrowed my friend's earrings which I think Cruella would have loved! And the most expensive part of the outfit was the bracelets! It's a fun holiday take on a classic villain!
Costs:
Faux Fur Vest (thrift store find): $4
Dress (thrift store): $6
Earrings (borrowed): $0
Shoes (already owned): $0
Leggings (already owned): $0
Bracelets (mall find but on sale!): $14
Total: $24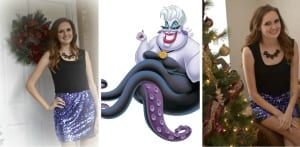 Ursula:
My mom found this dress at a local thrift store and I freaked out! It is the perfect Ursula party outfit!! And for $6?! Seriously, I think I scared the other shoppers because I was so excited! I think you could definitely add a black blazer or cardigan and swap the heels for some boots to make it warmer. If sequins are too much for you, a solid purple pencil or maxi skirt would look gorgeous as well! If you can find seashell accessories that would bring this outfit to perfection!
Cost: Dress (thrift store): $6
Shoes (borrowed): $0
Earrings (borrowed): $0
Necklace (gifted): $0
Total: $6…what?! That's amazing…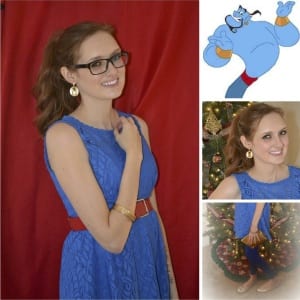 Genie:
This is the perfect DisneyBound for beginners! The colors are simple and it's so fun. To make this more winter friendly you could add a light blue cardigan over the dress. This is something I would love to do for Dapper Days in the parks! And just wait til you hear how much it cost me…
Cost: Dress (already owned): $0
Leggings (borrowed): $0
Shoes (borrowed): $0
Accessories (borrowed): $0
Belt (thrift store find): $1.00
Clutch (thrift store find): $.99
Total: $1.99
Also if you are looking to amp up your makeup for these looks, I highly suggest you check out Makeup and Beauty By Amy, she has a TON of awesome makeup tutorials AND she has a Cruella De Vil and an Ursula tutorial! You can watch her
vlogs
here. And while you're there, you can also watch and subscribe to
The Main Street Mouse's YouTube channel
as well!
When I was out shopping I met a girl who said that she loved doing DisneyBounds at school, but people would nitpick on how "accurate" her outfit was and so she stopped doing it. It made me really sad. I feel like the DisneyBounding community needs to empower one another and not critique people on what they are wearing. We should be promoting fun and confidence! So please don't shy away from this fun way to show off your Disney side!
If you have any questions or in search of any DisneyBounding tips, let me know in the comments! Also, show me your Disneybounds this holiday season or tell me what DisneyBounds you think I should do next!
About Arielle: Some people didn't recognize her in this article because she's not wearing sweat pants or watching Netflix in any of these photos…which is what you would usually find Arielle doing. She loves all things Disney, her job as a Deal Coordinator for an online Boutique, and her furbabies. Oh and Netflix…and Oreos…and her boyfriend…and Oreos…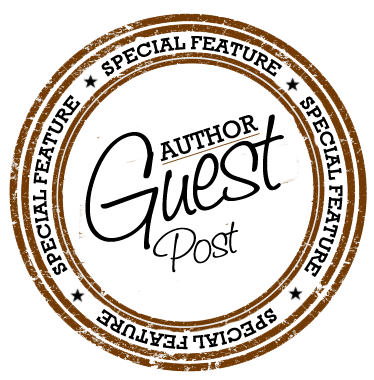 Latest posts by Guest Blog
(see all)