From Rachel Brent, Food & Beverage Marketing Communications Coordinator and posted on the Disney Parks Blog.
Soon, you'll be able to fuel up with these brand-new oil can sippers. You may be familiar with the Dinoco oil company from Disney•Pixar "Cars" (note the gas pumps and oil cans outside of Flo's V8 Café). Look for these fun souvenir items when they "check in" at Cozy Cone Motel in Cars Land for the Disneyland Resort Diamond Celebration 24-hour event on May 22.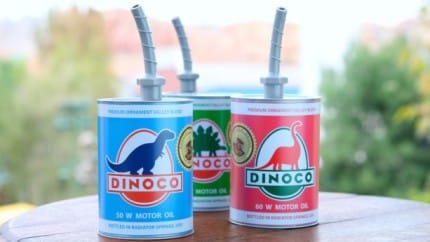 And if you're a fan of the Cars Land cone sippers, be sure to pick one up before they drive off into the sunset to make way for the new oil can sipper.