Disney Kingdoms Figment Hardcover Review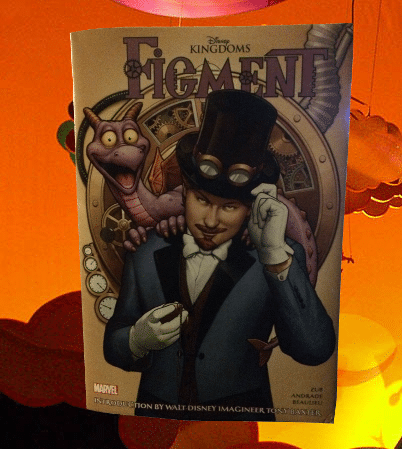 Epcot's Theme Park opened in October 1981 as a park that is dedicated to the celebration of human achievement, namely technological innovation and international culture.  In March 1983, Disney introduced the Epcot guests to the Dreamfinder and Figment in an attraction called "Journey Into Imagination".
The attraction would take guests on a ride through the clouds and then you would see the silhouette of a blimp looking vehicle crossed with a vacuum cleaner and hear the humming and singing of the pilot.  The vehicle would be known as the Dream Mobile or as some fans would call it, the Dream Catcher.  The pilot, dressed in his familiar blue suit, top hat and his red beard would be known as the Dreamfinder.  The Dreamfinder was using his Dream Catcher, to collect the dreams and ideas in order to create new creations.  One of the first things he creates is Figment, the Figment of his Imagination.  Figment has

"Two tiny wings, eyes big and yellow…
Horns of a steer, but a lovable fellow…
From head to tail he's royal purple pigment,
And there, voila, you've got a Figment."
Figment quickly became the mascot of the Imagination pavilion of Epcot and to this day is still a symbol of Imagination to Disney fans everywhere.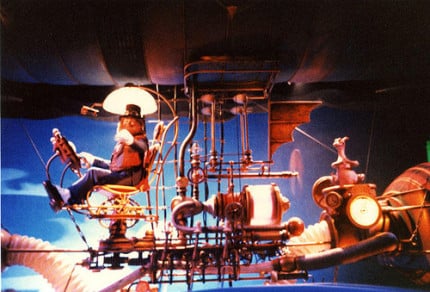 In June 2014, Marvel and Disney Kingdom, released Figment #1 to the fans.  This story would tell the history of Figment and the Dreamcatcher and how they became they symbols of the Epcot Imagination Pavilion.  The series was 5 comics and the final copy was released on October 1st 2014.
On May 6th, 2015, Disney Kingdoms and Marvel released Figment HC. This is a compilation of the 5 comics.  Having read the series, I was very excited to receive my copy of the HC from Marvel for review.
One thing I really enjoyed was the introduction before the story of Figment begins, we got a history lesson from none other than Tony Baxter.  Disney fans know Tony as a Walt Disney Imagineer and a Disney Legend.  During the creation of the comics, Tony was consulted as he was part of the team that created the attraction and characters.  I found it interested that the Dreamfinder and Figment were inspired from Laurel & Hardy and Abbott & Costello.  The Dreamfinder would go on to be the "Straight" man of the act while his sidekick, the funny one, would be Figment.  Steve Kirk, designed what would become Figment and his name came from of all television shows, Magnum P.I.  As someone who enjoys learning the little facts of Disney, this was a very interesting part to read.
Next we get the 5 issues, back to back and can read through the story.  I love that this story takes us back in time to before the Dreamfinder and Figment we come to know in the Epcot attraction.  We see how it all started and how Blarion Mercurial would become the Dreamfinder after his invention goes a little different than he imagined.  He ends up finding his soon to be best friend in Figment and the two set out on an adventure.  At the end of the book, we get a great collection of different artwork that any fan will enjoy looking at.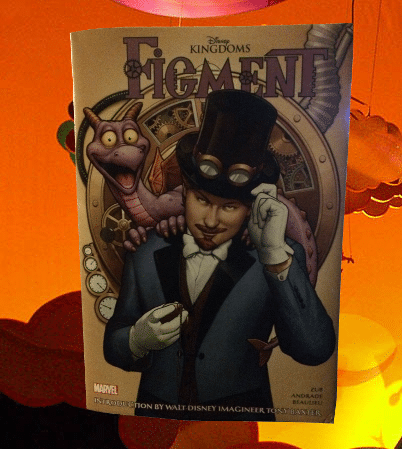 I won't ruin the story, but I highly recommend that you pick up the book at your local comic book store or wherever books are sold.  The story is very well written and the art is amazing.  If you are a fan of Figment and the Dreamfinder, this is a must have.  I would say though, even if you aren't familiar with the original ride, or know very little about the characters, you will enjoy this story.  It's also a great way to introduce children to the characters Dreamfinder and Figment.  In today's world, imagination is something we can never let go of, and I feel it's something that we have to make sure our children understand… It's so important to dream.  Not only to dream, but to pursue those dreams.
Co-Owner / Webmaster / Business Relations / PT Writer
As co-owner and co-creator of The Main Street Mouse. Working in a technical support position for 18 years, it was time for a change. As the Webmaster and Project Planner, I spend most of my time researching everything from the latest Disney News, technology advances and of course keeping up on all the Marvel news that comes out. I never considered myself a writer but I've come to like blogging and sharing news with all. I feel blessed everyday that I get to spend my days working with my best friend and love of my life while we continue to grow and expand what started as a hobby all those years ago.