From Thomas Smith, Social Media Director, Disney Parks and posted on the Disney Parks Blog.
We have an exciting announcement from our partners at Oriental Land Company with new details on the largest expansion in Tokyo Disney Resort's history.

Oriental Land Company revealed the theme for the eighth port in development at Tokyo DisneySea Park will be Scandinavia with a portion of the area themed to the Disney film "Frozen". Additionally, "Beauty and the Beast"and "Alice in Wonderland" will be the themes for two new areas in development in Fantasyland at Tokyo Disneyland Park.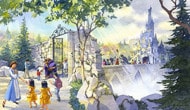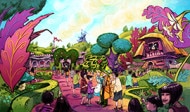 These new enhancements are part of the resort's 10-year, 500 billion yen expansion plan that we shared last year. As part of the plan, Tokyo Disneyland Park centers on the redevelopment of Fantasyland, which will nearly double the size of the themed land. For Tokyo DisneySea Park, the new eighth themed port will be developed in the expansion site located south of Lost River Delta.
This new development is a result of the shared vision and strong partnership between Walt Disney Parks and Resorts and Oriental Land Company that has been cultivated over the last few years to chart a course for the resort's future. This collaboration has led to the creation of exciting new attractions, entertainment and dining experiences, helping to make Tokyo Disney Resort one of Japan's most popular tourist destinations. We continue to be excited about this development and the new offerings guests visiting Tokyo Disney Resort will enjoy.
Stay tuned for updates on the new magical experiences coming to Tokyo Disney Resort!