TMSM's Random Acts of (Cast Member) Kindness ~ "No One Gets Lost Here"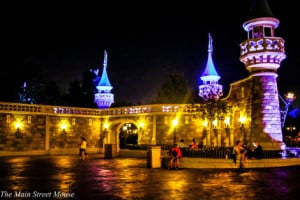 It's Thursday, so that means it's time for our weekly feel good story, Random Acts of Kindness with a Disney twist. This week's story involves a special Cast Member, and my younger son Aidan. Here's what happened~
Last week we were at the Magic Kingdom late at night taking pictures and watching fireworks. We were back in Fantasyland and stopped to get an ice cream and a water at Storybook Treats. Once we were finished, we decided to walk back towards Gaston's Tavern to look around and take pictures. I told Aidan to go throw his water cup away at the garbage can and we kept walking. Well, within a minute I turned around and Aidan was gone. We started looking everywhere, and it was dark back there, so I truly didn't see him. Panic started to set in.
As I was walking around the area I started to feel light headed and sick, and the tears started to fall. I didn't even realize I had been in a huge panic, my mommy instincts took over and all I wanted to do is find my boy. I started to call his name hoping someone would hear me and help us. Within a minute or two, I heard a female's voice calling my name and running over to me. It was a Cast Member named Evelyn, and she had my son with her. Thank God for Evelyn. She brought Aidan to me and he was just in hysterics, crying and such. She was wiping his tears and holding his hand. All that happened was he didn't see us walk under the overpass into Fantasyland, and he ran back towards the ice cream stand to find a Cast Member to help him. I didn't see him because he backtracked to where we were previously, so he wasn't really lost, he just went in a different direction. He's been to Disney enough times to know what to do if he ever got separated from us, and that was to find a Cast Member. When Evelyn found him, she promised him all would be fine and that "No one ever gets lost here." He hung on to that and trusted her, and low and behold, he found us and it all was fine.
Cast Members at Disney are truly amazing and really are great at their jobs. They've always been so nice to guests and so helpful whenever you need something. My kids know that if anything ever happens, or they need something to find a Cast Member. I'm so grateful to Evelyn in Fantasyland for finding my boy and taking care of him. God bless her for being so wonderful. She told him that no one gets lost there, and she was right, we thank her for that. If you have a magical story that happened at Disney or something that you'd like to share, please write in and let us know. Your story could be featured on a future blog. Until next week, be kind to each other, and make someone smile! You never know who could use the extra bit of kindness! ~M
Michele Atwood is the Owner/Editor of The Main Street Mouse and it's subsidiaries and author of the book "Moving to Main Street U.S.A." Michele also contributes Disney news to the Joe Kelley Morning Show on 96.5 WDBO in Orlando. She and her family made the move from Michigan to the Orlando area to pursue their Disney dreams. Michele is a life long Disney fan, and has two sons who have followed suit, each going on their first Disney trip before their first birthday's. Part of the goal Michele has for The Main Street Mouse is not only to keep members informed, but to create somewhat of a Disney Family by relating to others through personal experiences and opinions. Also, Michele is making it a priority to share stories of inspiration and hope to other Disney Fans in an effort to share the Magic and hopefully make a difference in the lives of others.