From the Disney Insider blog.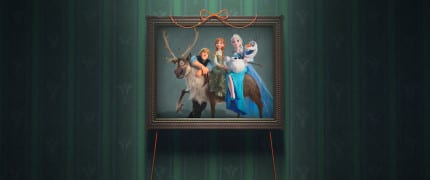 We had a chance to sit down with Frozen co-director Chris Buck and producer Peter Del Vecho, on what it was like to bring the cast and crew back together for Frozen Fever.

It wasn't long ago that Disney fans were first asked if they wanted to build a snowman. Anna, Elsa, Olaf, Kristoff, Sven, and yes, even Hans too, captured everyone's hearts whenFrozen premiered in 2013. Now, with the news that Frozen 2 is in development, we're even more excited to see the all-new short called Frozen Fever that will open in front of the live-action Cinderella.
After the recent successes of Tangled and Wreck-It Ralph, it's clear that Disney storytelling legacy and new technologies are the perfect combination. Frozen brought together those things, while updating the fairy tale notions on true love, and maintaining Disney classic must-haves like great music and characters."We knew we had a good movie, but none of us could have predicted the phenomenon it became. Just to watch through social media, which is something in past films we haven't been able to do…It was pretty exciting and humbling to watch," said Del Vecho. "It was successful across the world, which to us meant that we hit on some real core human truths that everyone could relate to no matter where you were."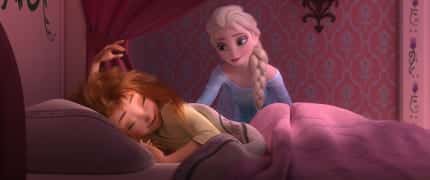 The Frozen team barely had a chance to catch their breath before thoughts of revisiting Arendelle came up again. "Not only did Frozen come out, but then there was so much after it. So, we really didn't get a break until even the summer [of 2014]," explained Buck.
"The idea to do it was probably in the springtime [of 2014], the idea that came up to do a short," noted Del Vecho.  "And we were just about looking forward to taking a break!"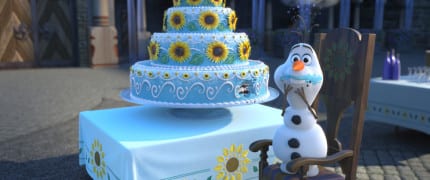 It took about six months to make Frozen Fever, and the cast and crew found that the short format was just what they needed after making Frozen. "The good part of it is that coming off of a huge three to four year journey like that, it's kind of nice to a short little thing. It's nice to do something fun, that's just more of a little romp, have fun with the characters, and then be able to have something finished in six months," said Buck.
Even though they were working within the time limits of a short, Buck and Del Vecho knew that music would be a key part of Frozen Fever. A new song, written by the Oscar-winning husband and wife team of Bobby Lopez and Kristen Anderson-Lopez called, "Making Today a Perfect Day" helps drive the narrative of Frozen Fever. "Clearly it's the characters and it's the music together that kind of makes it. So, it felt even though we only had seven minutes to tell a story, it felt like music had to play a big part of it. It was hand-in-hand the idea of a short and working with Bobby and Kristen," said Del Vecho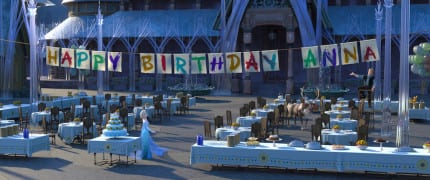 So, how did the Frozen team come up with a new story? Like most great ideas, it started with a very random question. "Originally, we were pitching ideas (that were) more comedy and it was more kind of Olaf centric…and then the idea came up…about the sisters. The sisters are the core of Frozen and then we were playing with ideas with Anna and Elsa," Buck told us. "Someone, one of our story guys said, 'What if Elsa got a cold?' And then it just sort of went from there…I mean, I don't know, what would happen if the Snow Queen gets a cold?" Elsa might be determined to give Anna the best birthday ever in Frozen Fever, but her icy powers combined with being sick have some hilarious results.
There's sure to be plenty of laughs, and singing too, which is always Buck and Del Vecho's goal. "We always kind of check back and say, 'Is everyone going to enjoy this? Are we staying true to the characters?'" But it really is after a while, (the important thing) is having a good time," said Buck.
Be sure to see Frozen Fever only in front of the new, live-action Cinderella, in theaters now!